Backbone Trail (BBT)
Transcript
Hola, my name is Jazmín Ortega and I live in the Boyle Heights neighborhood of Los Angeles. Although I've lived here many years, I didn't know about the Santa Monica Mountains National Recreation Area until I hiked to Sandstone Peak about 10 years ago. All this national park land all around me and I didn't even know about it. Wouldn't it be great if more people experienced the outdoors? In 2017 I saw a post by Latino Outdoors, inviting us to hike the Backbone Trail, the premier hiking trail in the Santa Monica Mountains. I was thrilled to be selected to be part of this group that hiked eight segments of the backbone trail with park rangers and volunteers. If you're interested in hiking the Backbone Trail, I highly recommend it, but being prepared is key. That's why the National Park Service is coming out with a series of videos for folks interested in hiking a segment of the trail or all 67 miles of it from Point Mugu to Will Rogers State Historic Park. The series will cover logistical issues and what to bring, and break down the eight segments of the trail that you can follow, along with valuable insights from park rangers on natural and cultural resources along the way.
I hope you can check it out, see you on the trails.
Visit our keyboard shortcuts docs for details
Duration:

2 minutes, 27 seconds
Ready for an adventure? As you know, some paths in life are better taken in dirt so come along with us as we hike the 67-mile-long Backbone Trail in the beautiful Santa Monica Mountains. Each week the video series, broken up into eight segments and hosted by longtime volunteer Ralph Waycott, will introduce you to LA's premier hike. Share your questions, trail experiences, tips or thoughts about this video series with us by emailing samo_interpretation@nps.gov.

Visit our Maps and Information page to learn about the different trail sections.


Learn more

by visiting our

FAQ's page.
About the Backbone Trail
You will see how many public and private agencies, organizations and individuals have joined together to create Santa Monica Mountains National Recreation Area in general and the Backbone Trail which has been designated as a National Recreation Trail.
As individuals you can help support the park in many ways. You can share your knowledge by telling others about the parks and events. You can increase your knowledge by attending programs and lectures listed in our calendar. You can contribute your time by becoming a State or National Park Service volunteer. You can help maintain the Backbone Trail and other trails by volunteering for trail projects with various partner organizations.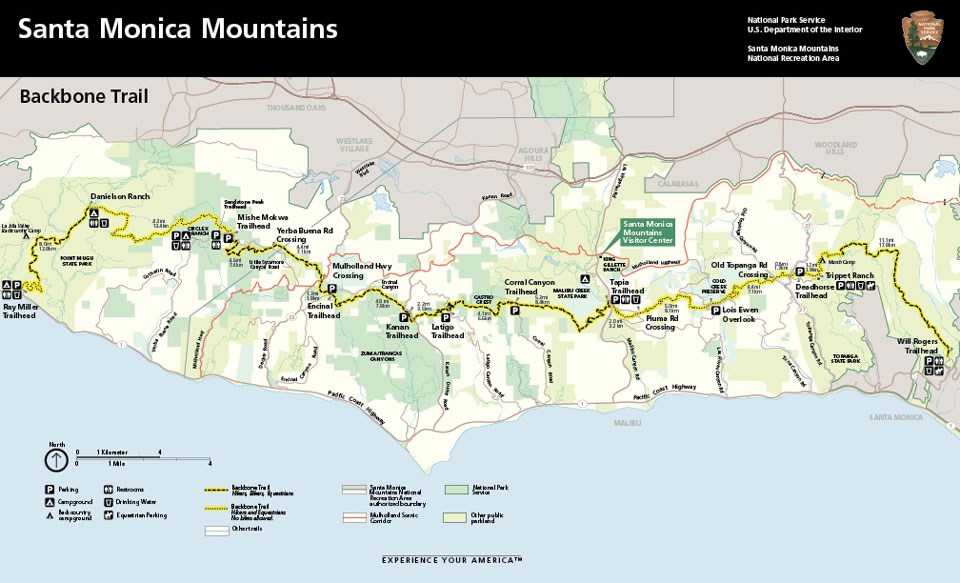 As hikers on this trail you will enjoy the Mediterranean ecosystem, found only in five places in the world, experiencing its many unique plant and animal communities. By being able to escape from city life, you enjoy the health benefits of hiking and learning a lot about our own unique area. You will also learn some history of the area through the trail as you travel through Coastal Sage Scrub, Chaparral, Oak Woodlands, Meadows, and Streamside areas.
If you have read through the Backbone Trail (BBT) information and still have questions, contact us.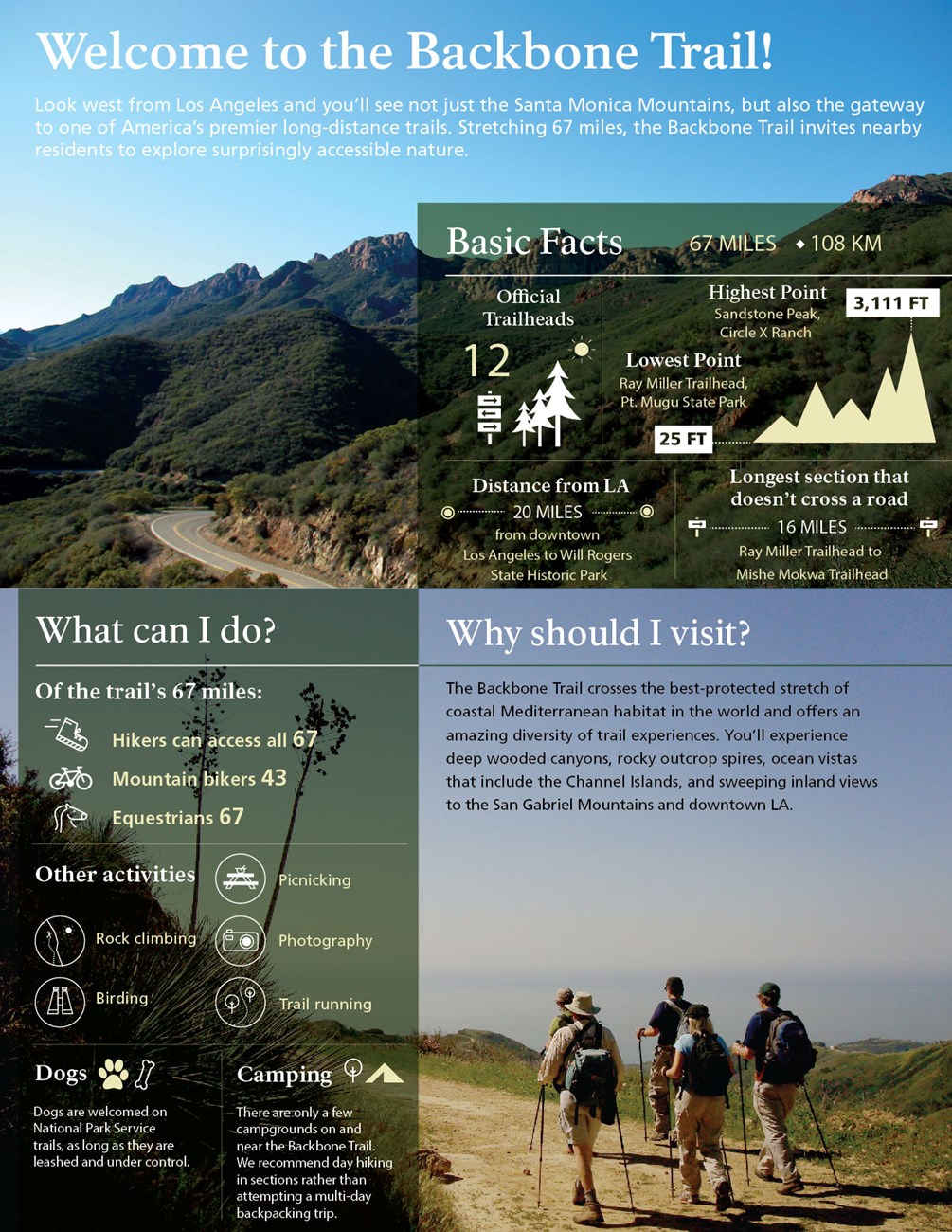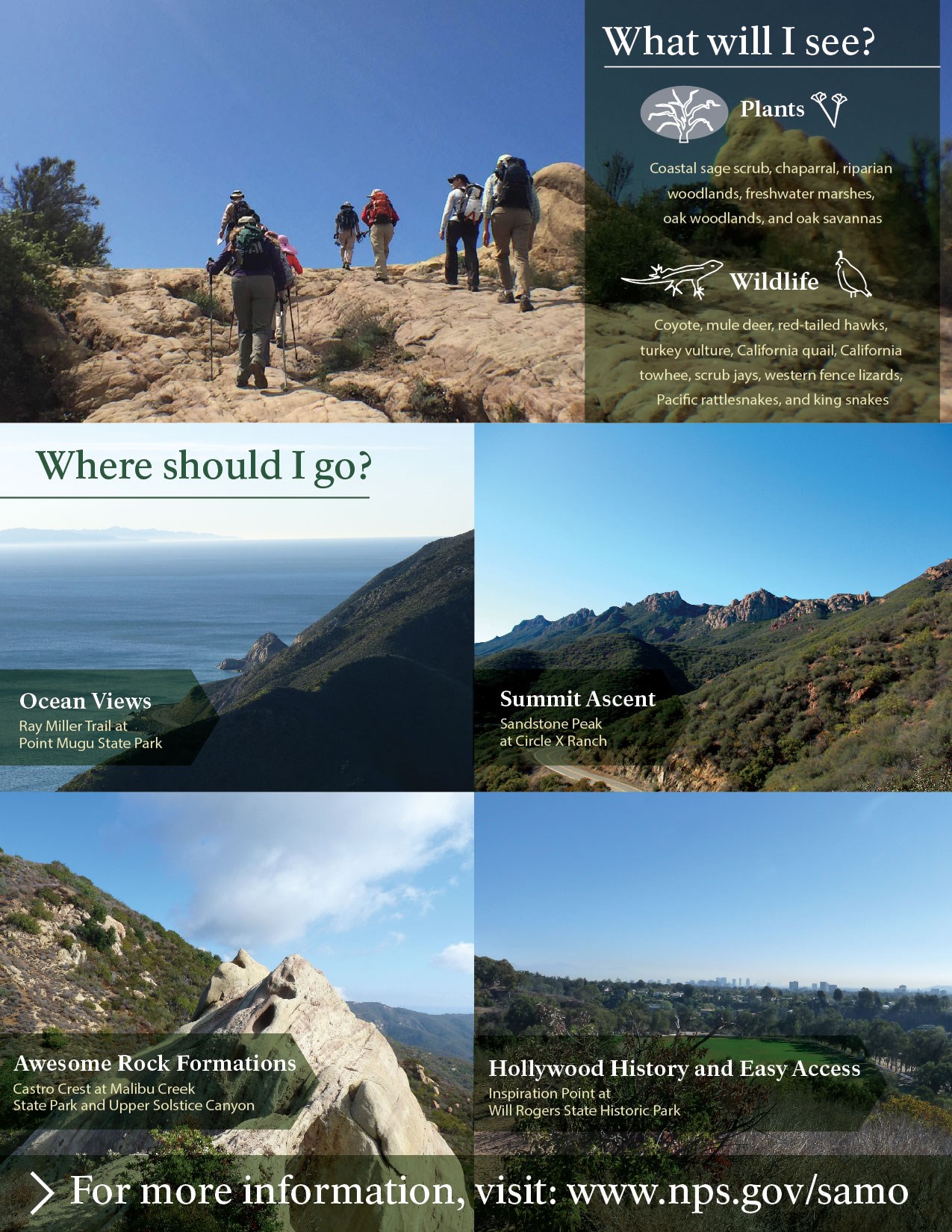 Full text displayed on the infographic here:

Welcome to the Backbone Trail!
Look west from Los Angeles you'll see not just the Santa Monica Mountains, but also the gateway to one of America's premier long-distance trails. Stretching 67 miles, the Backbone Trail invites nearby residents to explore surprisingly accessible nature.

What can I do?
Of the trail's 67 miles: Hikers can access all 67, Mountain bikers 43, Equestrians 67
Other activities: Rock climbing, Birding, Picnicking, Photography Trail running

Why Should I Visit?
The Backbone crosses the best-protected stretch of coastal Mediterranean habitat in the world and offers an amazing diversity of trail experiences. You'll experience deep wooded canyons, rocky outcrop spires, ocean vistas that include the Channel islands, and sweeping inland views to the San Gabriel Mountains and downtown LA.

Dogs
Dogs are welcomed on National Park Service trails, as long as they are leashed and under control.

Camping
There are only a few campgrounds on and near the Background Trail. We recommend day hiking in section rather than attempting a multi-day backpacking trip.

What will I see?
Plants: Coastal sage scrub, chaparral, riparian woodlands, freshwater marshes, oak woodlands, and oak savannas
Wildlife: Coyote, mule deer, red-tailed hawks, turkey vulture, California quail, California towhee, scrub jays, western fence lizards, Pacific rattlesnakes, and king snakes

Where should I go?
Ocean Views: Ray Miller Trail at Point Mugu State Park
Summit Ascent: Sandstone Peak at Circle X Ranch
Awesome Rock Formations: Castro Crest at Malibu Creek, State Park and Upper Solstice Canyon
Hollywood History and Easy Access: Inspiration Point at Will Rogers State Historic Park

For more information, visit: www.nps.gov/samo


Last updated: January 4, 2022