News Release
Zuma Creek Bridge reconstruction complete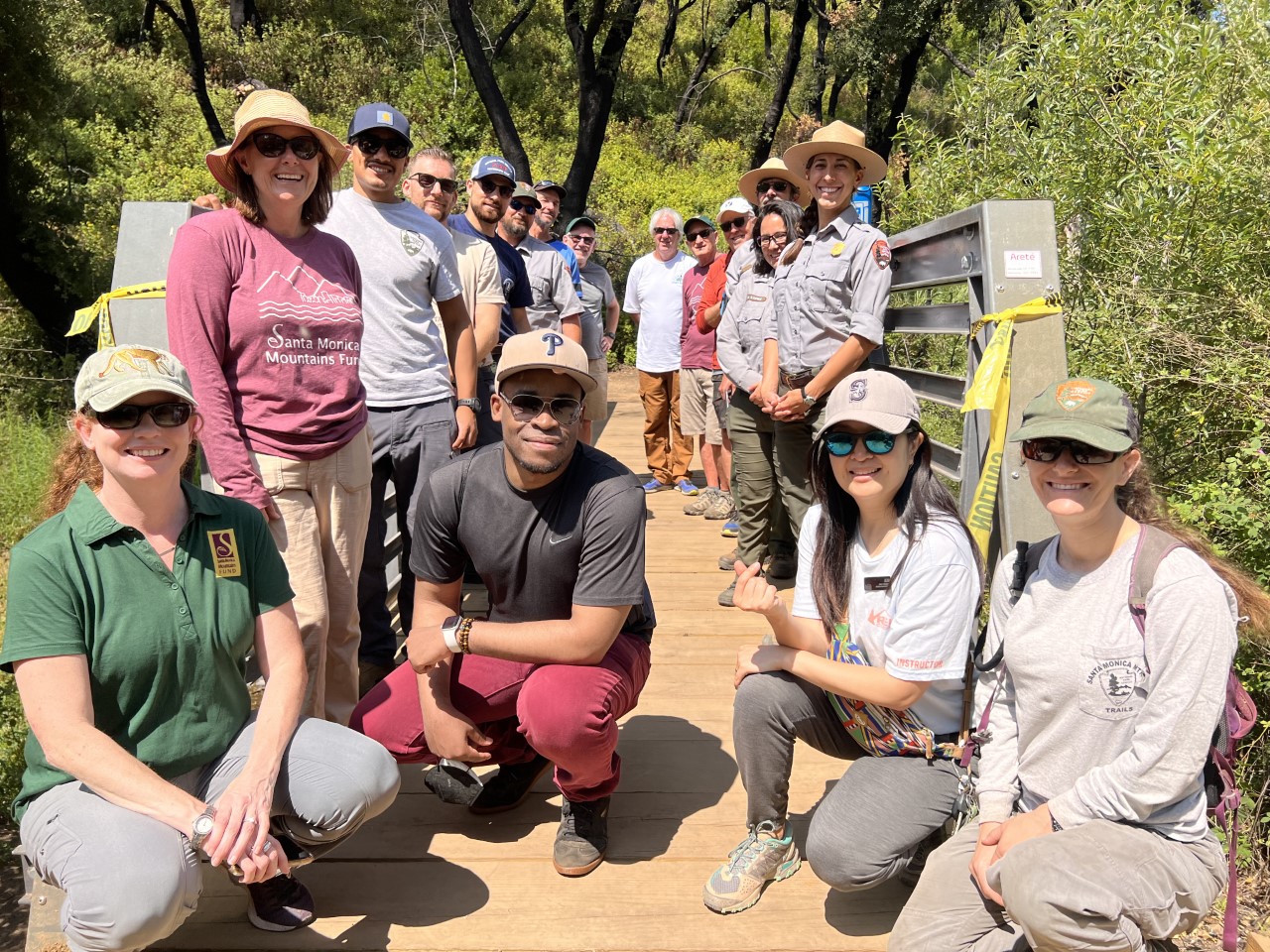 News Release Date:
June 13, 2022
Contact: Ana Beatriz Cholo, 805-750-9356 (cell); 805-370-2385 (office)
THOUSAND OAKS, Calif. – The National Park Service and the Santa Monica Mountains Fund, the official non-profit partner for Santa Monica Mountains National Recreation Area (SMMNRA), held a dedication ceremony for the Zuma Creek Bridge today. Click
here
to see photos from the event and a short time-lapse video.

The event was attended by park officials, donors and local elected officials. The bridge offers a safe stream crossing for hikers, bikers, and equestrians, as well as protection for important resources, like native amphibians living in the area. It was destroyed during the Woolsey Fire of November 2018.

The new bridge is the latest accomplishment in a long list of fire recovery efforts since the Woolsey Fire damaged 112 miles of trails, 30 structures and outbuildings, and 88 percent of federal park land in the Santa Monica Mountains.

"The bridge carries people over Zuma Creek on popular Backbone Trail, the premier 67-mile thru-hike of the Santa Monica Mountains," said SMMNRA Park Superintendent David Szymanski. "From what we've seen, members of the public are already making good use of this newly reconstructed crossing."

The Backbone Trail section between Newton Canyon Trailhead at Kanan-Dume Road and the north-south Zuma Ridge Trail was closed to the public while the bridge was being reconstructed over one month. The trail and new crossing reopened on May 13.

The funding for the bridge reconstruction project comes from a variety of donors, including the Santa Monica Mountains Fund, REI, the Ventura County Community Foundation (VCCF), Fund for People in the Parks, and CORBA (Concerned Off-Road Bicyclist Association). Collectively, these groups contributed $60,000 to purchase materials. It was constructed by NPS and SAMO Fund staff at SMMNRA.

Santa Monica Mountains National Recreation Area (SMMNRA) is the largest urban national park in the country, encompassing more than 150,000 acres of mountains and coastline in Ventura and Los Angeles counties. A unit of the National Park Service, it comprises a seamless network of local, state and federal parks interwoven with private lands and communities. As one of only five Mediterranean ecosystems in the world, SMMNRA preserves the rich biological diversity of more than 450 animal species and 26 distinct plant communities. For more information, visit 
www.nps.gov/samo
. 
Last updated: June 13, 2022