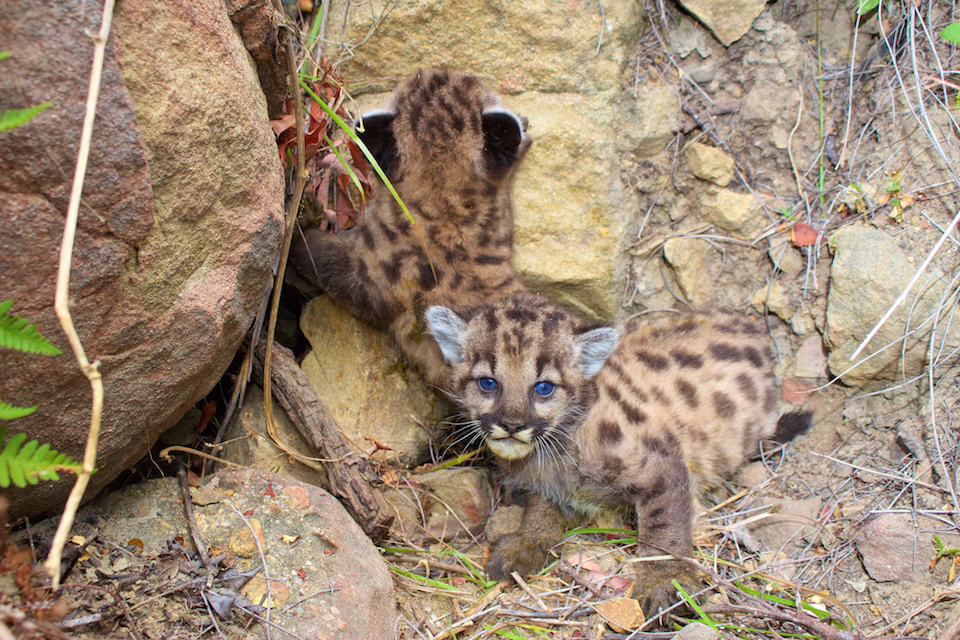 News Release Date:
August 29, 2017
Contact: Zach Behrens, 805-370-2385
National Park Service researchers have added two new mountain lion kittens to a long-running study of the species in and around the Santa Monica Mountains. The siblings, a female and male named P-59 and P-60, were found by National Park Service and California Department of Fish and Wildlife biologists earlier this month in the central portion of the range.

The mother is P-53, the youngest female in the study to bear offspring at two years old, which is still within normal range. The litter is her first.

The father is suspected to be P-12, although confirmation via DNA results are pending. He is the only lion documented crossing into the Santa Monica Mountains from the north, bringing in new genetic material to an otherwise landlocked population of mountain lions with low genetic diversity. P-12 has repeatedly mated in the Santa Monica Mountains, helping to spread these new genes, however, he has also mated with offspring and their offspring, the kind of close inbreeding that reduces genetic diversity over the long-term.

"If P-12 is in fact these kittens' father, that also means he's their grandfather, their great grandfather, and their great-great grandfather," explained Jeff Sikich, a biologist with Santa Monica Mountains National Recreation Area, a unit of the National Park Service. "Inbreeding to this degree really highlights the need for providing safe passage across the 101 freeway so new mountain lions can enter the population and breed."

Liberty Canyon in Agoura Hills has been identified as the ideal spot for a wildlife crossing. Caltrans is currently drawing up a proposal, and fundraising efforts via SaveLACougars.com are underway with the National Wildlife Federation and Santa Monica Mountains Fund.

A study co-authored last year with researchers at UCLA found that without increased connectivity, especially for animals moving in from the north, this would lead to the continued erosion of genetic diversity and increase the chances of extinction of the mountain range's population.

P-12 is suspected to be the father because of two main clues. First, an area resident notified the researchers about hearing mountain lions interact near their property in April. P-53, who is collared with a GPS unit, was in the area. Secondly, a photo of P-12, whose GPS collar has malfunctioned, placed him in the area at the same time. Since females gestate in 90 days, Sikich kept an eye on P-53's movement patterns and, sure enough, she displayed actions of a mother with kittens when expected. It's also entirely possible that another male mated with her around the same time.

P-53 made a big splash in the news in late 2015 when she was discovered on a camera trap video as a kitten chirping, a noise she made to communicate with her mother, and feeding on a deer at her mother's kill site. She was a surprise to researchers, who visited her den and marked one of her siblings. That kitten and another one, also unknown to researchers, died. P-53's existence wasn't confirmed until her head popped up on camera.

P-59 and P-60 are the 13th litter of kittens marked by National Park Service biologists at a den site. Two additional litters of kittens were discovered when the kittens were already at least six months old.

Since 1996, the National Park Service has been studying carnivores in and around the Santa Monica Mountains to determine how they survive in an increasingly fragmented and urbanized environment. During the course of the study, biologists have studied more than 340 bobcats, 145 coyotes, and 60 mountain lions.

The California Department of Fish and Wildlife is responsible for overseeing the management and conservation of mountain lions in the state.