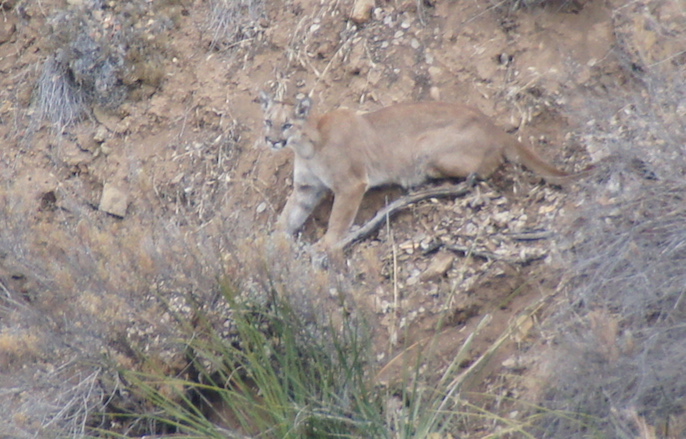 P-23 on a hillside. | Photo: National Park Service
Some of the cats in our study of mountain lions keep things really interesting for us. P-23 has been notable for a number of reasons, from that photo of her atop
a deer on Mulholland Highway
, just feet away from a cyclist, to being
another example of inbreeding
in the Santa Monica Mountains.
But this cat has also brought us a number of firsts since she was born three and a half years ago. She's the first to be involved in an extreme type of first-order inbreeding (she mated with her father/grandfather) resulting in a litter of at least two kittens. Those two then
were eaten by another adult male
in the study's first case of cannibalism. 
Sadly, two kittens from her next litter were also preyed upon by another animal and killed (we're still awaiting DNA results that may shed light on this mystery). We had initially thought she had only one kitten, but when researchers went to investigate the grisly scene, they found there were actually two kittens that had been consumed. 
The discovery of the second unknown kitten wasn't all that surprising;mountain lions have earned the ghost cat moniker, after all. 
After that, biologist Jeff Sikich noticed something about P-23's movements on GPS. The behavior was familiar, but he wanted to know for sure. So he set up a camera trap where P-23 left a deer kill and the next morning saw this: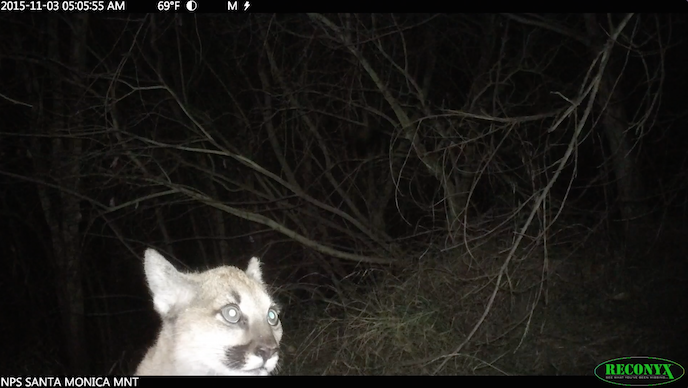 Watch the full video
here
.
Yup! Sikich's suspicions were confirmed: That's another kitten from P-23's summer litter! Since the kitten has yet to be captured and outfitted with a tracking device, he or she does not have a study ID (such as P-46, the next available number). But we hope to learn more. This kitten, now about 6 months old, successfully avoided initial detection from our field biologists and
—
somehow
—
a
n attack from an animal that killed its siblings. 
Just like its mother, this kitten is full of surprises.