News Release
The Santa Monica Mountains Are Experiencing a "Summer of Kittens"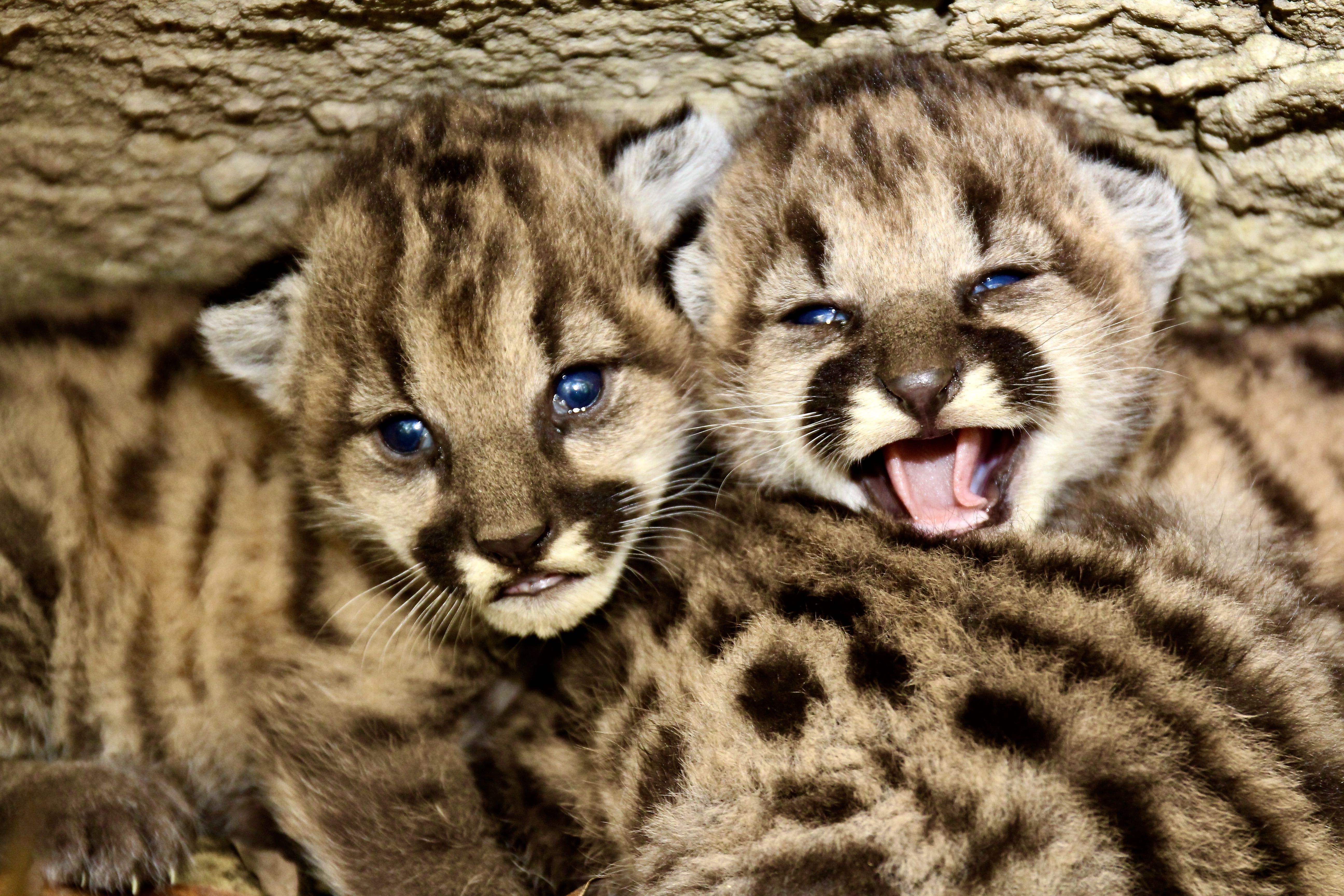 News Release Date:
September 2, 2020
Contact: Ana Beatriz Cholo, 805-750-9356 (cell)
THOUSAND OAKS, Calif.— It's been one mountain lion kitten den after another this summer for National Park Service biologists in the Santa Monica Mountains and Simi Hills. In total, 13 kittens were born to five mountain lion mothers between May and August 2020. For photos and video, click
here
.
This is the first time this many mountain lion dens have been found within such a short period of time during the 18-year study, in which a total of 21 litters of kittens have been marked at the den site by researchers. Previously, the highest number of dens found in one year was four (across 10 months in 2015). Three additional litters have been found when the kittens were older (at least six months old) and had already left the den site.
"This level of reproduction is a great thing to see, especially since half of our mountains burned almost two years ago during the Woolsey Fire," said Jeff Sikich, a wildlife biologist who has been studying the mountain lion population at Santa Monica Mountains National Recreation Area. "It will be interesting to see how these kittens use the landscape in the coming years and navigate the many challenges, both natural and human-caused, they will face as they grow older and disperse."
Each visit to a den occurs while the mother is away hunting for food, feeding, or just resting. A biologist will track her movements via telemetry, while colleagues approach the den area. Once the den is found, the researchers will conduct the workup on the kittens a short distance away from the den. This typically takes less than an hour.
The biologists perform a general health check, determine the sex of each kitten, take various body measurements, including weight, obtain biological samples, and place one uniquely numbered and colored ear tag in each of the kittens. This tag helps to identify them in the future with remote cameras and when recaptured for the placement of a radio-collar. The kittens are all returned to the den before their mother comes back.
Litter 1
: Female P-54, a four-year-old mountain lion, kicked off the chain of events on May 14 when biologists discovered she had given birth to males P-82 and P-83, and female P-84. The father is suspected to be P-63, one of only two male radio-collared mountain lions living in the Santa Monica Mountains, the area south of the 101 Freeway. He was born in the Simi Hills and he may have brought in new and much-needed genetic material into the region, but paternity for this den has not been confirmed.
P-54 has been tracked by biologists in the Santa Monica Mountains practically her entire life. She was born in January 2017 and the following month, NPS researchers marked her with a tracking device as a kitten while her mother, P-23, was away from the den.
Litter 2
: On June 19, biologists found a litter from P-19, a 10-year-old female mountain lion that biologists marked herself as a kitten a decade ago and that has been tracked her entire life. This was her fifth litter, with all female kittens – P-85, P-86 and P-87. Following individual animals for their entire lives is one of the benefits of a long-term study like this, and it provides unique and valuable information about the challenges to survival for mountain lions in the area. She bears the distinction of being the oldest mountain lion mother in the long-term study. Biologists are not sure who the father is yet.
P-19 gave birth to her previous and fourth litter of kittens (P-70, P-71, P-72, and P-73) in July 2018.
Mountain lion mothers typically raise their offspring for about a year and a half, which likely means P-19 did not get much of a reprieve from kitten-raising before she became pregnant with her latest litter.
Litter 3
: On July 6, biologists found P-65's den and tagged three kittens – P-88, P-89 and P-90, a female and two males. P-63, the male mountain lion who may have sired the first den in May with P-54, is also likely to be the father to P-65's litter, since they traveled together for 3 days in March. This may also be P-65's first litter.
This three-and-a half-year-old cat was one of the 11 mountain lions the park service was tracking when the Woolsey Fire broke out on November 9, 2018. She survived the fire and maintained her home range within the overall burn perimeter, although we know from tracking data that she has been utilizing smaller unburned patches within it.
On August 21, 2019, she became the second radio-collared female mountain lion to cross the 101 Freeway and move northward into the Simi Hills. She later crossed the freeway again on November 6, 2019 and returned to the Santa Monica Mountains.
Litter 4
: On July 7, P-67's kittens – female P-91 and male P-92 – were found in a den in the Simi Hills. This is only the second time we have found a litter of kittens in this area.

P-67 was originally tagged as a kitten in 2018, also in the Simi Hills, to mother, P-62. The father of these kittens is suspected to be P-78, because he had traveled with her on multiple days. He did not stay long in the Simi Hills, and soon after crossed northward into the Santa Susana Mountains and beyond.
Litter 5
: P-80, who is estimated to be between five and seven years old, gave birth to female kittens P-93 and P-94 in the central portion of the Santa Monica Mountains. Biologists found her den on August 6 and they estimated the kittens to be 32 days old. They all appeared to be in good health. P-63 is also likely the father of this litter, since he and P-80 traveled together for 4 days in early April. P-80 also had her kittens within the Woolsey Fire perimeter, but in an unburned area in the southeast corner that still supports healthy mature chaparral.
Since 2002, the National Park Service has been studying mountain lions in and around the Santa Monica Mountains to determine how they survive in a fragmented and urbanized environment.
The California Department of Fish and Wildlife is responsible for overseeing the management and conservation of mountain lions in the state.
Santa Monica Mountains National Recreation Area (SMMNRA) is the largest urban national park in the country, encompassing more than 150,000 acres of mountains and coastline in Ventura and Los Angeles counties. A unit of the National Park Service, it comprises a seamless network of local, state, and federal parks interwoven with private lands and communities. As one of only five Mediterranean ecosystems in the world, SMMNRA preserves the rich biological diversity of more than 450 animal species and 26 distinct plant communities. For more information, visit nps.gov/samo.
Last updated: January 28, 2021