News Release
Solstice Canyon to Close Starting Monday, March 23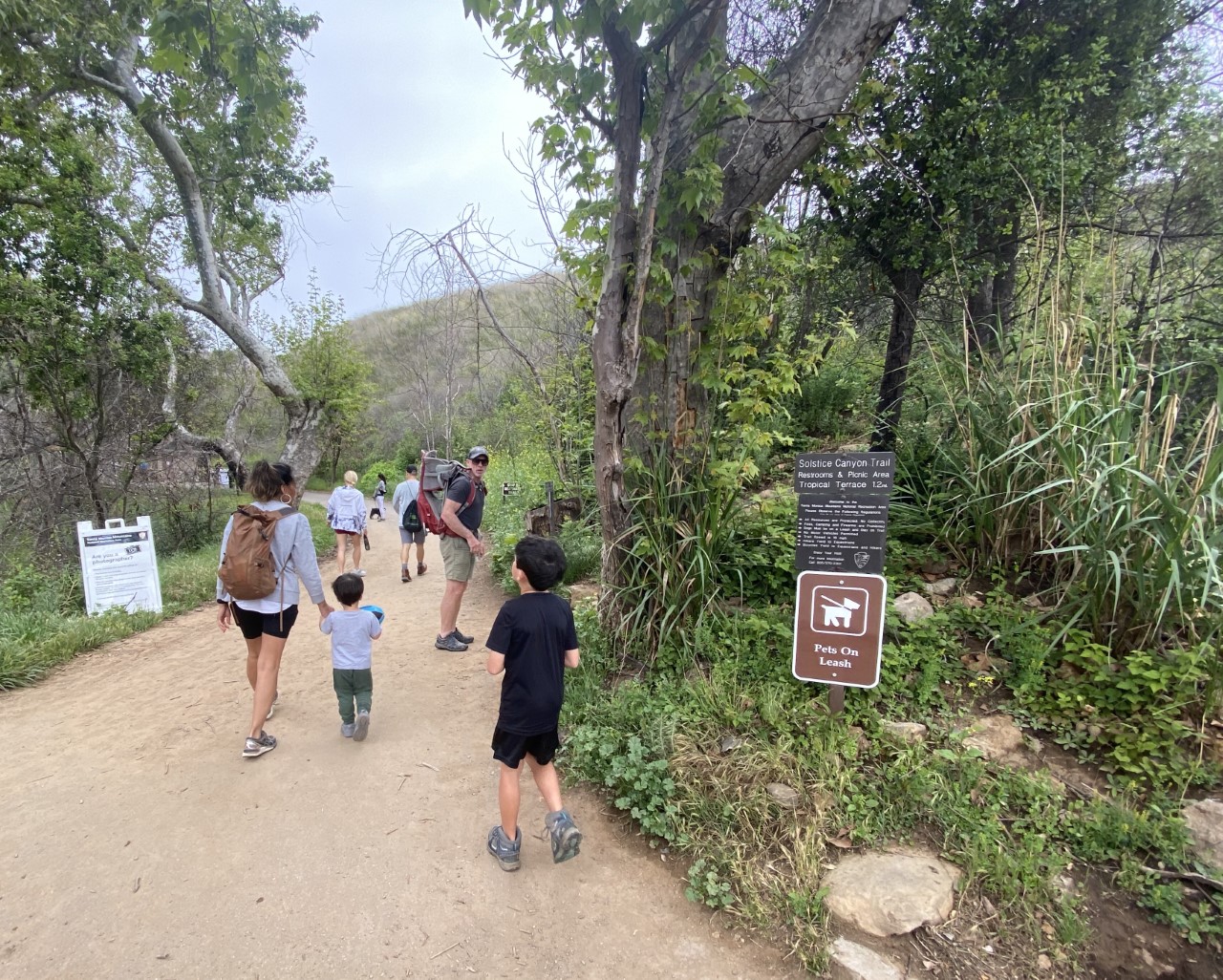 News Release Date:
March 22, 2020
Contact: Ana Beatriz Cholo, 805-370-2385 (office); 805-750-9356 (cell)
THOUSAND OAKS, CA – Solstice Canyon, a National Park Service site, will close Monday, March 23, according to officials at Santa Monica Mountains National Recreation Area (SMMNRA). All other sites, which include hiking, biking, equestrian trails, parking lots and restrooms, will remain open for now.
David Szymanski, the park superintendent for SMMNRA, says he does not want to limit access to trails, but public safety is critical and overcrowding at the popular site had become a concern because the Centers for Disease Control (CDC) and public health department guidance could not be met. Park and public health officials are closely monitoring public use and may close other locations if social distancing cannot be maintained.
"The health and safety of visitors, employees, volunteers and partners is our number one priority as we work to limit the threat of exposure to the virus," said Syzmanski. "There are more than 300 points of entry into the Recreation Area and this may be the ideal opportunity for visitors to explore less visited trails while we battle the COVID-19 pandemic. Hiking and being outside is healthy, but we must follow the local, state and national guidelines that have been set by maintaining a safe distance of six feet from others who are also out enjoying nature."
NPS is strongly urging visitors to avoid crowded areas and seek out lesser visited places at less busy times. Trail hiking apps, like https://trails.lacounty.gov/, can offer ideas for hikes in Los Angeles County.
Szymanski also recommends that visitors wash their hands before coming to a park, avoid touching their eyes, nose and mouth; covering their mouths and noses when coughing or sneezing, and most importantly, to stay home if they are sick.
"If visitors show up and it's really busy, please consider returning at another time or day," he urged. "The ability to maintain social distancing is key to keeping these places open so please do your part."
Law enforcement park rangers are working seven days a week monitoring activities in the park. As services are limited, the NPS urges visitors to continue to practice Leave No Trace principles, including pack-in and pack-out, to keep outdoor spaces safe and healthy.
The Santa Monica Mountains Visitor Center at King Gillette Ranch in Calabasas and Satwiwa Native American Culture Center in Newbury Park are also closed until further notice. Rangers at SMMNRA are available to answer questions at 805-370-2301 from 9 a.m. to 5 p.m. daily.
When the park resumes full operations, the public will be notified via the website www.nps.gov/samo and our social media channels (Twitter, Instagram and Facebook). For updates regarding general NPS operations, visit www.nps.gov/coronavirus.
Santa Monica Mountains National Recreation Area (SMMNRA) is the largest urban national park in the country, encompassing more than 150,000 acres of mountains and coastline in Ventura and Los Angeles counties. A unit of the National Park Service, it comprises a seamless network of local, state, and federal parks interwoven with private lands and communities. As one of only five Mediterranean ecosystems in the world, SMMNRA preserves the rich biological diversity of more than 450 animal species and 26 distinct plant communities. For more information, visit nps.gov/samo.  
###
Last updated: March 22, 2020