News Release
High-Achieving Youth Get a Taste of Working at a National Park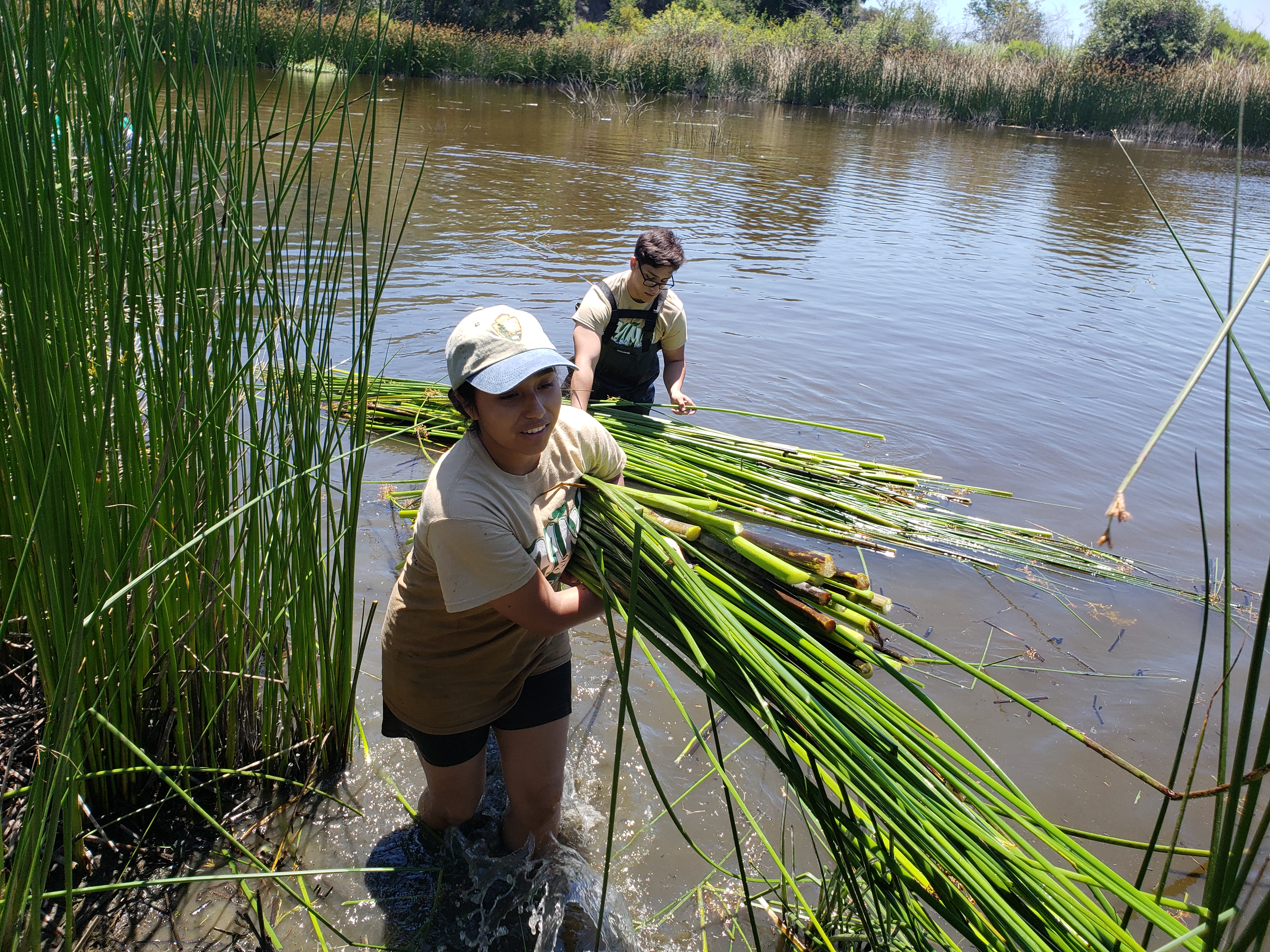 News Release Date:
August 6, 2018
Contact: Ana Beatriz Cholo, 805-370-2385
THOUSAND OAKS -- Although Amelia Realzola dreams of working with wildlife, she didn't grow up going outdoors. There were no family camping trips or summer hikes in national parks. She learned about nature through documentaries, textbooks, friends' social media posts and YouTube videos, but now that she's had a taste of what it's like to work in the outdoors, she can barely contain her enthusiasm and walks around with a constant smile on her face.
The bubbly 18-year-old is one of 22 high school students who were chosen to participate in a National Park Service program called SAMO Youth, which began in 2000 in Santa Monica Mountains National Recreation Area.
The program recruits highly-motivated, college bound high school juniors and seniors from inner-city schools in Los Angeles and Oxnard interested in exploring environmental careers. Graduates of the program have gone on to work at more than 15 national parks throughout the country.
So far, 240 have graduated from the SAMO Youth program. This year's participants were selected from more than 100 applicants. Having a small cohort allows for one-on-one mentoring and an in depth exposure to the variety of careers within the agency.
In the fall, Realzola will be attending the University of California at Davis and studying Wildlife Fish and Conservation Biology.
Her family emigrated from Mexico years ago and, according to her, they think she is "loca." They see her coming home every night, filthy and exhausted, but happy.
"My dad thought that if I went hiking, I would die," laughed the 18-year-old graduate of Hueneme High School in Oxnard. "I have never been out in nature much besides the beach now and then."  Her first trek into the mountains a few weeks ago was an eye-opening experience. It was hot and challenging, she said, but ultimately it confirmed to her that she had made the right decision.
"Being here has just cemented that goal, I guess," she said. "This is what I want to do for the rest of my life."
For Antonio Solorio, Park Ranger-SAMO Youth Program Manager, hearing these types of affirmations makes his job all the more fulfilling. He has been in charge of the program for 17 years.
"SAMO Youth were aware that it was going to be a challenging summer, doing trail work in hot weather conditions, among many other work projects in the Santa Monica Mountains," Solario said. "Youth are so positive and resilient and we constantly aim to tap those qualities to support their growth. We make it clear to them from the start that it is going to be hard. But this group is not easily deterred. They spend days toiling in the blazing sun, cutting invasive plants, cleaning up trails, doing restoration work all with minimal complaining. They're a pretty impressive group."
Participants are paid $11.75 an hour for their work and they rise at 5am or earlier to make their way to designated pick up locations in Los Angeles and Oxnard each morning by 6 a.m. They load into one of two vans and head to either NPS headquarters in Thousand Oaks or to another location typically within the Santa Monica Mountains. They work for eight weeks on habitat restoration, trail maintenance, plant and wildlife work, public engagement programs, and scientific surveys. There is also a weeklong work trip to the Channel Islands National Park.
The work also requires engaging with the public, greeting them, answering questions and educating them on environmental issues relevant to the Santa Monica Mountains and leading family groups on nature activities.
They led many projects this summer. For instance, the youth helped harvest tule,a type of plant, needed for an 'Ap (a Native American dwelling) reconstruction at a park location in Newbury Park called Satwiwa/Rancho Sierra Vista. This entailed standing in a muddy pond to cut the tule, floating it on a boogie board across the pond and carting it a mile to the trailhead. They painted bridges and have helped restore three acres of habitat. Participants also put their interpretation skills to the test by engaging between more than 150 visitors at four different "pop up" park events along Solstice Canyon Trail on topics such as New Zealand mud snails, animals within the Santa Monica Mountains, and Solstice Canyon history.
The program is supported through a partnership with the Santa Monica Mountains Fund, the nonprofit friends group for Santa Monica Mountains National Recreation Area. Significant financial support is also provided by the National Park Foundation and the Annenberg Foundation.
Santa Monica Mountains National Recreation Area (SMMNRA) is the largest urban national park in the country, encompassing more than 150,000 acres of mountains and coastline in Ventura and Los Angeles counties. A unit of the National Park Service, it comprises a seamless network of local, state and federal parks interwoven with private lands and communities. As one of only five Mediterranean ecosystems in the world, SMMNRA preserves the rich biological diversity of more than 450 animal species and 26 distinct plant communities. For more information, visit www.nps.gov/samo.
###
Last updated: August 10, 2018