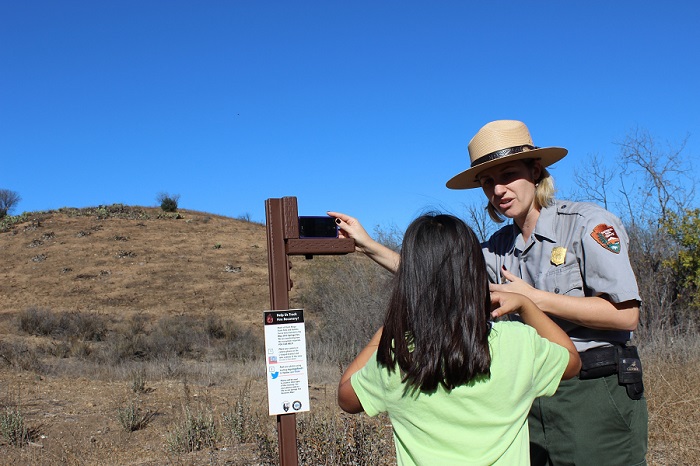 News Release Date:
December 2, 2014
Contact: Kate Kuykendall, 805-370-2343
THOUSAND OAKS, Calif. -- Scientists are asking the public to help document how the landscape is recovering from a major fire, and hoping the recent rainfall will lend a helping hand.
The 2013 Springs Fire burned more than 24,000 acres in the western end of the Santa Monica Mountains. By uploading images from their cameras or smartphones, park visitors can provide important data for the long-term photo-monitoring project.
"The Springs Fire was unprecedented in the sense that it was so large and burned in the spring and not the fall," said Marti Witter, fire ecologist for Santa Monica Mountains National Recreation Area. "When you add a record-breaking drought to the mix, we're talking about extraordinarily challenging set of conditions for post-fire recovery -- hopefully this storm will give the vegetation a boost."
Though the  change may be slow to see over time, each photo becomes a data point for a time-lapse series online (http://go.usa.gov/N5Mh). The project employs a simple L-shaped bracket at ten camera stations throughout Rancho Sierra Vista and Point Mugu State Park.
Photos can be uploaded to either Flickr, Instagram, or Twitter and should be tagged with the hashtag listed in the station, starting with #springsfire01 and ending with #springsfire10. For those less comfortable with social media, photos can be emailed to e-mail us.
A joint effort between the National Park Service and California State Parks, this sort of photo-monitoring project would have been nearly impossible 10 years ago. With the widespread use of smartphones and the rise of "citizen scientists" who contribute relevant data online, photo-monitoring has emerged as an effective means of documenting fire recovery. Nerds for Nature, a Bay Arena group of technology professionals, recently piloted a similar project at Mount Diablo State Park.
Organizers hope the project will not only help inform their scientific studies, but will also inspire the public to visit the park and learn more about the effects of wildfire in Southern California.
Because Rancho Sierra Vista and Point Mugu State Park are under temporary closures due to hazardous conditions of the storm, visitors are advised to check the closure status at www.nps.gov/samo or by calling 805-370-2301.
###