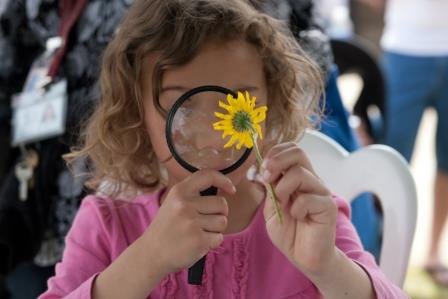 News Release Date:
March 28, 2013
Contact: Kate Kuykendall, 805-370-2343
AGOURA HILLS, Calif. - In commemoration of National Park Week April 20-28, Los Angeles' very own national park will host Science Fest at Paramount Ranch in Agoura Hills on Saturday, April 27 from 10:30 a.m. until 4:00 p.m. The fourth annual, family-friendly event features hands-on demonstrations, live animals and more than 50 interactive exhibits. 
"Research shows that early exposure to science and math skills when children are 10 and under shapes their learning and success for the rest of their lives," said Dr. Christy Brigham, chief of planning, science and resource management at Santa Monica Mountains National Recreation Area (SMMNRA). "Science Fest is a chance for people of all ages to experience fun science with real-life scientists studying bugs, mountain lions, plants, birds, rocks, fossils and more." 
In addition to earning a Junior Ranger patch, attendees can learn how to track a mountain lion, identify wildflowers and conduct scientific experiments. Rangers will lead nature hikes and educators will use "touch tanks" filled with live tide pool critters to teach about the rocky intertidal environment.   
Both the event and parking are free and open to the public. Visitors are encouraged to bring water, a hat and lunch, though food vendors will be available on site. 
For more information, call 805-370-2301 or visit https://www.nps.gov/samo/sciencefestival.htm 
The event is co-sponsored by Children's Nature Institute, the Natural History Museum of Los Angeles County, NatureBridge, the Santa Monica Mountains Fund and UCLA La Kretz Center. 
Santa Monica Mountains National Recreation Area (SMMNRA) is the largest urban national park in the country, encompassing more than 150,000 acres of mountains and coastline in Ventura and Los Angeles counties. A unit of the National Park System, it comprises a seamless network of local, state, and federal parks interwoven with private lands and communities. As one of only five Mediterranean ecosystems in the world, SMMNRA preserves the rich biological diversity of more than 450 animal species and 26 distinct plant communities. For more information, visit www.nps.gov/samo.
###