News Release
NPS Biologists Report First Abnormalities Linked to Inbreeding Depression in Mountain Lions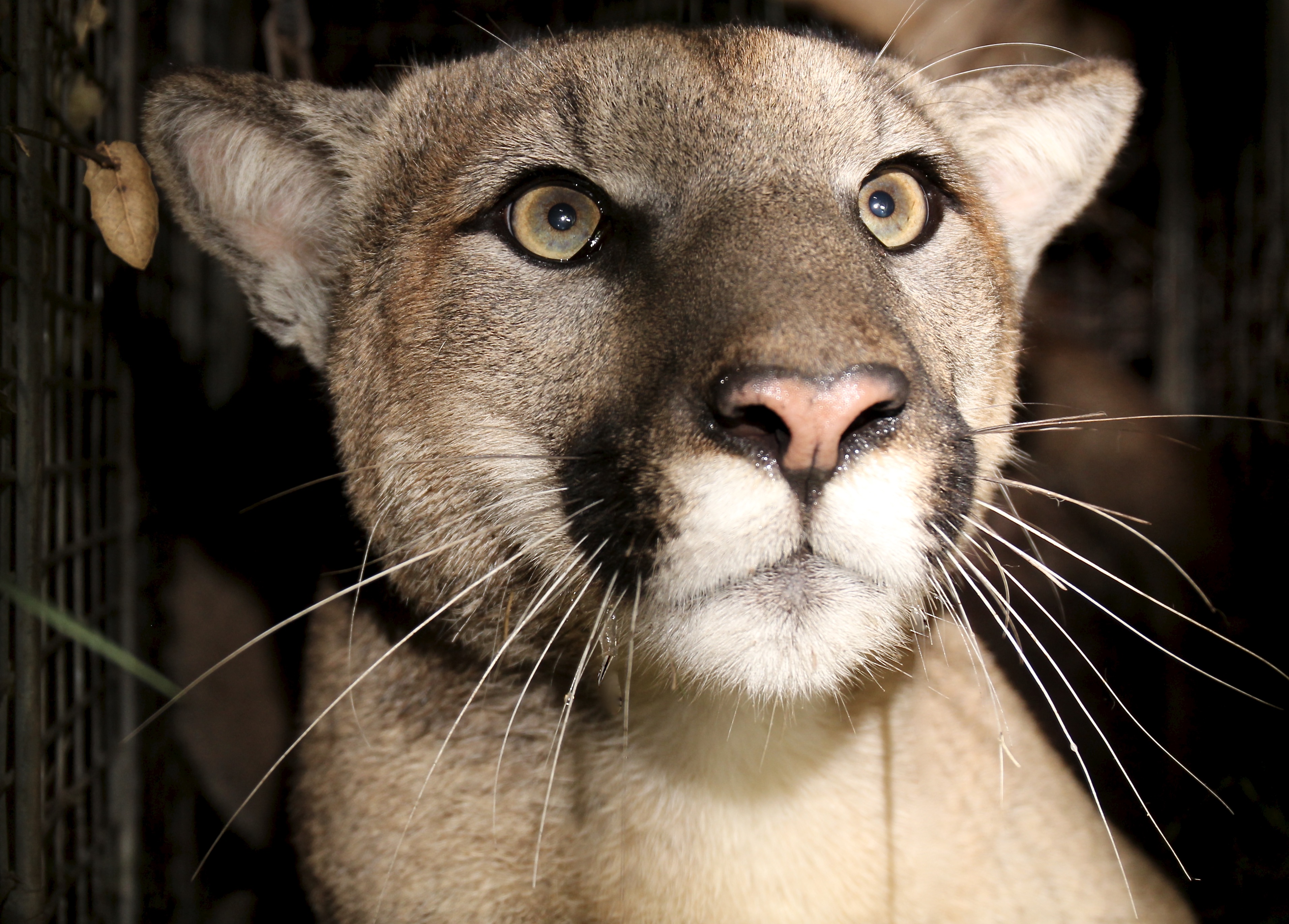 News Release Date:
September 9, 2020
Contact: Ana Beatriz Cholo, 805-750-9356
THOUSAND OAKS, Calif.— A young male mountain lion with physical abnormalities – a kinked tail where the end is shaped like the letter "L" and only one descended testicle -- has been discovered in the Santa Monica Mountains, biologists with the National Park Service (NPS) say. Click
here
for photos.
This critical discovery represents the first potential physical manifestations of low genetic diversity within this small mountain lion population in and just north of the City of Los Angeles.
"This is something we hoped to never see," said wildlife biologist Jeff Sikich. "We knew that genetic diversity was low here, but this is the first time we have actually seen physical evidence of it. This grave discovery underscores the need for measures to better support this population."
Scientists have been studying the mountain lion population for 18 years in the Santa Monica Mountains and surrounding region. This marks the first evidence of physical abnormalities that were linked with inbreeding depression in mountain lions in Florida, a phenomenon that occurs when a lack of genetic diversity begins to negatively affect survival or reproduction. In a 2016 paper co-authored with biologists at UCLA, modeling predicted a 99.7% chance of extinction within 50 years, with a median time to extinction of just 15 years, if similar inbreeding depression occurred in the Santa Monica Mountains population.
Sikich was with three interns and a post-doctoral researcher from UCLA, when the discovery was first made just prior to the COVID-19 outbreak. P-81, a subadult male estimated to be about one and a half years old, was captured and collared in the western Santa Monica Mountains on March 4, 2020.
While the young lion was sedated, a full work-up was performed that included collecting blood and tissue samples, conducting an overall welfare check, and placing a GPS radio-collar on him. P-81, not yet fully grown, weighed 95 lbs. at the time of capture.
A couple of days later, another male mountain lion, also with a kinked tail, was recorded on a remote camera in the same area. Scientists say there is a possibility that they could be related and perhaps siblings. Recent remote camera footage also shows a third mountain lion in the region that also appears to have a kinked tail, documented by remote camera footage taken in the eastern Santa Monica Mountains between the 405 and Hollywood Freeways.
Seth Riley, the wildlife branch chief for Santa Monica Mountains National Recreation Area, a unit of the NPS, and an adjunct professor at UCLA, notes that there are a couple of mechanisms that lead to low genetic diversity. One is called "genetic drift," which describes the loss of genetic diversity over time when there is a small population of animals. The other process that leads to low genetic diversity is inbreeding, which is when animals mate with close relatives. Both mechanisms are occurring in the Santa Monica Mountains.
"Along with a similarly isolated population in the Santa Ana Mountains south of LA, we have seen the lowest levels of genetic diversity ever documented in the West," said Riley. The only population with lower levels was in south Florida a couple of decades ago, when Florida panthers were on their way to extinction. The really interesting, and worrying, thing is that they saw the same type of kinked tails and cryptorchidism there."
Cryptorchidism is when one or both testes fail to descend. In Florida, males with neither teste descended were not able to reproduce and were likely sterile.
In that small mountain lion population, the inbreeding depression affected their survival rates and the cats were suffering from several serious defects, some potentially benign but others more serious. Biologists were documenting 80-90% of mountain lions (called Florida panthers in that population), with kinked tails and whorls, or circles, in their fur. More importantly, kitten survival was low, and some animals had a hole in their heart, specifically between the right and left atria (known as an atrial septum), which significantly reduces the efficiency of the heart and therefore of the circulatory system overall.
Biologists and resource managers feared that the population would soon become extinct, so they imported eight female mountain lions from the closest state, Texas, into Florida to breed with the remaining males and bring new genetic material to the imperiled population. The experiment, a genetic rescue of sorts, succeeded. There are now estimated to be about 200 mountain lions in the population from a low of 20-30. Genetic diversity also greatly increased, and the incidence of various defects plummeted.
Riley says that although there are many similarities between what happened in Florida and the situation in the Santa Monica Mountains, there is one big difference - in the West, there are still other large populations of mountain lions whereas in Florida, the mountain lion population there is the only one that exists on the East Coast.
It makes more sense to increase connectivity here, rather than to import mountain lions from other areas, especially since there is a large population of mountain lions in Los Padres National Forest to the north, Riley says.
However, this evidence of potential inbreeding depression, as opposed to just low genetic diversity, makes the case for building a proposed wildlife crossing even more urgent, according to Riley. The bridge will connect populations of wildlife south of the 101 Freeway to those in other natural areas to the north in the Simi Hills, the Santa Susana Mountains, and ultimately in Los Padres National Forest.
The wildlife overpass would allow mountain lions and other animals to move over more lanes, and more traffic, than any previous such projects around the world, and it would be the first in a large metropolitan area. It will be constructed in the Liberty Canyon area of Agoura Hills, one of the last places left along the 101 Freeway where natural, protected, habitat abuts the road on both sides.
The overpass project involves many different partners including the National Park Service conducting wildlife research and the Resource Conservation District of the Santa Monica Mountains assisting with design, but especially the California Department of Transportation (Caltrans) which oversees the construction, the Mountains Recreation and Conservation Authority (MRCA) ,which purchased and protected lands on both sides of the crossing, and the National Wildlife Federation (NWF), which is raising funds for the project through a national campaign. It is currently in the final design phase. If fundraising stays on track, construction is slated to begin in late 2021, officials say.
"The truth is that we want to build that connectivity not just for the mountain lions, but for all of the wildlife," Riley said.

This work was done in collaboration with Audra Huffmeyer, a PhD student in the Wayne lab at UCLA, who is doing sperm assessments of Southern California mountain lions and incorporating existing information on cryptorchidism. Sperm quality is an important potential indicator of inbreeding depression in felids, and forthcoming results will add greatly to the overall picture of the plight of this species in the region.

The population viability modeling, including evaluating the effects of inbreeding depression, was done in collaboration with John Benson, a post-doctoral researcher with UCLA's La Kretz Center for California Conservation Science (now at the University of Nebraska). Evaluating genetic diversity for the mountain lion population was done with Holly Ernest's lab at the University of Wyoming and the Wayne lab at UCLA. 
Since 2002, the National Park Service has been studying mountain lions in and around the Santa Monica Mountains to determine how they survive in a fragmented and urbanized environment.
The California Department of Fish and Wildlife is responsible for overseeing the management and conservation of mountain lions in the state.
Santa Monica Mountains National Recreation Area
(SMMNRA) is the largest urban national park in the country, encompassing more than 150,000 acres of mountains and coastline in Ventura and Los Angeles counties. A unit of the National Park Service, it comprises a seamless network of local, state, and federal parks interwoven with private lands and communities. As one of only five Mediterranean ecosystems in the world, SMMNRA preserves the rich biological diversity of more than 450 animal species and 26 distinct plant communities. For more information, visit nps.gov/samo.
###
Last updated: January 28, 2021