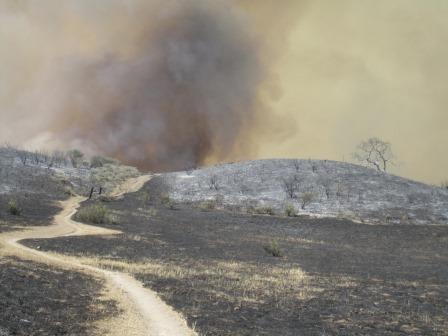 News Release Date:
July 11, 2013
Contact: Kate Kuykendall, 805-370-2343
THOUSAND OAKS, Calif. – The National Park Service recently received $263,000 in Burned Area Emergency Response (BAER) funding to address safety, recreational and ecological impacts from the Springs Fire. Additional funds are expected for the next fiscal year, which begins October 1.
"Frequent fires were not the norm in southern California," said David Szymanski, superintendent of Santa Monica Mountains National Recreation Area. "Historically, areas would burn every 75 to 100 years. Frequent fires not only damage trails and signs, they can bring in weeds and encourage erosion if we do not take action. The impacts from the Springs Fire will continue long after the fire is out."
One of the major concerns after a fire in Southern Californian ecosystems is the rapid spread of invasive weeds and grasses, which not only crowd out native species, but are also more fire-prone. Shortly after the fire, park staff and a team of volunteers hand-pulled more than 2000 highly invasive jointed goatgrass (Aegilops cylindrica) plants that cropped up adjacent to the burn area.
In addition to efforts to prevent the spread of invasive species, the BAER plan funds trail repair and signage, preparation for winter storms and increased law enforcement patrols to protect archaeological sites and sensitive habitat. 
More than half of the 24,000 acres burned during the Springs Fire occurred on public lands in the western end of the Santa Monica Mountains. The burned areas include California State Parks and National Park Service land that comprise the most undeveloped and pristine portion of the mountain range that extends from Griffith Park to Point Mugu.
The BAER program is federal funding that acts as "first aid" after a fire, with the goal of protecting life, property, water quality and deteriorated ecosystems from further damage after the fire is out.
A summary of the Springs fire's natural, cultural and recreational impacts on public lands is available here.
Santa Monica Mountains National Recreation Area (SMMNRA) is the largest urban national park in the country, encompassing more than 150,000 acres of mountains and coastline in Ventura and Los Angeles counties. It comprises a seamless network of local, state, and federal parks interwoven with private lands and communities. As one of only five Mediterranean ecosystems in the world, SMMNRA preserves the rich biological diversity of more than 450 animal species and 26 distinct plant communities.  Learn more at www.nps.gov/samo.
###