2013 Springs Fire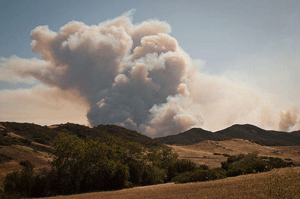 The Springs Fire began on May 2, 2013 on the Conejo Grade section of the 101Freeway in Camarillo, CA by accidental ignition from a passing car or truck. The fire occurred under extreme weather conditions with low humidity, high temperatures and strong Santa Ana winds. The fire burned 24,238 acres in a day and a half within the 20 year-old footprint of the 1993 Green Meadow Fire, the largest fire on record (38,478 acres) in the mountains. The Springs Fire is the 5th largest wildfire and it burned 12% of the SMMNRA in the most undeveloped section of the park. There was minimal property damage to the surrounding communities as the fire burned mostly through undeveloped private property and parkland. The fire was declared 100% contained on May 12, 2013.
The spring season fire was unprecedented for the time of year in which it burned. All other large fires in the SMMNRA have previously occurred in the fall at the end of the summer dry season when fuel moisture is low and Santa Ana winds occur more frequently. The year's low rainfall was concentrated early in the season and created very dry fuel conditions for so early in the spring. This allowed for the rapid fire spread that occurred.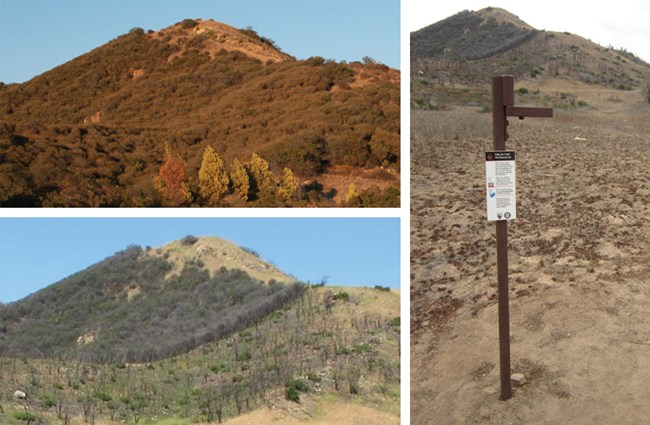 Post-fire landscapes in southern California are one of the most dramatic examples of vegetation recovery from apparent fire destruction, and photo series are one of the most effective educational tools to show this kind of change over time. New technology allows park visitors to become citizen scientists and actively participate in the collection of data to document this kind of change and to see the results in the future.
Ten camera stands have been strategically placed throughout the Springs Fire burn area. Help us monitor recovery by taking photographs of the view from the camera stands and posting them to your social media account with the hashtag found on the camera stand.
Last updated: June 7, 2022