After Appearance in Backyard Video, Mountain Lion Crosses 101 Freeway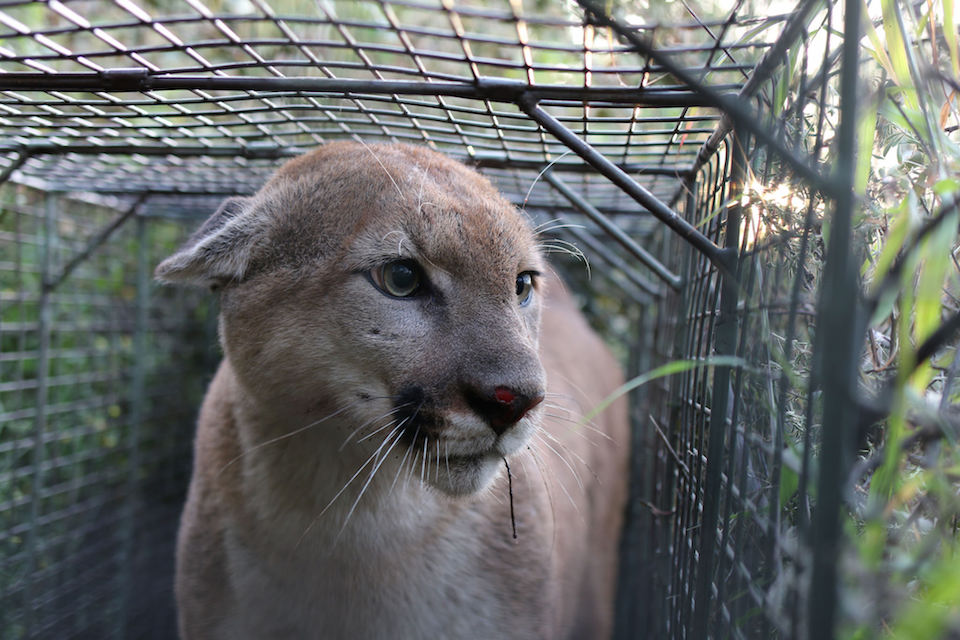 News Release Date:
August 7, 2017
Contact: Zach Behrens, 805-370-2385
National Park Service researchers have documented a rare case of a mountain lion successfully crossing the 101 Freeway. P-55, a subadult male who was recently collared in the western end of the Santa Monica Mountains, crossed the artery near Thousand Oaks last week soon after he was caught on video in a Newbury Park backyard. He is currently roaming the Santa Susana Mountains after also crossing Highway 23 and the 118 Freeway.

This is only the fourth documented successful crossing of the 101 Freeway since the study began 15 years ago, in 2002.

"The overwhelming pattern we've observed through GPS tracking is lions coming up to the edge of a freeway and turning around," said Seth Riley, a wildlife ecologist at Santa Monica Mountains National Recreation Area. "So it's really interesting to see another lion get across. As a whole, however, lions face significant challenges moving around the fragmented landscape in and around the Santa Monica Mountains, especially across larger roads and through intensely developed areas."
The 101 Freeway is a major obstacle for wildlife movement between the Santa Monica Mountains and other natural areas to the north. That lack of connectivity has led to inbreeding and reduced genetic diversity among the mountain lion population in the Santa Monica Mountains. A study co-authored last year with researchers at UCLA found that without increased connectivity, especially animals moving in from the north, this would lead to the continued erosion of genetic diversity and increase the chances of extinction of the mountain range's population.
The lack of connectivity also limits dispersal of young male mountain lions, who at about 1.5 years old leave their mother to find their own territory. Without the ability to easily leave the Santa Monica Mountains, it leaves young males trapped in another male's territory, potentially increasing the chances of conflict. While adult males generally overlap with many female lions within their territory, they will fight other males, which can lead to death. It is very rare for a male mountain lion born in the Santa Monica Mountains to survive past the age of two, based on the animals studied so far.

Researchers have also documented 17 roadkill deaths in the region since 2002.

After being caught on video that same weekend in a backyard of a Newbury Park home, P-55 crossed the 101 Freeway on July 30th, sometime between midnight and 2 a.m. He crossed along the Conejo Grade, which is the paved freeway incline between the Conejo Valley and Oxnard Plain.

He is the third lion documented crossing in this area, dispersing northward and away from the Santa Monica Mountains (siblings P-32 and P-33 crossed at different times in early 2015). Only one lion, P-12, has been documented crossing into the Santa Monica Mountains from the north, bringing in new genetic material. P12 has repeatedly mated in the Santa Monica Mountains, helping to spread these new genes, however, he has also mated with his daughter and granddaughter, the kind of close inbreeding that reduces genetic diversity over the long-term.

A wildlife crossing over the freeway would enable safe passage for many species to and from the Santa Monica Mountains, in particular for mountain lions, which would foster and maintain an increase in the population's genetic diversity.

Along with many local partners and supporters, Caltrans has proposed a wildlife crossing for Liberty Canyon in Agoura Hills. Unlike the Conejo Grade, open space on both sides of Liberty Canyon is more expansive and protected in perpetuity by government land management agencies. Years of tracking lion movements has also shown individuals on both sides traveling to the freeway and back. One lion attempting to cross into the Santa Monica Mountains from the north was killed there in 2013.

Since 1996, the National Park Service has been studying carnivores in and around the Santa Monica Mountains to determine how they survive in an increasingly fragmented and urbanized environment. During the course of the study, biologists have studied more than 340 bobcats, 145 coyotes, and 55 mountain lions.
Last updated: October 30, 2018