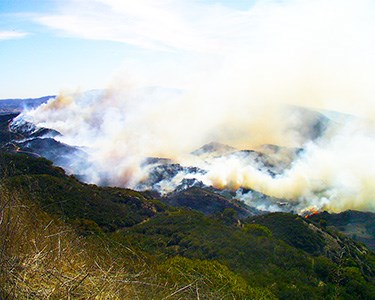 The Santa Monica Mountains National Recreation Area was established to preserve our unique
Mediterranean ecosystem
and to maintain the area's significant natural, cultural, and scenic resources (GMP 2002). This important ecosystem is surrounded by greater Los Angeles, one of world's largest urban areas. High intensity wildfires are a characteristic feature of this landscape. They have carried a heavy social cost from the large number homes lost and the massive
fire-fighting efforts
required to protect lives and property in the wildland urban interface.
Fire management actions are guided by the park's Fire Management Plan and the policies of the
National Cohesive Wildland Fire Management Strategy
. In the Santa Monica Mountains National Recreation Area (SMMNRA) the Wildfire Management Program protects both its Mediterranean ecosystem and its local communities by working to have fewer wildfires and burned homes and less fire-related ecosystem disturbance. To do this, the park works together with Ventura County Fire Department, Los Angeles County Fire Department and Los Angeles City Fire Department through local agreements, the CA Fire Protection Agreement, and the CA Fire Assistance Agreement to suppress fires in the Recreation Area under the Incident Command System.