Fire Management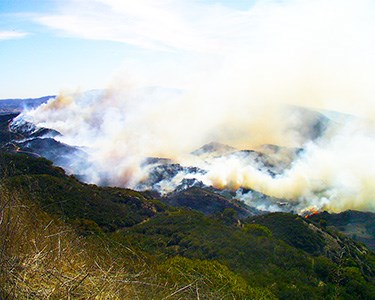 The Santa Monica Mountains National Recreation Area was established to preserve our unique
Mediterranean ecosystem
and to maintain the area's significant natural, cultural, and scenic resources (GMP 2002). This important ecosystem is surrounded by greater Los Angeles, one of world's largest urban areas. High intensity wildfires are a characteristic feature of this landscape. They have carried a heavy social cost from the large number homes lost and the massive
fire-fighting efforts
required to protect lives and property in the wildland urban interface.
Fire management actions are guided by the park's Fire Management Plan and the policies of the
National Cohesive Wildland Fire Management Strategy
. In the Santa Monica Mountains National Recreation Area (SMMNRA) the Wildfire Management Program protects both its Mediterranean ecosystem and its local communities by working to have fewer wildfires and burned homes and less fire-related ecosystem disturbance. To do this, the park works together with Ventura County Fire Department, Los Angeles County Fire Department and Los Angeles City Fire Department through local agreements, the CA Fire Protection Agreement, and the CA Fire Assistance Agreement to suppress fires in the Recreation Area under the Incident Command System.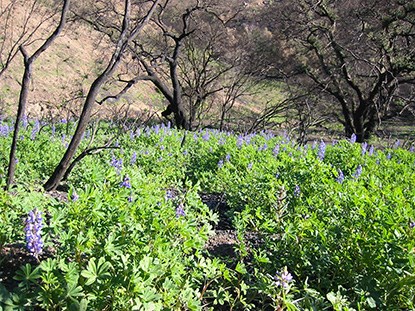 Despite the apparent damage seen after a wildfire, natural areas will normally begin to recover soon after. Fire caused by lightning is rare on the southern California coast. Climate, vegetation, paleoecological evidence and recorded
fire history
indicate that the natural fire regime is one of infrequent, large, stand replacing fires.
Today, however, fires in the Santa Monica Mountains (SMM) are caused almost exclusively by human activities. The frequency of fires has increased along with population growth in southern California and the interval between fires has shortened. The SMM shrubland ecosystems are sensitive to short fire return intervals and increasing fire frequency. Native shrub species can be killed when burned or disturbed without enough time to recover between fires or disturbances influencing
fire ecology
. When this occurs, native shrublands may be 'type converted' to degraded shrublands, dominated by non-native annual grasses and exotic weeds.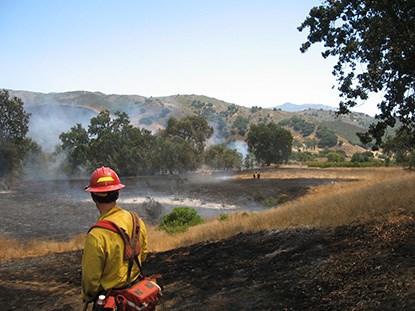 The local communities in the SMMNRA have an essential role in protecting our natural areas. The Park's Fire Management program provides fire education, fire suppression and fire prevention to assist communities in taking constructive actions to protect their homes and beautiful wildlands and to lessen damaging wildfires in the Santa Monica Mountains.
Download the Santa Monica Mountains National Recreation Area's Fire Management Plan (1.9 MB)
Download the Community Wildfire Protection Plan (PDF - 11.2 MB)

Download the Santa Monica Mountains National Recreation Area's Fire Environmental Impact Statement (21 MB)
Last updated: March 1, 2015