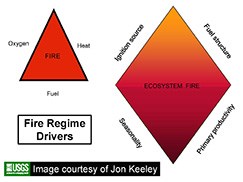 Fire regimes describe the pattern, frequency and intensity of wildfires and are determined by natural ecosystem properties (e.g. climate, productivity, terrain) and anthropogenic influences (e.g. ignitions, development patterns.
Mediterranean climates, like southern California's, naturally support shrubland vegetation types that produce widespread and continuous beds of fuel. Every year the vegetation becomes dry by late summer or early fall when hot and dry Santa Ana winds can blow strongly from the north or north-east for days at a time. In the Santa Monica Mountains, when the fuels, seasonal drought, wind, and terrain combine with an ignition, a major wildfire occurs. These fires are large, wind-driven canopy fires that consume the above ground vegetation and often cause major property damage and home losses.
Fires are not a new phenomenon in southern California. The global circulation patterns that cause the Mediterranean climate and Santa Ana wind patterns have existed for many millions of years, even though the Santa Monica Mountains have existed in their current form for only about 2 million years. There have been many changes in vegetation and temperature patterns as ice ages have come and gone during that time, but Santa Ana winds and the Mediterranean climate with dry summers and moist winters are older than these mountains.