American Camp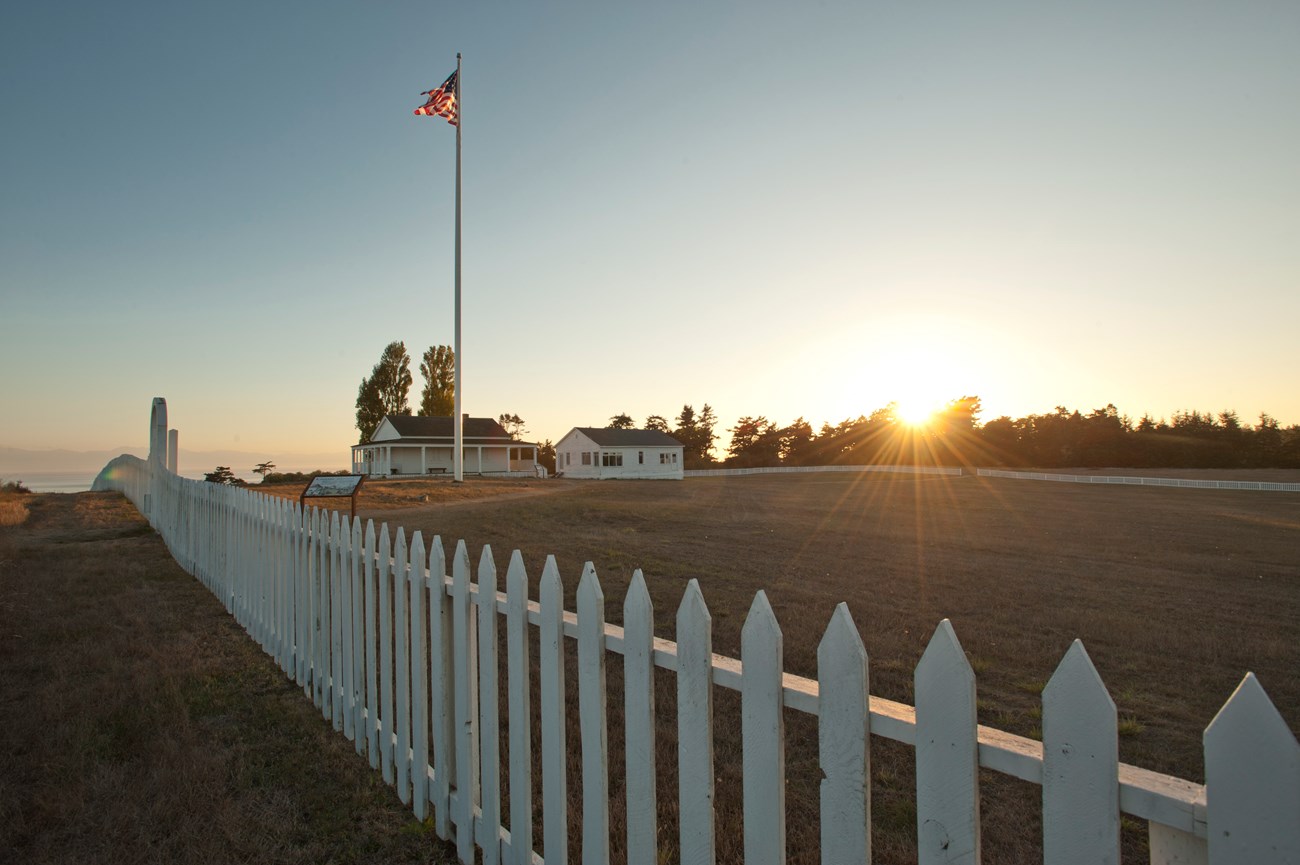 The current site of American Camp Parade Grounds was chosen by Lieutenant Colonel Silas Casey. He was sent to the island in 1859 with reinforcements for the imminent (but never fought) Pig War. Its location was chosen for strategic purposes (it was outside of range of British naval artillery and had abundant water) and its relative protection from the elements. During the peak of its operations, the camp had numerous buildings: a telegraph station, schoolhouse, infirmary, and blockhouse.
Compared to English Camp, American Camp was very utilitarian. Planners focused on its main purpose as a military camp, so there weren't many decorative elements or recreational facilities. Even today, much less of the American Camp survives compared to English Camp; two of the three existing structures had to be relocated and moved to their current locations after our park was created. However, you can still come visit the original
officer's quarters
, the
Redoubt
,
Laundress Quarters
, and the modern-day visitor center. Take a ranger led tour to learn about the cultural and ecological history of the area. On Saturdays in the summer, you can learn even more from reenactments by living history experts.
There's still plenty to do at American Camp Parade Grounds if history isn't your thing. Several hiking trails originate here. Go up
Mt. Finlayson
for a view of Cattle Point Lighthouse, and on very clear days, Mt. Rainier. Go down to
Fourth of July
or
South Beach
to enjoy what the shoreline has to offer. Foxes, deer, rabbits, and bald eagles can be observed at a safe distance.American Camp Parade Grounds is quite the hub for activity. Find out
more things to do
within our park!
Learn more about the
history of American Camp
.
American Camp Visitor Center
Phone: (360) 378-2240, ext. 2226
Address: 4668 Cattle Point Rd., Friday Harbor, WA 98250

The main park visitor center has exhibits, park film, a bookstore, and rangers on hand to answer questions. Ranger programs are available during the main visitor season from June to September.
Last updated: July 13, 2022