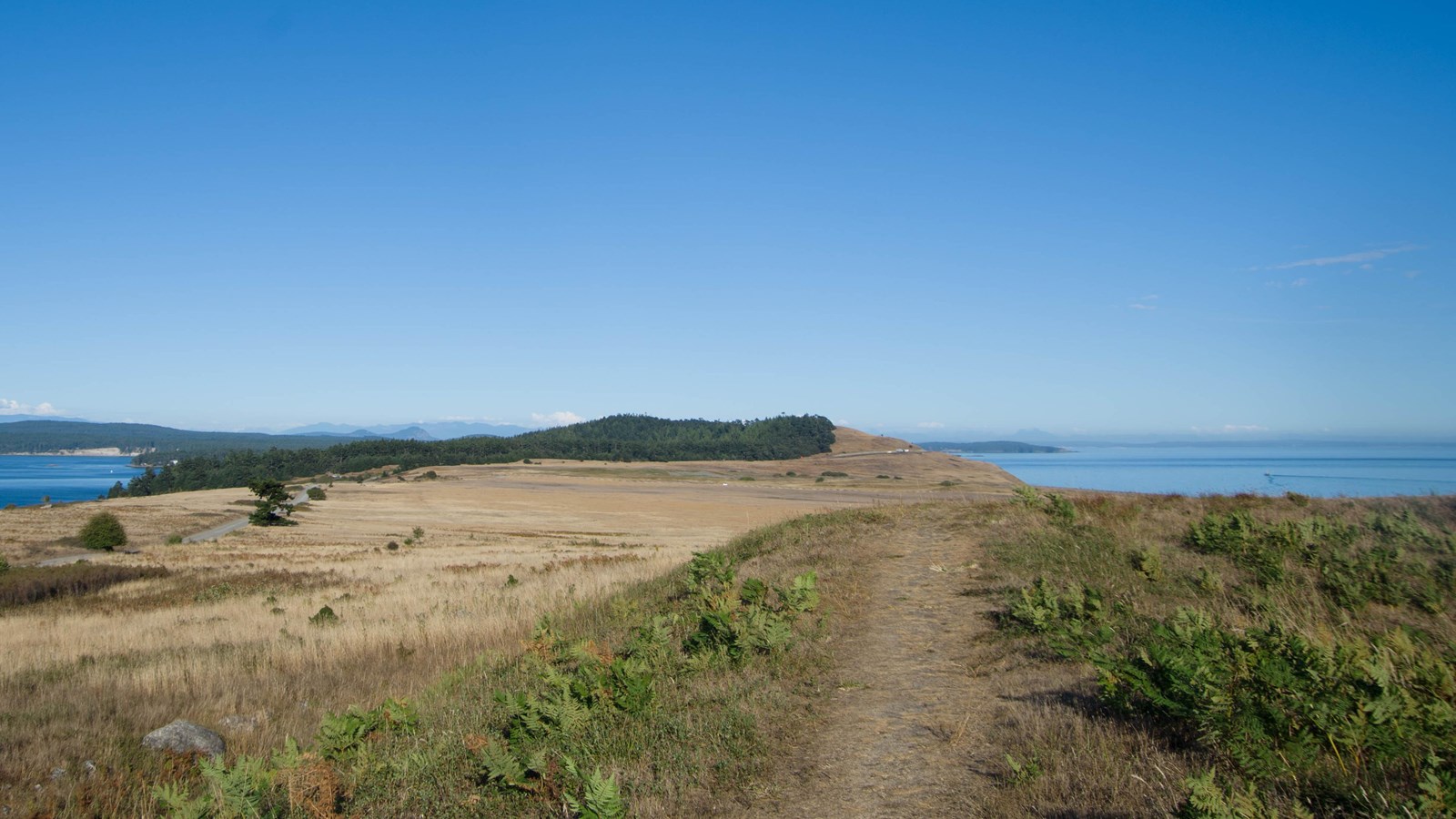 Location:
Friday Harbor, WA
Significance:
Pig War Fortification
Historical/Interpretive Information/Exhibits, Parking - Auto, Scenic View/Photo Spot, Trailhead
East of the American Camp Visitor Center and the Parade Ground is Robert's Redoubt. This man-made fortification was the American army's commanding position during the height of the Pig War. This was early in Henry M. Robert's military career. He later authored "Robert's Rules of Order".  
Its construction showed the British that the Americans intended to remain on San Juan Island for as long as it took to claim the archipelago. Building the redoubt was no easy feat. At least 100 men used picks and shovels to alter the landscape, which included massive boulders. Though equipped to position guns, shots were never fired against the British while the redoubt was active. 
Before military occupation, the area was heavily forested with Douglas Firs. The soldiers cleared out these trees to build the redoubt, and it's still a prairie today. In the grass, you might see eagles or foxes.  
From the redoubt you have views of the Haro Strait and Griffins Bay. On clear days you can see Mount Baker, the Olympic Mountain Range, and Mount Rainier looming in the distance. This placement was advantageous for the Americans: they would be able to see and prepare for attacks coming from the water. Instead of British warships, keep an eye out for orca whales breeching offshore! 
The redoubt is one of the best-preserved fortifications of its kind in the nation and is a National Historic Landmark. Reminder that it is illegal to take any natural or archaeological material from the park. 
You can explore the remains of The Redoubt from American Camp. Bicycling is allowed on The Redoubt Road and the short spur trail from the American Camp Parade Ground. 
Last updated: May 23, 2023