Former Officers Quarters Returned to American Camp Parade Ground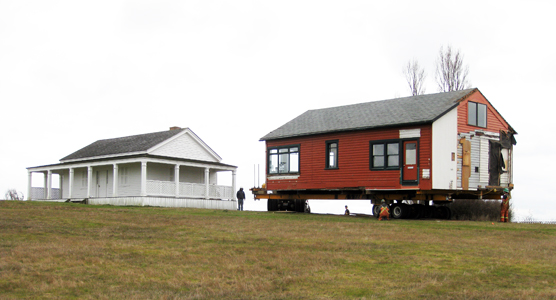 News Release Date:
December 18, 2010
Contact: Mike Vouri, (360) 378-2240, ext. 2227
One of the oldest structures on San Juan Island and northwest Washington has returned to its first island location—Officers' Row at American Camp, a unit of San Juan Island National Historical Park.

The Adam C. Brown house, an 1856 vintage, box-frame building, for more than 130 years, sat the corner of West and First streets in downtown Friday Harbor. The house was moved to American Camp by Nickel Brothers House Moving December 2 and positioned immediately adjacent to the existing officers' quarters, which from the closure of the army post in 1874 remained in use on the site as a farmhouse. 

Both buildings originated as officers quarters at Fort Bellingham (see drawing on reverse), which was established in August 1856 by Capt. George E. Pickett on Bellingham Bay to protect settlers from Indians raiding from today's British Columbia and southeast Alaska. The fort was abandoned and dismantled from 1859-1867 and moved to San Juan Island to house the army during the joint military occupation by Great Britain and the United States. 

Ownership of the house was transferred to the National Park Service by owners of the Friday Harbor House hotel. The house now rests on cribbing and steel I-beams, which will ensure structural support until the house is settled on a permanent foundation. Park maintenance crews are in the process of repairing the roof and enclosing the house to protect it from inclement weather.

The park will apply for funding to compile a historic structure report, which provides documentary, graphic, and physical information about a property's history and existing condition. A report must be completed and the resultant planning instigated before restoration efforts are undertaken. 

Island lore has long identified the Brown house as an American Camp artifact. Three years after the joint military occupation concluded in November 1872, the U.S. Army Quartermaster Corps auctioned the buildings at American and English camps. Several of these buildings moved off site have been identified over the years, and two—the Laundress Quarters at American Camp and the Hospital at English Camp—were returned to their original sites.  

Last updated: March 1, 2015