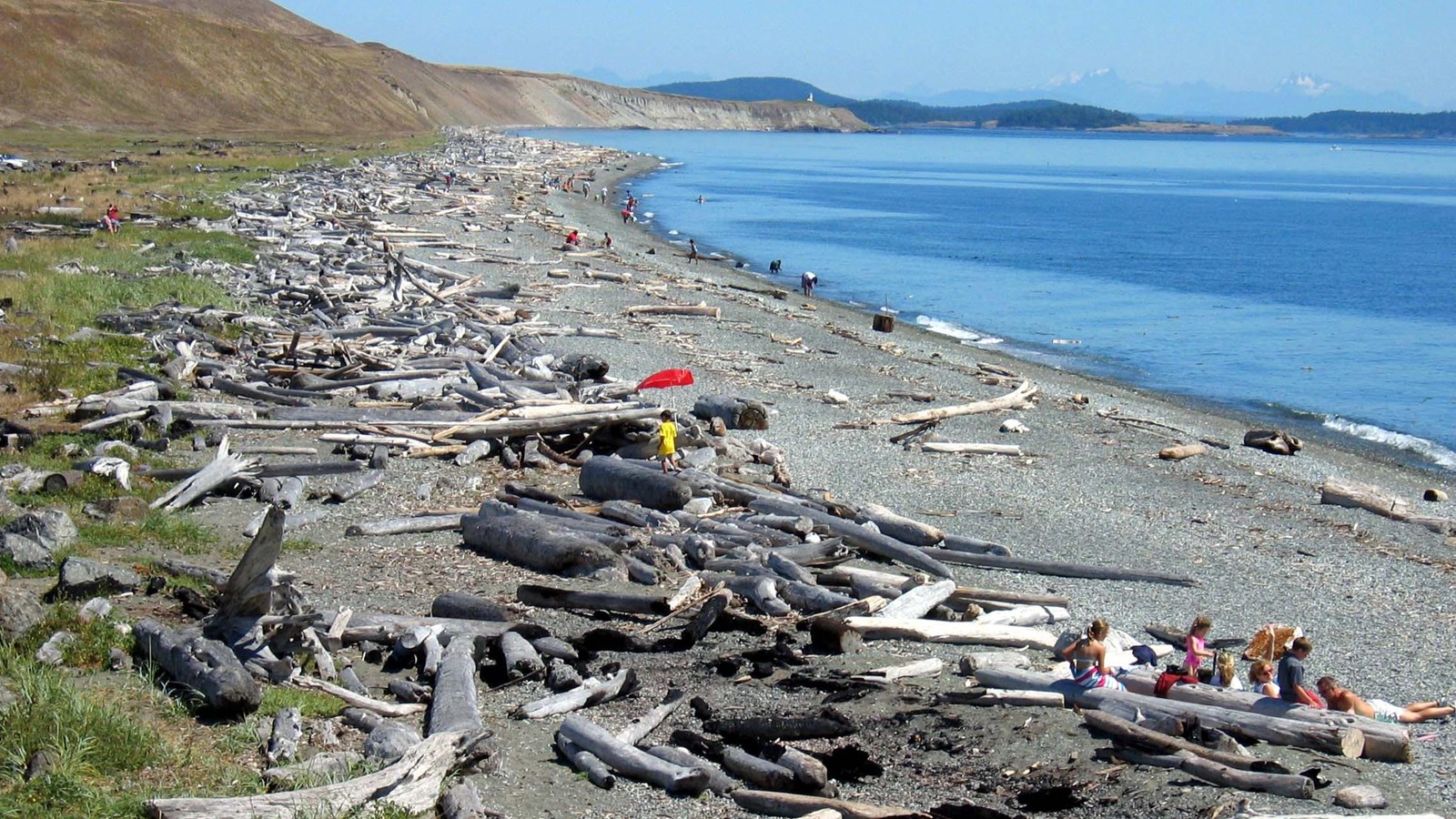 Beach/Water Access, Benches/Seating, Bicycle - Rack, Canoe/Kayak/Small Boat Launch, Grill, Parking - Auto, Picnic Table, Restroom, Restroom - Accessible, Scenic View/Photo Spot, Trailhead, Trash/Litter Receptacles
For thousands of years, Coast Salish tribes have used South beach to process salmon. Its sunny and windy environment aided in preservation. And its proximity to Salmon Bank made it an ideal location; they didn't have to transport the fish far after catching them. Also located nearby was Cattle Point Village, a summertime gathering spot for the Coast Salish.  
In the late 1800's, European settlers began to use South Beach for the same purpose. The Hudson Bay Company would salt and pack the salmon they bought from the Coast Salish. Then they sold it to Hawai'i and other global purchasers. Additionally, they transformed the land around the beach into fields and farmland. Homesteader Eliza Jakle, a female farmer and entrepreneur, sold drinking water to the fish trap workers who worked here seasonally. 
Today, South Beach is the longest stretch of publicly accessible wild coastline anywhere in the San Juan Islands! From the two miles of gray sand, pebbles, and driftwood, there's an excellent view of Juan de Fuca and Haro Straits.  
You can access this popular gathering spot from the American Camp Visitor Center by hiking the South Beach Loop Trail. While camping is not allowed, there's still plenty to do at South Beach. Have a bonfire or barbeque in one of several fire pits, take a walk, enjoy a picnic, or host a party! Dogs can partake in the fun as long as they are on leash.  
Keep an eye out for orcas in the water! You might be able to see other sea life, such as river otters, anemones, shore crabs, and barnacles. On the hill behind the shore, you might see eagles, hawks, foxes, or rabbits. In late May and early June, look out for the endangered Island Marble Butterfly.  
To get to South Beach from Friday Harbor: take Spring Street from town, then a left onto Mullis Road. This will turn into Cattle Point Road. You will see a sign for Fourth of July Beach- keep going. About half a mile later, the exit to South Beach will be on your right, down Pickett's Lane. 
Last updated: August 31, 2022