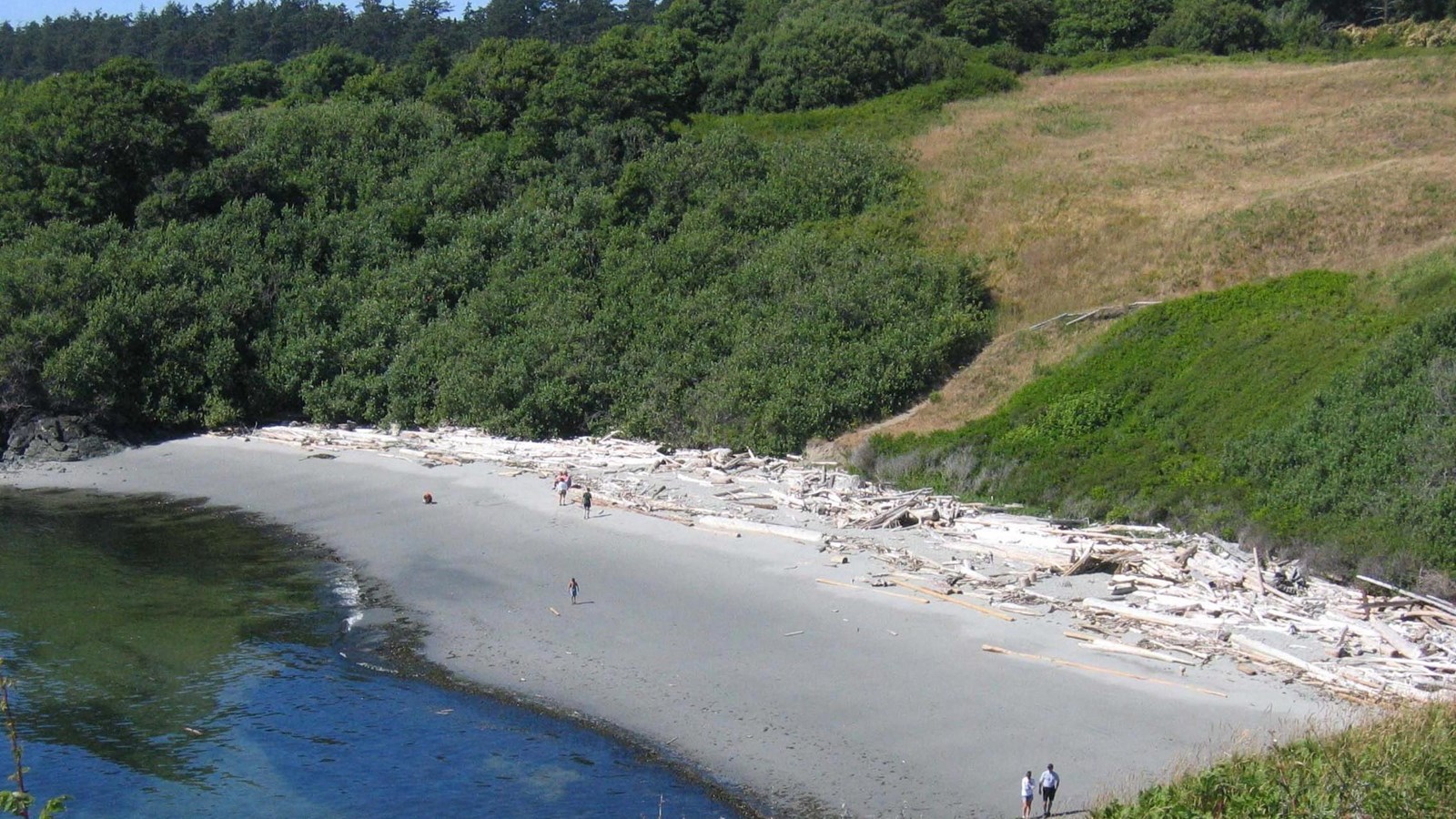 Beach/Water Access, Benches/Seating, Canoe/Kayak/Small Boat Launch, Information, Restroom, Scenic View/Photo Spot, Trash Dumpster
This beach got its name when Paul K. Hubbs Jr. flew a giant American flag there on the Fourth of July, 1859. Because of the ongoing Pig War, the American tax collector wished to annoy the English with this patriotic display. Hubbs, who informed Captain George Pickett about Charles Griffin and Lyman Cutlar's pig related dispute, was an important figure in the events leading up to the Pig War.  
Fourth of July Beach is a lovely stretch of pebbly sand facing Griffin Bay. This area, while less crowded than South Beach, is still a popular place to relax and have a picnic. Fires are not allowed on this beach. Remember to practice Leave No Trace! 
There's plenty of activity here too! The mowed grass field is perfect for playing sports and other games. Berry lovers: keep an eye out for ripe strawberries in July and blackberries in August! You can launch kayaks from the shore. Its sheltered waters are far more tranquil than the wilder, unprotected coast at South Beach. However, swimming is still discouraged due to strong currents. Pets can enjoy the beach with you if they are on leash.  
Access the Old Town Lagoon Beach Walk by following the beach access trail East. This adventure will lead you along the shoreline, past Jakle's (saltwater) Lagoon, and to the historical site of San Juan Town. Reminder that it is illegal to take any natural or archaeological material from the park.  
To get to Fourth of July Beach from Friday Harbor: take Spring Street from town, then a left onto Mullis Road. This will turn into Cattle Point Road, and the exit to Fourth of July Beach will be on your left. You've gone too far if you reach South Beach or the Jakle's Lagoon Trailhead.
Last updated: August 31, 2022