News Release
Saguaro National Park Resumes Aerial Treatments to Manage Buffelgrass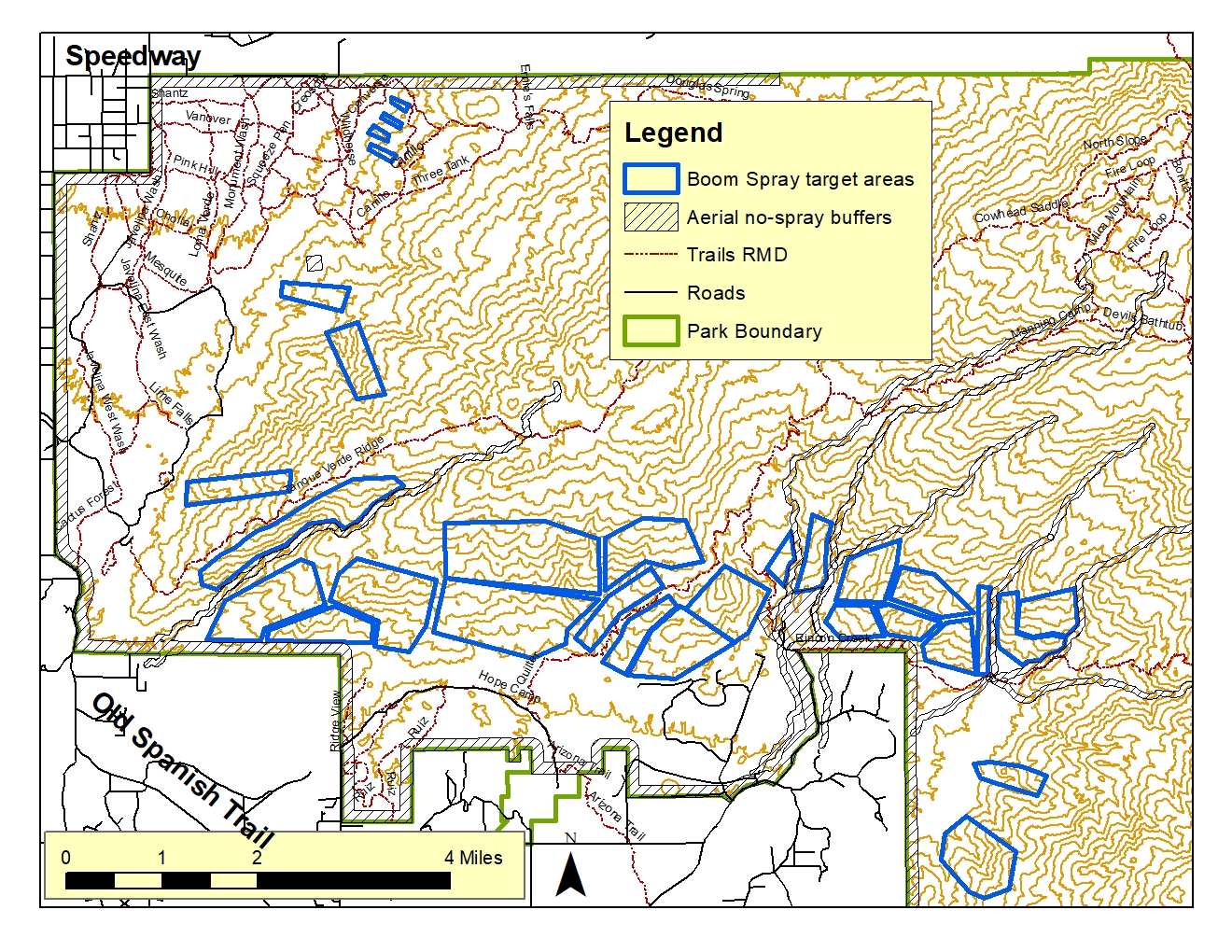 News Release Date:
August 26, 2022
Contact: Jeffery Conn, 520-733-5170
Contact: Leah McGinnis, 520-733-5100
Saguaro National Park Resumes   Aerial Treatments to Manage Buffelgrass
Tucson, AZ – Saguaro National Park plans to resume aerial boom spray treatment to manage dangerous buffelgrass on August 31st in the Rincon Mountain District (east) including the areas around the Manning Camp, Quilter, Rincon Creek, Garwood, Converse, Carrillo, and Three Tank Trails.  Portions of these trails may be closed for parts of one to three days during active spraying, up to one hour after the spray dries. Closure notices will be posted at trailheads and on our website www.nps.gov/sagu. 
Targeted helicopter spot treatments to treat smaller dense patches of buffelgrass may occur later in both of the park's districts.  Any additional trail closures in either district will be posted on the park website.  
Herbicide treatments of buffelgrass are only effective when the grass is green following the monsoon rains. A helicopter is used to treat buffelgrass in areas of the park inaccessible or unsafe for ground crews. The park considers weather conditions before beginning treatment each day, including wind direction and wind speed, to ensure that the rain-sized droplets reach only their intended target areas. The exact starting date and time will depend upon these conditions. It is important to note that no boom spraying in the Tucson Mountain District is expected unless more rain is received this year.  
"Previous aerial spray treatment in high priority areas has reduced the size and density of treated buffelgrass patches in the park by 75%. This success enables the park to shift resources to target areas which have not yet been treated, including the large patch on the south side of the Rincon Mountains," reported Chief of Resources, Jeff Conn.  
Untreated buffelgrass patches have shown substantial growth in size and density, with some areas doubling in size over seven years. This prescribed treatment of buffelgrass was approved by the National Park Service in 2014 as part of a Restoration Plan and Environmental Assessment, which included aerial application of herbicide to reduce invasive, non-native plants in places that are unsafe or too remote for ground crews. Ground-based crews and volunteers will continue to fight undesirable plants in accessible areas with manual pulling and herbicide from backpack sprayers.   
The park's Restoration Plan and Environmental Assessment and additional information on buffelgrass and the threat this invasive species poses to the park are available at:  https://www.nps.gov/sagu/learn/management/restoration-plan.htm and https://www.nps.gov/sagu/learn/nature/buffelgrass.htm.  
To help protect the park, please visit the following webpage to see which options would suit you best.  They range from manually removing buffelgrass to installing and maintaining boot brush stations at trailheads.  Ask us how you too can help Save Our Saguaros by adopting your own piece of the park and removing buffelgrass and other invasive plants.  
Last updated: August 28, 2022