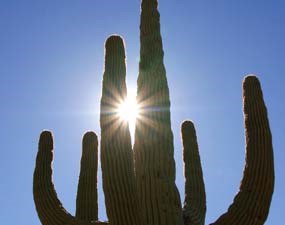 Q. How do you pronounce saguaro?
A. Sa - WAH - ro
Q. How do saguaros grow?
A. Saguaros are a very slow growing cactus. In Saguaro National Park, studies indicate that a saguaro grows between 1 and 1.5 inches in the first eight years of its life. more
Q. Can I make a reservation for one of your picnic areas?
A. No, reservations are not taken for picnic areas in Saguaro National Park. They are first come, first served.
Q. What uses require a special use permit?
A. 1. Weddings
2. Picnicking in groups of 20 or more persons
3. Religious Retreats
4. Dispersal of human remains
A special use permit must be filled out and submitted to the park in advance of the actual date requested. There is a permit processing fee of $50 (minimum) for all recreational special use permits.