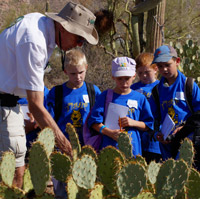 Junior Ranger Programs - Find out more about the adventure and honor of becoming a Junior Ranger.
Outdoor Day Camps - Get behind the scenes and into the wild with Saguaro Wilderness Camps!
Educational Programs - Programs are available for Teachers and Students during the school year.
View Current Ranger Program Schedules - Kids can attend any of these programs to fulfill their Junior Ranger Requirements.
Become a WebRanger - This is the National Park Service's on-line Junior Ranger program for kids of all ages.
Desert Diversity Games - Five fun and educational games to learn about the Sonoran Desert ecosystem.