Accessibility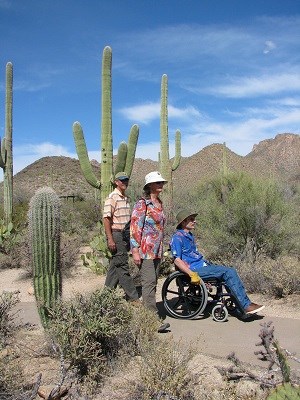 For All to Enjoy
The staff at Saguaro National Park invites all visitors to enjoy the sights, sounds and smells of the Sonoran Desert. We are continually working to improve the accessibility of our facilities and interpretive programs, but we need your help.
The best ideas for accessibility often come from folks like you. If you have a suggestion for improving your national park, stop by one of the visitor centers and ask for a comment card. We value your input and look forward to hearing from you.
Visitor Centers
Saguaro National Park is divided into two districts: Saguaro West in the Tucson Mountains west of the city of Tucson, and Saguaro East in the Rincon Mountains east of Tucson. Both visitor centers have a fully accessible visitor center.
Accessible features found at both visitor centers include designated parking spaces, accessible restrooms and drinking fountains, paved cactus garden paths and captioned orientation programs. Saguaro West offers a flowing text device for their orientation program; Saguaro East has descriptive audio devices for its exhibits.
Interpretive Programs
Interpretive programs are offered throughout the year, with the most programs offered in the busy winter season, November through April. Many of these programs are held inaccessible areas in or near the visitor centers, or on paved trails out in the desert. Some programs are auto caravans where interpretive rangers will speak near your car. Indoor and patio programs are another way to access fascinating programs about the Saguaro Cactus and the Sonoran Desert.
For more information call either visitor center daily between 9 a.m. and 5 p.m. Hours are Mountain Standard Time, year-round, centers closed December 25.

Saguaro East
Rincon Mountain District
3693 S Old Spanish Trail
Tucson, Az 85730
(520)733-5153
Saguaro West
Tucson Mountain District
2700 N Kinney Rd
Tucson, Az 85743
(520)733-5158
Scenic Drives
Saguaro East offers the 8 mile Cactus Forest Drive in the Rincon Mountain foothills. This scenic loop route features spectacular views of the Sonoran Desert. Seven scenic parking areas have accessible parking spaces and colorful interpretive signs explaining park features. Keep in mind RV parking is limited on the driving loop and the Visistors Center does not have any. Numerous small pull-outs also allow close-up views of the cactus desert. This paved route is open from 7 a.m. to sunset every day of the year.
At Saguaro West, the 5 mile Bajada Loop Drive winds through a thick stand of saguaros and other desert vegetation, including ironwood trees.There are pullouts for sight seeing and photography from the car, and accessible parking at picnic areas.This unpaved route, passable for all vehicles, is open from 7 a.m. to sunset every day of the year. Paved alternative drives are nearby, ask at the visitor center. Keep in mind the loop does not have RV parking but the Visitors Center does.
Accessible Trails
The Desert Ecology Trail is located at Saguaro East. This 1/4 mile paved trail has exhibits about the plant and animals that comprise the Sonoran Desert community. Resting benches are spaced along the trail. Also at Saguaro East, a 0.7 mile portion of the Mica View Trail is graded to ADA standards and surfaced with a natural material that supports all types of wheelchairs. Park at Mica View Picnic Area or the BroadwayTrail head.
The Desert Discovery Trail is located at Saguaro West. This is a 1/2 mile paved trail with exhibit signs about the life of the Sonoran Desert. Pavement texturing, and shade ramadas with resting benches are found along the trail. Trail guides in braille and cassette tape format may be obtained at the visitor center. This is an excellent trail for sunset views through a forest of saguaro cactus.
Picnic Areas
Saguaro National Park has six picnicareas that are accessible by vehicle. Mica View and Javelina are located at Saguaro East. Sus, Signal Hill, Cam-Boh, and EzKim-In-Zincan be found at Saguaro West.
Each picnic area has one picnic table with an overhanging end for wheelchair accesss. A charcoal grill is located nearby. The restroom (no water) in each picnic area is accessible. Ground surfaces in all picnic areas are compacted soil and gravel. Access to the pit toilet at Javelina Picnic area is paved.
Last updated: April 5, 2019