Restoration at Redwood
Old-Growth Forests compared to Second-Growth Forests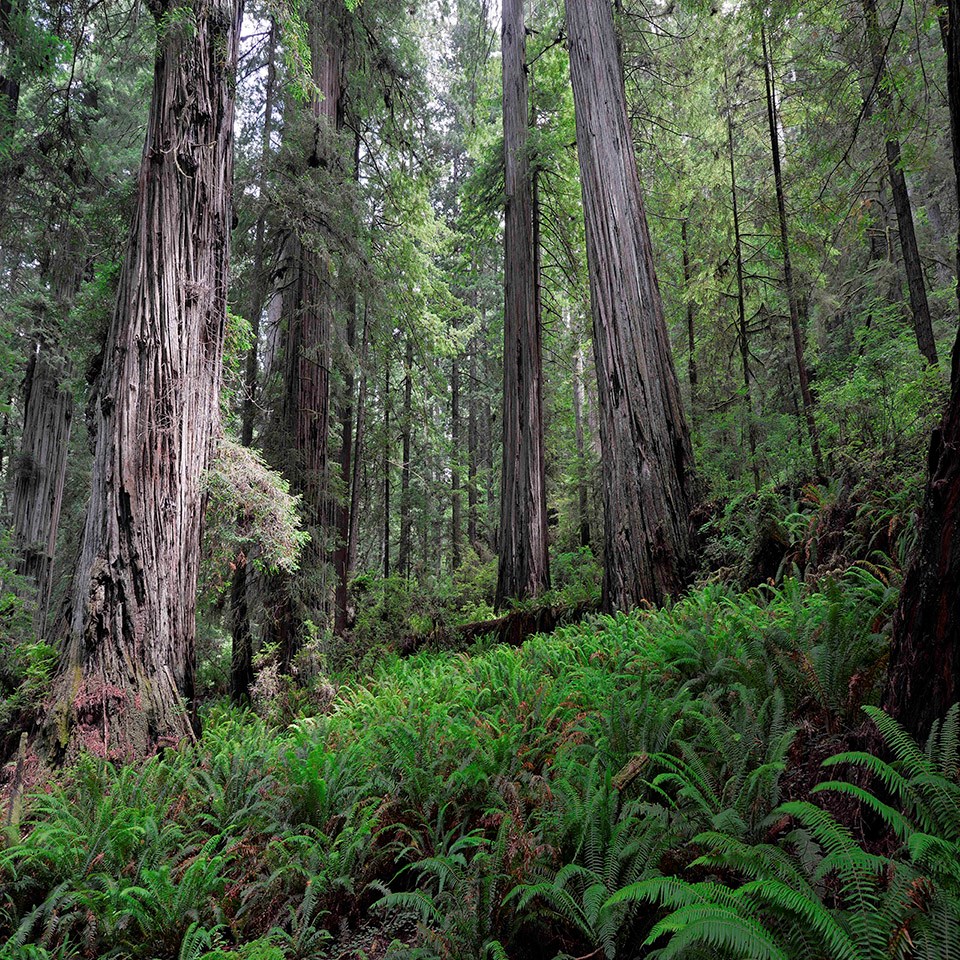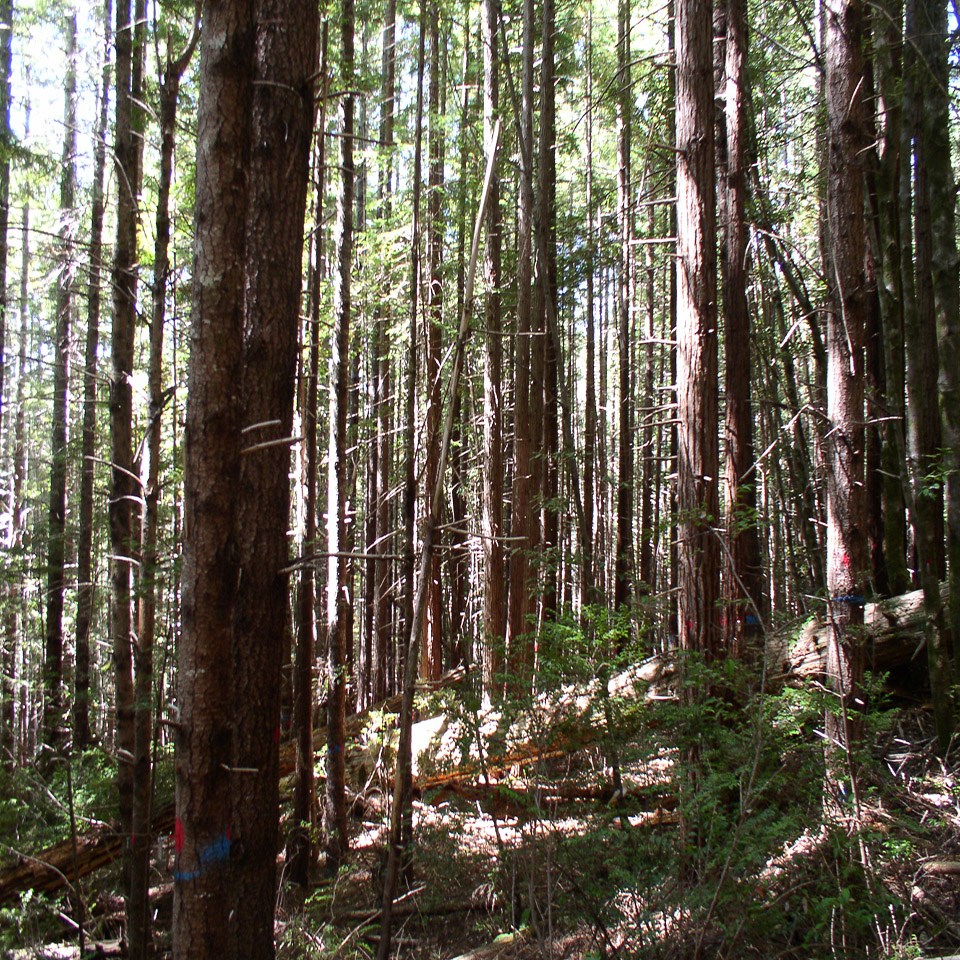 Old-growth forest with a complex understory, open spaces, and a few massive trees per acre.
NPS: John Chao
Second-growth forest with no understory, little light with crowded and skinny trees.
NPS: Jason Teraoka
---
Redwood National and State Parks (RNSP) is not "pristine".
20th century industrial logging had disasterous impacts on the forests, rivers, and wildlife of the area. Because of the extent of the damage - and the ripple effects it continues to have on these ecosystems - these logged habitats are not able to restore themselves.
For decades park managers and partners have been at work reversing many of those impacts. But our landscape-scale restoration is very costly, is far from complete, and takes time.
Since the 1978 Redwood Expansion Act, ecological restoration has been the primary resource management goal of Redwood National Park. This role grew in 2002 when the Save the Redwoods League purchased lands in Mill Creek and donated it to Del Norte Coast Redwoods State Park. All these parks' lands were purchased from logging companies and private land-owners.
Our restoration habitats range from prairies, coast-lines, waterways, hillsides, and forests. Whether it's
dune restoration
,
removing invasive plants
,
thinning second-growth forests
,
stopping old logging roads from catastrophic failure
, rebuilding rivers,
mapping forests
, or removing legacy logging roads entirely - these restoration efforts take time, partnerships, skills, science, and money to achieve.
The three
California State Parks
in our partnership (Jedediah Smith Redwoods, Del Norte Coast Redwoods and Prairie Creek Redwoods) were established in the 1920s and 1930s. The land for these state parks came from citizen groups like
Save the Redwoods League
and the state government that purchased sections of old-growth forests from private logging companies. These pockets of preserved forests were an oasis of protected land during the next half century of logging.
Redwood National and State Parks is unusual in that many of the park ecosystems were not in a healthy condition when the parks were established or expanded. In 2018, 55% (more than 70,000 acres) of the forests in RNSP are second-growth forests. These grew up after the old-growth redwoods were clear cut and these young, second-growth forests are greatly degraded in their health. Only 30% (40,000 acres) of the parks are old-growth redwood forests.
More than 38,000 acres (70%) of the Redwood Creek watershed lands included in the national park's 1978 expansion were heavily disturbed timberlands. The 1978 aquisition included 415 miles of failing and abandoned logging roads.
Del Norte Coast Redwoods State Park expanded in 2002 with the addition of twenty-five thousand acres in the Mill Creek watershed. This aquisition of logged-over lands included 329 miles of logging roads (not including skid roads or fire breaks).
Those hundreds of miles of logging roads create more than scars on the landscape. When these roads fail, they cause landslides that can, and have, destroyed hillsides of old-growth redwoods. During the decades of logging, miles and miles of creeks and streams were also buried by debris and fill - causing a collapse of natural river systems, and the decimation of trout and salmon habitats.
Today, only a third (40,000 acres) of Redwood National and State Parks' land is
old-growth
redwoods. These jig-saw like sections of healthy old-growth redwood forests are now surrounded by 70,000 acres of densley choked,
second-growth
forests. After the old-growth redwoods were logged in the 1960s, much of land was then sewn by helicopters and planes with Douglas-fir seeds.
We are seen as a leader in efforts to restore of a variety of habitats and ecosystems. Since the 1990s, great leaps forward in science, forestry, state and private partnerships, and park management have occurred to make these innovative restoration programs occur. At Redwood National and State Parks, more than 300 miles of logging roads have been removed, and hundreds of unnatural stream crossings and barriers have also been repaired or removed. But, there still is a lot more to do.
Redwoods Rising
is an exciting and new massive landscape-scale restoration program. Its focus is on the Greater Mill Creek and Greater Prairie Creek watersheds. These are important riparian areas where old-growth redwoods had been logged. These watersheds make up tens of thousands of acres of second-growth forests which we are slowly treating. The goal is that centuries from now, these once-logged areas will once again have healthy steams, rivers, and old-growth forests.
Redwoods Rising will bring economic benefits to the community, and is ultimately likely to create additional hiking and biking opportunies in the park for visitors.
We invite you find out what is going on behind the scenes. These are your parks.
Last updated: March 21, 2019