Redwoods and Climate Change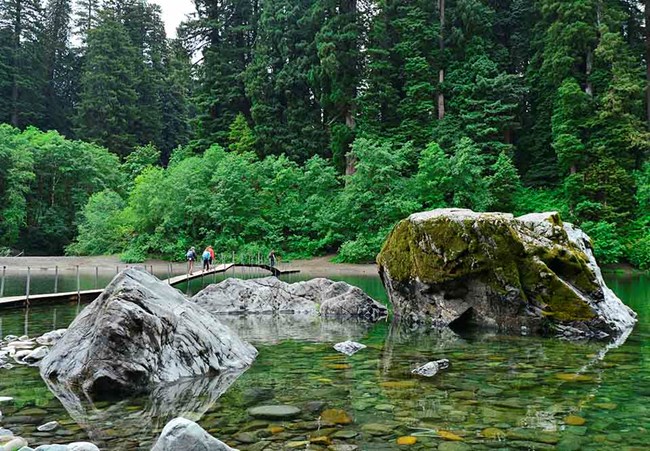 Specific Impacts in the Park
Redwood National and State Parks protect 130,000 acres of different forests, rivers and prairies, as well as 40-miles of Pacific coastline. These varied ecosystems are responding in different ways and at different rates to human-caused climate change.
Data shows that the ancient old-growth redwood forests are likely to remain resilient to climate changes in the foreseeable future. In fact, since the 1970s they have been benefiting from increased carbon-dioxide in the atmosphere. Old-growth redwoods have been measured as absorbing more carbon while putting on more mass.
Changes in vegetation communities due to warmer temperatures will effect species on the land. Ocean temperate and chemistry is already changing and the impacts of that are very complex. We actively monitor tide pools, bird rookeries, and beaches for indicators of population changes in our marine habitats. Snow-fed streams and rivers will have less water and warmer temperatures. Already, reduced water quality have been documented and linked to climate change. For example, fish dies-off will continue to increase due to the increased river temperatures. Studies have modeled how
local bird populations
will change with projected climate change scenarios. Some wildlife species will benefit, and others will suffer as climate change impacts different habitats here.
Increased beach erosion caused by higher tides have already damaged
archeology sites
in Redwood National Park that are sacred to the Tolowa Dee-Ni' Nation.
In 2015, the National Park Service created a specific report as to how
might future warming alter visitation to Redwood National Park
.
There is an economic cost too. A 2015 study with Western Carolina University and the National Park Service identified $7,871,075 of infrastructure (twenty assets) in RNSP that is at high risk from 1-meter of sea level rise. Another 470 assets with a value of $360,024,101 was found to have limited exposure with 1-meter of sea level rise.
The park is looking at options regarding the
Thomas H Kuchel Visitor Center
. This is the busiest visitor center in the park - and it currently is in a tsunami zone. In addition, this facility is within high-tide zones associated with projected rises in sea level. In 2018, park staff served 143,000 people in this building and it was valued at $3,484,488.
The range of where coastal redwoods survive will change with any long-term changes in fog, rain or temperature patterns. Recent studies have looked at how the habitat for
coastal redwoods may be impacted by climate change
in the San Francisco area.

Climate Friendly Parks
Redwood National and State Parks is a climate friendly park(s). Learn more about
climate friendly parks
and find out where they are.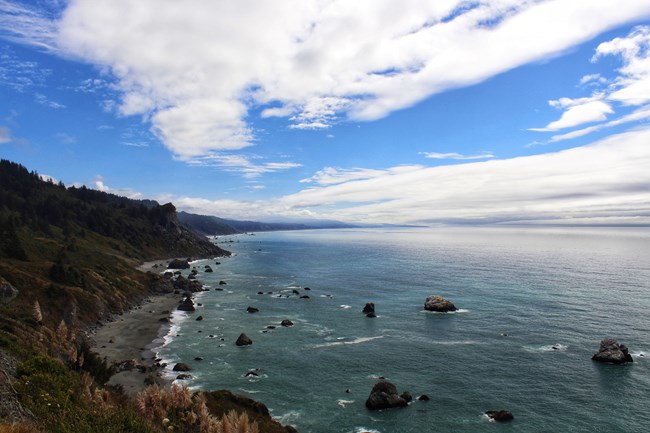 Learning More

At Redwood National and State Parks (RNSP), for the National Park Service (NPS) and the California Department of Parks and Recreation (CDPR), climate change is an issue we are facing together.

Park managers, resource specialists, maintenance crews, and educators continue to study, plan for, respond with solutions, and communicate about what has been called the "climate crisis". You can learn about Climate Change across the National Park Service. National Park managers and the public can read the latest Preparing Parks for Climate Change Report (2021). Also, you can visit the Cool Parks: California State Parks initiative for addressing and communicating about climate change in state parks.

National reports like the Fourth National Climate Assessment (2018) assist communities, resource managers, agencies, and other stakeholders by providing information and data about the effects of climate change on the United States.

You can learn how climate change is impacting US national parks (2020 article). For more detailed information, you can view reports about projected climate change impacts at specific national park sites.
Responses, Partnerships and Solutions

Science shows that human-caused climate change already has impacted Redwood National and State Parks. We have increasingly detailed and specific information as to what the impacts are, and also how projections for different climate change scenarios will be felt here. Knowledge of projected impacts allows us to plan for, adapt and find solutions.

RNSP has partnered with Save the Redwoods League and Humboldt State University, and the Klamath Network Inventory and Monitoring Program to join forces with climate monitoring programs and learn more about climate change impacts here. The Redwoods Climate Change Initiative also provides important research and resources that are specific to the redwood parks.

Through educational and interpretive products, videos (see below), teacher workshops and ranger-led programs, Redwood National and State Parks' staff communicate about climate change with the best science available. Across the USA, the National Park Service's Climate Change Response Program also provides opportunities for park staff and the public to increase awareness about this issue.

Redwood National and State Parks - along with formal partners like Save the Redwoods League - have begun a massive habitat restoration project called Redwoods Rising. One of the goals of this ambitious project is to treat 70,000 acres of once-logged, second-growth forest so that it can become healthy old-growth redwood forests again. This effort will eventually greatly increase the carbon capture of two-thirds of the parks' forests. The restoration work will also help create habitat resiliency against projected climate change impacts.

You can watch a video by Save the Redwoods League to learn how Redwoods Rising is helping fight climate change.
Redwoods and Climate Change: Educational Videos

A selection of park produced videos about redwoods, climate change, and climate resilience.
To celebrate climate week, learn how redwood trees are impacted by climate change. A Redwood National Park ranger and two California State Park guides chat about carbon and climate resilience of redwoods.

Duration:

4 minutes, 2 seconds
Ranger Greg discovers some important things that redwood forests do to reduce the impacts of climate change. [Note: In 2016 - after this video was produced - research showed that an acre of redwoods can hold 1,000 metric tons of carbon. This is almost four times the amount quoted in this video]

Duration:

6 minutes, 57 seconds
Join California State Park Interpreter Kyle as he takes a walk into the ever-popular Fern Canyon. He challenges us to image its future with climate change.

Duration:

2 minutes, 18 seconds
Last updated: October 25, 2022