Basic Information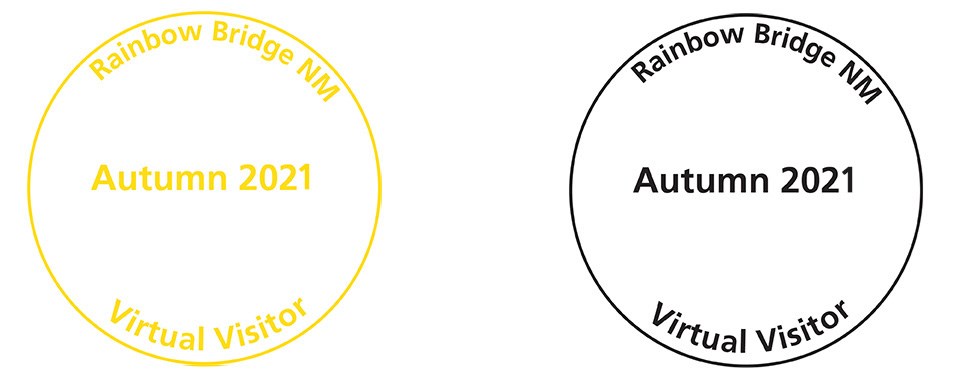 While all of our visitor centers are closed, we cannot access our physical Passport Stamps. Until the buildings can reopen, please download our stamps here. Glen Canyon and Rainbow Bridge are located in the yellow section of your passport book, but there is also a black version for legibility.



Encompassing just 160 square acres of land, Rainbow Bridge National Monument is one of the smallest units of the National Park Service. However, what it lacks in size it more than makes up for with an abundance of unique and interesting features. The primary feature is, of course, Rainbow Bridge itself, one of the largest natural bridges in the world.
During the summer months rangers are on site daily at the Rainbow Bridge viewing area to provide interpretive programs and information on the geology and cultural history of Rainbow Bridge. Group programs can be arranged throughout the year with advance notice.
Operating Hours
When is Rainbow Bridge National Monument open? Launch ramps are open all day, year-round when water level allows.
Fees & Passes
How much does it cost to get into the park?
Frequently Asked Questions
What makes Rainbow Bridge National Monument tick? Find out here!
Advisories
For information about regulations and important safety concerns.
Directions
Access to Rainbow Bridge National Monument is only via boat or by backpacking from Navajo Mountain. Permits are required from the Navajo Nation for backpack trips.
Hiking to the Bridge
At current lake levels, the hike from the Rainbow Bridge dock to the bridge is approximately 1.25 miles (1.8km). Intrepid backpackers may want to know more information about hiking to Rainbow Bridge from around Navajo Mountain.
Services
There is no lodging, food, or other services at Rainbow Bridge.
Quagga Mussel Update
The latest information regarding invasive mussels in Glen Canyon National Recreation Area.
Weather
Even with beautiful Lake Powell, this is still a desert. Extreme conditions ahead.
Pets
Where can I take my pet in Rainbow Bridge National Monument?

---
Glen Canyon National Recreation Area
Rainbow Bridge National Monument, although a seperate unit of the National Park Service, is administered by Glen Canyon. All services originate from there. Find out more about this amazing site.
Last updated: September 28, 2021