Directions
Getting to the Monument
Rainbow Bridge is only accessible by boat on Lake Powell or by land over a 14+ mile trail from the Navajo Nation. See the map to understand the monument's remote location.
By Boat
Trips to Rainbow Bridge may be made across Lake Powell in Glen Canyon National Recreation Area using private, rental, or tour boats. From Wahweap, Antelope Point, and Dangling Rope, travel north. From Bullfrog and Halls Crossing, travel south.
Proceed to the mouth of Forbidding Canyon (buoy 49), where a floating sign on the right marks the canyon entrance. Follow the canyon about 2 miles (4 km) to another sign that points the way left through a narrow passage. Proceed with caution! Beyond the wakeless buoys, go slowly so that no wakes, or waves, are made. A courtesy dock is available for short-term docking while people make the roughly 2 mile (3.2 km) walk to the bridge.
By Hike
You may backpack to Rainbow Bridge across Navajo Nation lands. A permit from the Navajo Nation is required.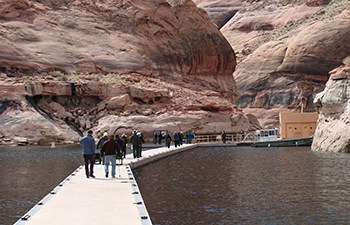 At the Monument
Most visitors arrive via boat to the park courtesy dock, available for short-term docking. There are floating restroom facilities at the dock. There are NOT restrooms at the bridge.
Because it starts on floating walkways, the trail length varies with changing lake levels. Expect to walk at least a mile to see the bridge.


Last updated: March 6, 2020