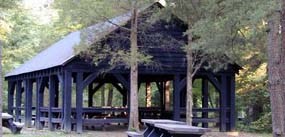 Prince William Forest Park offers a wide range of picnic options.
Larger groups might prefer to reserve Telegraph Picnic Pavilion or one of the park's historic cabin camps for their picnic outing. You can make a reservation for Telegraph Picnic Pavilion on Recreation.gov.
Pine Grove Picnic Area is available on a first-come, first serve basis. Located adjacent to the visitor center and less than 1 mile from the park entrance, this picnic area is the perfect place for a quick picnic lunch on your way into DC. This picnic area has a pavilion, picnic tables, bathrooms and grills.
If picnic tables is all you need, you can also picnic at Parking Lot "E" on the park Scenic Drive. This small picnic area consists of a few picnic tables. It is well situated to work as a mid-point for many hikes in the park.
To find out about more about these picnic options, please call the visitor center at 703-221-7181 or e-mail us. Prince William Forest Park is a trash-free park, so please plan to pack-out all of the trash and recycling that you bring into the park.