News Release
Crews have cleared over 600 fallen and hazardous trees at Prince William Forest Park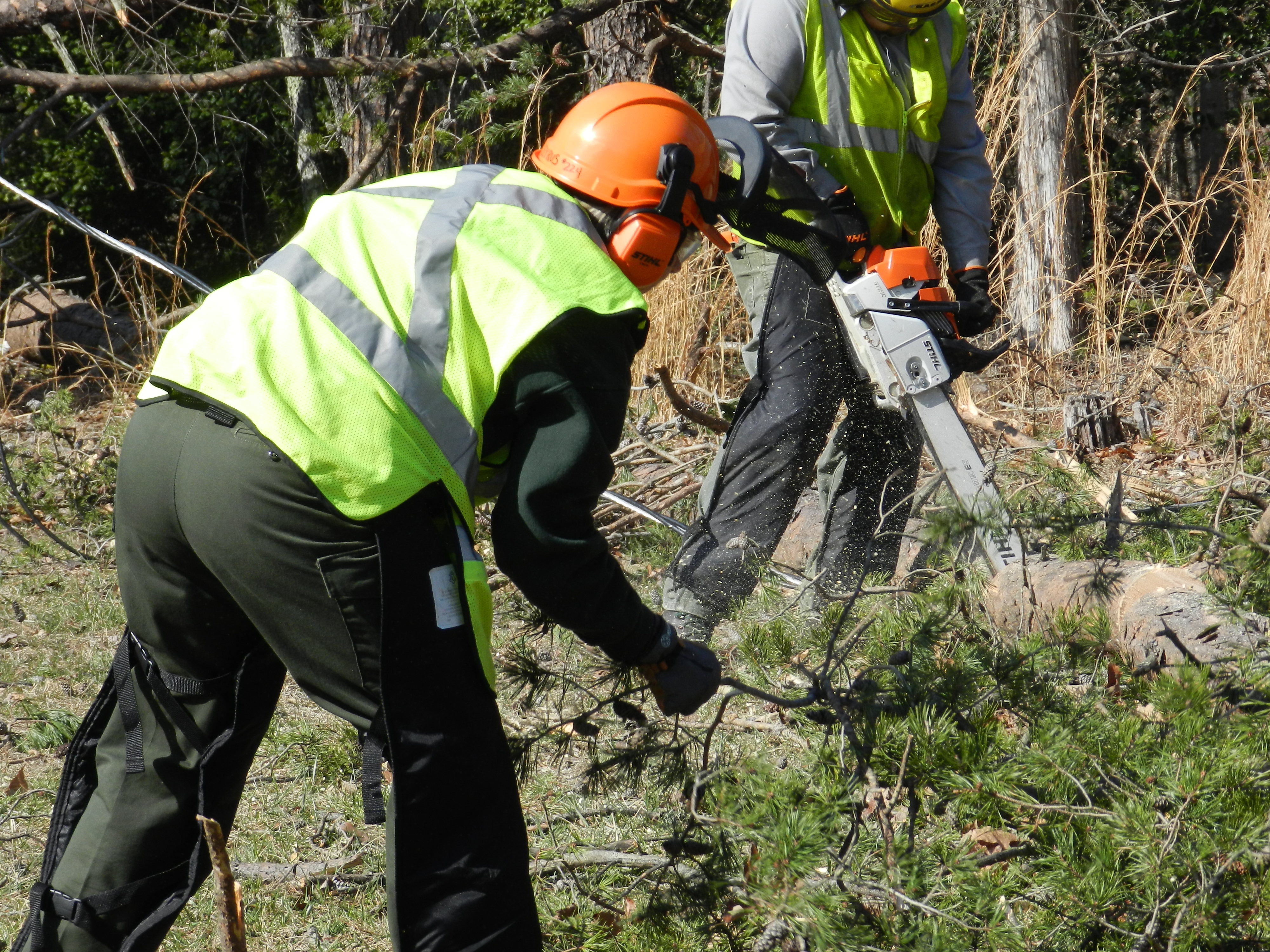 News Release Date:
March 8, 2018
Contact: Katelyn Liming, 703-399-4547
National Park Service (NPS) crews have cleared over 600 fallen and hazardous trees at Prince William Forest Park following last week's wind storm. Employees continue to clear damaged trees and debris, restore downed power lines, and repair damaged historic buildings across the park.
Prince William Forest Park is currently CLOSED. The park asks area residents and visitors to please respect the closure. Damaged trees and downed power lines continue to pose a threat to visitors, and current conditions would make any search and rescue efforts extremely difficult. The park is expected to be closed for 2-3 weeks.
An Incident Command Team arrived at Prince William Forest Park yesterday, and is coordinating efforts to assess and address storm damage throughout the park's 14,000 acres. Sawyers from nearby Fredericksburg and Spotsylvania National Military Park are also onsite to help remove hazardous trees.
NPS crews are focusing their work on the most heavily used areas of the park. They have made great progress clearing trees from roads and trails near the visitor center. Park administrators hope to begin reopening limited areas of the park once they are deemed safe. The Prince William Forest RV Campground on Rt. 234 remains open, but some areas within the campground are currently closed off.
The staff at Prince William Forest Park are grateful to all who have expressed interest in helping the park with clean-up efforts. Due to dangerous conditions and the presence of heavy equipment, the park cannot currently accept volunteer assistance. The park may plan volunteer opportunities at a later date.
Prince William Forest Park protects unique natural, cultural and historic features and provides opportunities to hike, camp, bike, and more in Northern Virginia. We are working to reopen the park as quickly as possible.
For more updates and photos of the damage and clean-up, follow Prince William Forest Park on Facebook, Twitter and Instagram.

 
###

About Prince William Forest Park: Located in Prince William and Stafford Counties, Virginia, Prince William Forest Park is the largest protected natural area in Northern Virginia. The park features approximately 40 miles of trails, protects more than 14,000 acres of Eastern Piedmont forest and much of the Quantico Creek watershed, and maintains the largest collection of Civilian Conservation Corps structures available for public use in the National Park System. This forested oasis along Virginia's I-95 corridor, allows people to explore nature and history from trails, historic cabin camps, RV campgrounds, backcountry campsites, and an 8-mile scenic drive. For more information, visit www.nps.gov/prwi and on Facebook @prwinps.
Last updated: March 9, 2018