Viewing Coho Salmon
Click on the following links to find out more about viewing opportunities for these species and to learn about their habitats and behaviors:
Birds ¦ Coho Salmon ¦ Elephant Seals ¦ Tule Elk ¦ Whales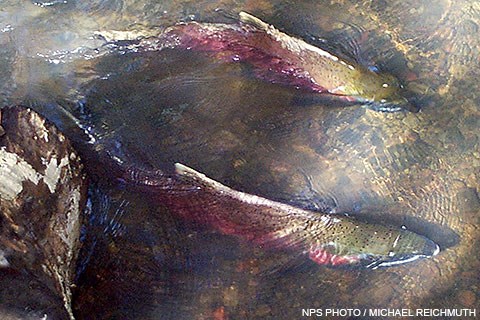 Winter rains bring new life to West Marin creeks. For thousands of years coho salmon and steelhead trout have returned from the vast ocean feeding grounds to the shaded streams of their birth. Look for salmon one to three days after a rainstorm. Traditionally, January is the best month to spot the spawning coho and steelhead. Listed below are some good sighting spots in western Marin County. Please use caution in these areas. Please do not disturb spawning salmon. Watch out for stinging nettle, poison oak, and swift currents.
The Salmon Protection And Watershed Network (SPAWN) is a local non-profit organization that works to protect endangered salmon in the Lagunitas Watershed. SPAWN offers walks to view spawning salmon for the public and for school groups, in addition to offering seminars, training, and volunteer and internship opportunities.
Lagunitas Creek
Leo T. Cronin Fish Viewing Area at the Shafter Bridge on Sir Francis Drake Boulevard, located at the eastern boundary of Samuel P. Taylor State Park, a half-mile west of the town of Lagunitas. The Marin Municipal Water District opens a parking area next to the bridge to facilitate fish viewing from December through February. For more information, call the Marin Municipal Water District Sky Oaks Watershed Headquarters at 415-945-1193.
Camp Taylor in Samuel P. Taylor State Park. At the entrance station to Camp Taylor just off Sir Francis Drake Boulevard, there is a short, steep access trail to the creek's edge where one may see the fish as they swim upstream. For more information, call Samuel P. Taylor State Park's ranger station at 415-488-9897.
Devil's Gulch in Samuel P. Taylor State Park. A few miles west of Camp Taylor is the Devil's Gulch tributary of Lagunitas Creek. The trail begins on the north side of the road, across from a pullout on Sir Francis Drake Boulevard. A flat walk takes you along the creek, providing several spots from which to view the fish. For more information, call Samuel P. Taylor State Park's ranger station at 415-488-9897.
REDWOOD CREEK
Redwood Creek flows through Muir Woods National Monument. Follow Highway 1 to Muir Woods Road, which will take you to the entrance of Muir Woods. Muir Woods National Monument has an entrance fee and reservations are now required for all personal vehicles and shuttle riders at Muir Woods. Park in the lot provided, then proceed on foot, following the path through the entrance gates and along Redwood Creek. Check the park's schedule of ranger programs for an opportunity to learn more about the spawning salmon. For more information, call the Muir Woods National Monument Visitor Center at 415-561-2850.


Last updated: June 17, 2022