Red Barn Art Exhibitions - 2016
In 2003, Point Reyes National Seashore Association (PRNSA) established the art gallery in the Red Barn Classroom at Point Reyes National Seashore. Rotating painting, photography, and educational exhibits several times a year, themes of the selected shows reflect the natural or cultural aspects of the Seashore and surrounding area.
The Red Barn Art Exhibitions of 2016 included:
Visit the Red Barn Art Exhibitions section of our Indoor Activities page to find links to pages where you can learn about the exhibitions from other years.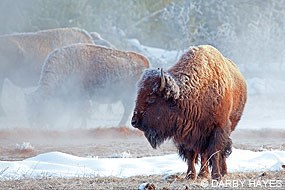 The Epic West
Exhibition: Tuesday, July 5 through Friday, October 7, 2016
Opening Reception: Saturday, July 2 and Sunday, July 3, 2016
Closing Reception: Saturday, October 8, 2016
Darby Hayes' digital prints combine a dramatic and artful blend of color, light and composition that go well beyond the tonal range of conventional film. In celebration of the 2016 Centennial of the National Park Service, this nationally recognized photographic artist selected prints from his body of work which capture an intimate glimpse into the lives of wildlife and the drama of wild spaces found in western national parks.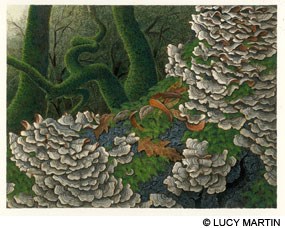 Secrets of the Forest: Portraits of Wild Mushrooms
Exhibition: April 5 through June 28, 2016
Reception: Saturday, April 9, 2016
Lucy Martin's detailed paintings depict fungi and lichen in their natural environment. They evoke the places in the forest where we can discover amazing life forms and surprising beauty when we slow down, and look closely. The paintings remind us of the cycle of life, as plants flourish, die, decay and are reborn as new life.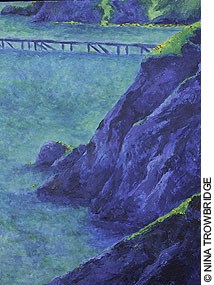 Reflections: Point Reyes National Seashore & West Marin
Exhibition: February 8 through March 31, 2016
Reception: Saturday, March 12, 2016
The subtle and deliciously rich colors of Point Reyes beaches and landscapes define these paintings by Nina Trowbridge. Her drawings are also full of grace and lines that remind us that the peninsula's foggy dreamscapes are as evocative as a sunny colorful day.
Last updated: July 26, 2019