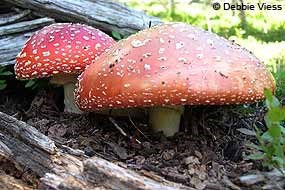 What are Mushrooms?
Mushrooms are short-lived, spore-producing structures (akin to apples on a tree); they are designed to release spores, and then decay. Picking a mushroom does not harm the long-lived fungal organism. The "body" of a mushroom is hidden from our eyes, and is composed of a vast, branching network of tiny, elongate cells called hyphae. These hyphal threads grow through and break down dead wood, providing a vital recycling service to our forests. Fungal hyphae also live in the ground, and connect up with the rootlets of trees, shrubs and almost all other green plants, forming a symbiotic (mutually beneficial) relationship. This mycorrhizal (fungus-root) partnership greatly increases the ability of trees and plants to take up water, and absorb essential minerals. In return, the fungus is provided with photosynthetic nutrients. Neither organism is able to function fully without the other.
Mushrooms at Point Reyes National Seashore
Mushrooms are a vitally important aspect of the diverse, natural world of Point Reyes National Seashore. They are found in all types of park habitat, from Bishop pine forests to coast live oak woodlands, meadows to sand dunes. Mushrooms are not only vital to the health of the Pt. Reyes eco-system, but they also add charm and magic to the landscape. Appearing seemingly overnight in response to rain, they come in a vast array of fantastic colors and shapes, from brilliant red, to purple, to golden orange, with caps ranging from the size of a pinhead, to as large as a dinner plate. A slow walk through almost any landscape during the mushroom season can produce a world of wonder at your feet.