Pacific Coast Science and Learning Center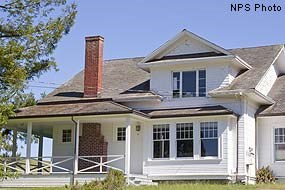 The Pacific Coast Science and Learning Center (PCSLC) is one of eighteen Research Learning Centers across the country. These centers strive to increase the effectiveness and communication of research and science results in the national parks through:
Facilitating the use of parks for scientific inquiry
Supporting science-informed decision making
Communicating relevance and providing access to research knowledge
Promoting resource stewardship through partnerships
Research Learning Centers are field stations for many collaborative research activities, providing researchers with laboratory, office space, dormitory facilities and access to park research priorities and scientists. Each center's education specialist works with park interpreters and partners to make new information about park resources available to the public and park management. We also provide hands-on learning experiences that connect researchers with learners of all ages.
Please join Point Reyes National Seashore staff for Science Lectures, PCSLC-sponsored 45 minute presentations on scientific research being performed at Point Reyes and elsewhere in the California. They usually occur at noon on many Thursdays throughout the year and are normally held at the Red Barn Classroom at Point Reyes National Seashore's Headquarters. All are welcome and admission is free.
For questions regarding the PCSLC, its programs, or how to do your research in the parks, please visit the Pacific Coast Science and Learning Center's home page.
Last updated: March 12, 2021