Invasive Weeds Awareness Weeks
California Invasive Weed Awareness Week
Invasive plants are one of the greatest threats to the integrity of native habitats and ecosystems. Invasive weeds are known to heavily colonize habitats with an adverse effect on their adapted environment. In northern California, invasive weeds reduce plant and animal diversity, restrict dune movement, and may create a fire hazard.
Invasive Weed Awareness Weeks were established to educate the public about invasive weeds and to encourage citizens to help preserve their National Parks and public lands by removing invasive weeds. California Invasive Weeds Awareness Week (CIWAW) is an annual event that brings attention to the problems caused by invasive plants in California, and to the work of local groups that work to protect our natural areas and rangelands. In 2004, the California state legislature signed a proclamation declaring California Invasive Weeds Awareness Week to begin the third Monday of July each year.
The last year in which the North American Weed Management Association coordinated an Annual National Invasive Weeds Awareness Week (NIWAW) appears to have been in 2009 and their website does not indicate that any future NIWAWs are scheduled. NIWAWs were organized from 2000 through 2009 to bring people and groups from across the country together to focus national attention on the severe impacts caused by invasive weeds.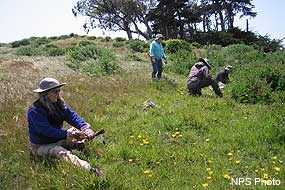 Volunteer Opportunities:
While Point Reyes National Seashore has not hosted any volunteer workdays for California Invasive Weeds Awareness Week since 2010, Point Reyes National Seashore invites the public to participate in regular Habitat Restoration Program workdays.
If you can't make it out to volunteer but would still like to get involved, see how you can make a difference from your own home at the California Invasive Plant Council's Responsible Landscaping and Don't Plant a Pest! Bay Area web pages.
Visit the San Francisco Bay Area Inventory & Monitoring Network's Invasive Plants Early Detection page to learn more and to download Plant ID Cards featuring some of the high-priority invasive species. If you see any of these plants in the park, take a photo of it and note where you found the plant, and then LET US KNOW! Contact Ellen Hamingson at 415-464-5196 or by email.
To learn more about invasive plants, visit the California Invasive Plant Council website.
Past Volunteer Opportunities
Below are some brief descriptions of the opportunities that were planned for past Invasive Weed Awareness Weeks. If you, as an individual or as a group, would like more information or wish to participate in any future Invasive Weeds Awareness Weeks at Point Reyes, please contact Ellen Hamingson at 415-464-5196 or by email.
CIWAW 2010
Point Reyes National Seashore invited the public to join the Habitat Restoration Program for a workday on Sunday, February 28, 2010. Volunteers helped protect and restore endangered plant and wildlife habitat. They got to visit some of the most beautiful areas in the park and learned about local plant ecology while they worked alongside park staff to carry out ecological restoration projects.
CIWAW 2009
On Tuesday, July 21, 2009, three volunteers joined the park's Restoration Biologist and four interns to remove non-native, invasive oxeye daisy (Leucanthemum vulgare) from Lake Ranch. On Sunday, July 26, 2009, six volunteers joined the park's Habitat Restoration Coordinator to remove non-native, invasive capeweed (Arctotheca calendula) from Tomales Point. The volunteers enjoyed a beautiful morning hike with magnificent views of Tomales Bay, Bodega Bay and the Pacific Ocean. Afterwards, the volunteers were free to explore the Elk Reserve after the event, and hike to the tip of Tomales Point for a breathtaking ocean view.
CIWAW 2008
On Sunday, July 27, 2008, volunteers joined our Habitat Restoration Program crew and Vegetation Management staff remove invasive cape ivy, periwinkle, and capeweed from the historic Pierce Point Ranch area. Volunteers learned about the impacts of invasive plant species in the park and got involved with some hands-on participation. Participants had opportunities to check out the historic displays at the Pierce Ranch, the Tule Elk, and the incredible views that Tomales Point& has to offer. On Wednesday, July 23, 2008, visitors had the opportunity to& help Vegetation Management staff, along with Crissy Field interns, remove invasive capeweed (Arctotheca calendula) from Tomales Point. Participants enjoyed a scenic three mile hike, during which they were able to see the majestic Tule Elk and plentiful wildflowers in bloom.
NIWAW 9
On Sunday, February 24, 2008, volunteers joined members of Point Reyes' Habitat Restoration Program (HRP) to dig out European beachgrass, helping to restore open dune systems for the benefit of endangered Western snowy plovers, Tidestrom's lupine, beach layia, and a number of other rare dune annual plants. On Monday, February 25, 2008, volunteers joined Point Reyes restoration staff to remove vinca, thistles, and Monterey cypress near the Muddy Hollow trailhead. On Wednesday, February 27, 2008, volunteers joined Point Reyes restoration staff, along with San Jose Middle School (led by Youth in Service of the Environment), for a fun day at Limantour Beach removing iceplant and learning invasive species ecology.
Last updated: April 18, 2022