Park Wavelengths - June 2008
June 21, 2008
Forwarded to local Park Wavelengths Email List
Mowing to be conducted at Waldo Giacomini Ranch next week
CONSTRUCTION UPDATE – Giacomini Wetland Restoration Project Phase II
As part of initial preparation for the beginning of restoration work, the Seashore will be conducting mowing during the week of June 23-27, 2008, in the southern portion of the East Pasture of the Giacomini Ranch. Mowing will be conducted in areas of the pasture where clearing and grubbing of vegetation will need to be conducted in order to allow for scraping or excavation of restoration components. Mowed material will be subsequently baled and hauled off-site. Mowing of selected pasture areas will help to ensure that restoration can be completed by the fall deadline and potentially decrease the amount of material that would be off-hauled to the quarries. The Seashore has conducted environmental surveys to ensure that mowing would not pose a risk to nesting birds, and buffers have been established to reduce potential impacts to avian and other wildlife species to the maximum extent practicable.
Let me know if you have any questions,
Lorraine Parsons
Wetlands Ecologist
Giacomini Wetlands Restoration Project Manager
Point Reyes National Seashore
June 21, 2008
Summer Hours Change
As of June 30, 2008 new hours begin at the Bear Valley Visitor Center and at the Ken Patrick Visitor Center at Drakes beach:
Bear Valley Visitor Center will now remain open until 6:00 pm on Fridays and Saturdays through Labor Day weekend.
The Ken Patrick Visitor Center at Drakes Beach will be open Friday through Tuesday (closed Wednesday-Thursday) from 10:00 am to 5:00 pm through labor Day Weekend.
June 21, 2008
New Shuttle Bus at Point Reyes
A special grant from the Department of Transportation has been received by the park to provide a free trial shuttle bus during the month of July 2008 to help reduce greenhouse gas emissions. The free shuttle is scheduled to run on weekends between Olema RV Resort, Bear Valley Visitor Center and Limantour Beach and to connect with the West Marin Stagecoach schedule. The park will evaluate ridership, impacts on parking congestion at Bear Valley Visitor Center, etc. to determine if the bus service is sustainable. The schedule is also available at the park website: www.nps.gov/pore
| | | | |
| --- | --- | --- | --- |
| Leave Olema Ranch | Leave Bear Valley VC | Bayview Trailhead | Arrive Limantour Beach |
| 9:49 am | 10:00 am | 10:15 am | 10:25 am |
| 10:24 am | 10:35 am | 10:50 am | 11:00 am |
| 10:59 am | 11:10 am | 11:25 am | 11:35 am |
| 11:34 am | 11:45 am | 12:00 pm | 12:10 pm |
| 12:09 pm | 12:20 pm | 12:35 pm | 12:45 pm |
| 12:44 pm | 12:55 pm | 1:10 pm | 1:20 pm |
| 1:59 pm | 2:10 pm | 2:25 pm | 2:35 pm |
| 2:34 pm | 2:45 pm | 3:00 pm | 3:10 pm |
| 3:09 pm | 3:20 pm | 3:35 pm | 3:45 pm |
| | | | |
| --- | --- | --- | --- |
| Leave Limantour Beach | Bayview Trailhead | Arrive Bear Valley VC | Arrive Olema RV Resort |
| 10:28 am | 10:38 am | 10:53 am | 10:58 am |
| 11:03 am | 11:13 am | 11:28 am | 11:33 am |
| 11:38 am | 11:48 am | 12:03 pm | 12:08 pm |
| 12:13 pm | 12:23 pm | 12:38 pm | 12:43 pm |
| 12:48 pm | 12:58 pm | 1:15 pm | 1:18 pm |
| 1:23 pm | 1:33 pm | 1:50 pm | 1:53 pm |
| 2:38 pm | 2:48 pm | 3:05 pm | 3:08 pm |
| 3:13 pm | 3:23 pm | 3:40 pm | 3:43 pm |
| 3:48 pm | 3:58 pm | 4:15 pm | 4:18 pm |
| 4:23 pm | 4:33 pm | 4:50 pm | 4:53 pm |
| 4:58 pm | 5:08 pm | 5:25 pm | 5:28 pm |
| 5:33 pm | 5:43 pm | 6:00 pm | 6:03 pm |
June 18, 2008
Summer solstice is around the corner 4:59 pm on Friday, June 20th but also marked on many calendars for June 21st! The beginning of summer has been marked by several high fire danger days in the area so be extra careful. Drown all fires with plenty of water, watch car exhaust pipes when parking near dry grass, be sure power equipment has spark arresters on it.
Ladybugs or Ladybird beetles have been observed clumping along Drakes Beach. They do converge as a strategy in winter to conserve heat and may be in seen in large masses such as these as they migrate inland - lowland vegetation begins to dry out and they seek additional food. Unfortunately, they may have been blown off course and ended up on the beach far from their favorite aphid snacks.
A rare double plumed male California Quail was seen crossing the road near the hostel. They are usually in large coveys of 10-20 birds which pair off in spring to scrape a small ground nest and lay 6-17 brown spotted, cream colored eggs. Many quail families are being observed now, drive carefully! Coast Miwok collected the male plumes to decorate baskets and also held a special dance to honor this bird.
Marin County Parks and Open Space rangers lead a guided walk "Wildflowers and Wildlife of Bull Point on Thursday, June 26th between 10:00 am and 2:00 pm. The trailhead is off Sir Francis Drake Boulevard before the North Beach turnoff. A good place for burrowing owls and rare plants!
A film permit for a car commercial (80 people) has been issued for the north area of the park on Thursday June 19th and 20th. Traffic control with Highway Patrol officers will be in place with short delays not to exceed 5 minutes is expected. Filming areas include Ottinger's Hill, South Beach, and near Abbots Lagoon.
June 12, 2008
Forwarded to Park Wavelengths subscribers from local fire education staff; Mount Tamalpais State park is reported closed.
Fw: local fire weather - thurs june 12
Marin County is calling EXTREME fire danger for the county, based on the weather forecast below -- however, for Point Reyes National Seashore, based on the Mount Barnabe weather station, fire danger has been determined to be VERY HIGH.
Note: the red flag warning for the north and east bay hills below does not include West Marin. RH is not too low (25-40%),and winds not too high (5-10 MPH this afternoon) for Point Reyes in forecast below.
Meanwhile, some public lands in Marin are placing land use restrictions in effect.
--------------------------------
FWD ALL EMPLOYEE MESSG FROM MARIN COUNTY
From: Daniel, Clarissa
Sent: Thursday, June 12, 2008 8:54 AM
To: MarinCounty-All
Subject: Red Flag Day
Mt. Tamalpais State Park, Marin Municipal Water District and Marin Open Space District are placing land use restrictions on their public access lands to provide for public and natural resource safety during the current period of severe fire weather.
***************************************************************************
FIRE WEATHER FORECAST
http://fire.boi.noaa.gov/FIREWX/SFOFWFMTR.html
FNUS56 KMTR 121320
FWFMTR
FIRE WEATHER PLANNING FORECAST FOR THE SAN FRANCISCO BAY AREA AND CENTRAL CALIFORNIA COAST NATIONAL WEATHER SERVICE SAN FRANCISCO BAY AREA CA
700 AM PDT THU JUN 12 2008
...RED FLAG WARNING IN EFFECT THROUGH 8 AM FRIDAY MORNING FOR THE NORTH AND EAST BAY HILLS FOR GUSTY WINDS AND LOW RELATIVE HUMIDITY VALUES...
.DISCUSSION...HIGH PRESSURE BUILDING INTO THE GREAT BASIN CONTINUES THE DRY NORTHERLY WIND FLOW OVER THE AREA. WARM DAYTIME TEMPERATURES WITH VERY POOR OVERNIGHT HUMIDITY RECOVERIES ARE EXPECTED THROUGH THE NEXT TWO DAYS. WINDS WILL CONTINUE GUSTY FROM THE NORTH AND OVER TO THE NORTHEAST AT TIMES OVER THE NEXT 48 HOURS. COOLER WEATHER WITH AN INCREASE IN COASTAL MOISTURE IS EXPECTED TO RETURN LATE IN THE WEEKEND.

NOTE : ALL WINDS ARE 20-FOOT WINDS UNLESS OTHERWISE SPECIFIED. THUNDERSTORMS IMPLY STRONG, GUSTY AND ERRATIC WINDS.
$$
CAZ006-505-508-509-122300-
SAN FRANCISCO-
COASTAL NORTH BAY...INCLUDING POINT REYES NATIONAL SEASHORE-
SAN FRANCISCO BAY SHORELINE-SAN FRANCISCO PENINSULA COAST-
700 AM PDT THU JUN 12 2008
.TODAY...
SKY/WEATHER............SUNNY.
MAX TEMPERATURE.....76-86.
24 HR TREND...............LITTLE CHANGE.
MIN HUMIDITY............25-40%.
24 HR TREND..............LITTLE CHANGE.
20-FOOT WINDS..........UPVALLEY 3-7 MPH BECOMING WEST 5-10 MPH IN THE AFTERNOON.
CWR (>0.10)...............0%.
LAL.............................1.
MARINE LAYER............NONE.
.TONIGHT...
SKY/WEATHER............CLEAR.
MIN TEMPERATURE.....50-59.
24 HR TREND...............LITTLE CHANGE.
MAX HUMIDITY............65-80%.
24 HR TREND...............5-10% WETTER.
20-FOOT WINDS..........WEST WINDS 5-10 MPH IN THE EVENING BECOMING DOWNVALLEY 2-6 MPH.
CWR (>0.10)...............0%.
LAL.............................1.
MARINE LAYER............NONE.
.FRIDAY...
SKY/WEATHER............SUNNY.
MAX TEMPERATURE.....77-87.
MIN HUMIDITY............25-40%.
20-FOOT WINDS..........UPVALLEY 3-7 MPH BECOMING SOUTHWEST 5-10 MPH IN THE AFTERNOON.
CWR (>0.10)...............0%.
LAL.............................1.

Jennifer Chapman
Fire Communication and Education Specialist
S.F. Bay Area National Parks
415-464-5133 TEL
415-663-8132 FAX
June 11, 2008
Forwarded to Park Wavelengths Email list - please contact Ellen directly with information
June high-priority weed alert
Hello colleagues,
Please keep an open eye for two highly invasive plant species that are currently in very low abundance in our park: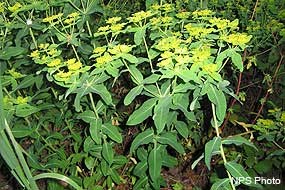 Oblong spurge (Euphorbia oblongata) is an upright perennial with alternate leaves, growing up to 3 feet tall. Its tiny flowers are surrounded by yellow petal-like bracts in spring and summer. This deep-rooted species can form dense colonies that outcompete native and rangeland plants.
I know of 4 populations in the park (SFD on Olema Hill across from the Bolinas Ridge trailhead; adjacent to the Palomarin trailhead parking lot; on McFadden Ranch; and in the Olema pasture across the creek from the campground, between Bear Valley Rd and the creek corridor. A large patch grows at the SFD edge of private property in Inverness.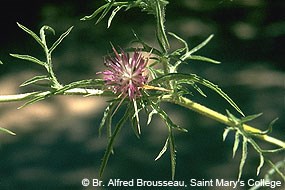 Purple star-thistle (Centaurea calcitrapa) is an annual to perennial thistle with long sharp spines below its purple (or white to pink) flower heads. Not currently flowering (though it could begin to flower very soon), it is distinguished from yellow star-thistle by the larger, wider lobed leaves. Young leaves can be grey with cobwebby hairs while older leaves are hairless and 4-8" long.
There's a patch on Genazzi Ranch and last week I removed 5 plants on SFD on the east side of the road between Inverness Park and Inverness.

If you or visitors find any other populations, please report to me: the location (as exactly as possible, including distance from trail or road), approximate number of plants and/or patch size, and whether they are flowering. Feel free to remove them as well. Purple star-thistle can be knocked down to ground level and if not flowering, disposal isn't an issue. Once it starts to flower, please dispose of the flowering heads. If you want to remove oblong spurge, please wear gloves and long sleeves (like all Euphorbias, they contain a toxic milky sap that's especially damaging to eyes) and bag and throw out all flowering plants.
To familiarize yourself with other early detection species for PORE and GOGA, check out the Inventory & Monitoring Program's excellent online resource: "Plants out of Place" Invasive Plant ID cards.
Thanks much for your help in protecting our native plant communities and educating our visitors!
Ellen Hamingson
Restoration Biologist
Point Reyes National Seashore
1 Bear Valley Road
Point Reyes, CA 94956
phone 415-464-5196 fax 415-464-5183
June 4, 2008
The full moon rises June 18 at 10:30 a.m. with the summer solstice soon to follow on June 21st. The moon makes it lowest arc across the sky for this summer "Moon of Good Fishing" for the Tlingit people.
Summer is just around the corner with the return of brown pelicans to the Lighthouse and Drakes Bay; the gopher hunting heron afield at Bear Valley and brush bunnies along roadways.
Scraps of scarlet along roadsides are "twinberry," a native shrub - "the bracts, as the fruit ripens, turn a rosy red and set off the bug-eyed pair of shining black fruits to perfection" (Roxana Ferris - Flowers of Point Reyes). The pink flowering stage of this plant draws hummingbirds, the fruits are not edible to humans but enjoyed by birds. Plenty of elderberry flowering along roadsides, light yellow clumps of flowers that will become berries by late summer.
Tule elk are calving now; typically the calves may be left resting by themselves while the mother is nearby nourishing herself on fresh grasses and shrubs. Males have their antlers in velvet. In order to remove the velvet, they'll begin scratching and honing the antlers against brush and power poles in the reserve, preparing for late summer battles.
Marin County Parks and Open Space staff host a tidepooling expedition on Friday, June 6th at Agate Beach County Park from 9:00 a.m. to 12 noon. Meet at the end of Overlook and Elm Road in Bolinas for one of the best daylight low tides of the year.
A permit has been issued for a wedding at Limantour Beach (60+ people) on Saturday June 7 from 2:00 p.m. to 4:00 pm; Expect some congestion in the parking lot in the afternoon.
New artwork on display at the Bear Valley Visitor Center is by Judith Corning, paintings of various scenes around the park.
Expect road closures this Sunday, June 7 in the town of Point Reyes Station; Highway 1 will be closed from approximately 12 noon through 1:00 p.m. for a local parade; traffic will be diverted onto side streets.
Last updated: March 9, 2019