Point Reyes Trails Festival: A Healthy Parks, Healthy People Bay Area Event
Date:
May 24, 2013
Contact:
John Golda
, 415-464-5143
Contact:
Jessica Taylor
, 415-663-1200 x304
On Saturday, June 1, Point Reyes National Seashore Association, in partnership with Point Reyes National Seashore, will host the 2013 Trails Festival during National Trails Day, a free event from 10 am to 4 pm in the Bear Valley Picnic Area at Point Reyes National Seashore. The Trails Festival encourages visitors to spend time outdoors and improve their health while getting to know this beautiful park's 150 miles of trails.
The festival features 25 booths with information on park programs and ways for the public to enjoy their park and reap the benefits of a healthy lifestyle while having fun! Numerous partners will also have information available including REI, Klean Kanteen, Marin Horse Council, KIND healthy snacks, KWMR 90.5 FM, the Point Reyes Hostel, Hostelling International, Green Mountain Digital, Cordell Bank National Marine Sanctuary, along with health and nutrition experts.
The day begins with a volunteer project on the Woodpecker Trail at 9:30 am in the picnic area. The day also includes an outdoor concert from noon to 3:30 pm by the Easy Leaves Duo, a kids corner featuring outdoor games and art activities, trail snacks, and more. A bilingual "Family Nature Walk" to Divide Meadow and back will start at 10:30 at the Bear Valley Visitor Center.
Festival visitors may sign up for the Trails Challenge, a four-month, self-paced hike-a-thon that also includes an optional fundraising component to support and enhance the parks trail system. The Trails Challenge highlights the connection between good health and outdoor recreation and is part of the nation-wide "Healthy Parks, Healthy People" initiative. It is a fun way to inspire park visitors to ride, walk, hike or run their way to health in the park while raising funds for trail enhancements that support habitat, wildlife, and recreational opportunities for all.
According to health experts, people of all ages face challenges to optimum health, many of which can be improved by spending time outdoors. Physical inactivity in particular contributes to increasing incidence of obesity and obesity-related diseases. In response, park agencies around the Bay Area have come together to offer introductory level programs for people of all ages and abilities. Point Reyes National Seashore Association and Point Reyes National Seashore are part of a 25-member Healthy Parks, Healthy People: Bay Area coalition of parks and health agencies from nine Bay Area counties working together to improve the health and well-being of Bay Area residents through the regular use and enjoyment of parks.
The Trails Festival and Trails Challenge are sponsored by the National Park Foundation. Point Reyes National Seashore is one of 22 national parks across the country selected to receive a 2013 Active Trails grant from the National Park Foundation. Now in its fifth year, the Active Trails program supports hands-on projects that encourage the public to lead healthy lives by actively engaging in trail work, special events and community activities that help restore, protect and/or create land and water trails across the country.
- NPS -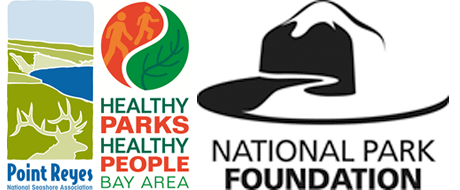 Last updated: February 28, 2015