News Release
Unprecedented Drought Prompts Point Reyes National Seashore to Provide Supplemental Water for Tule Elk at Tomales Point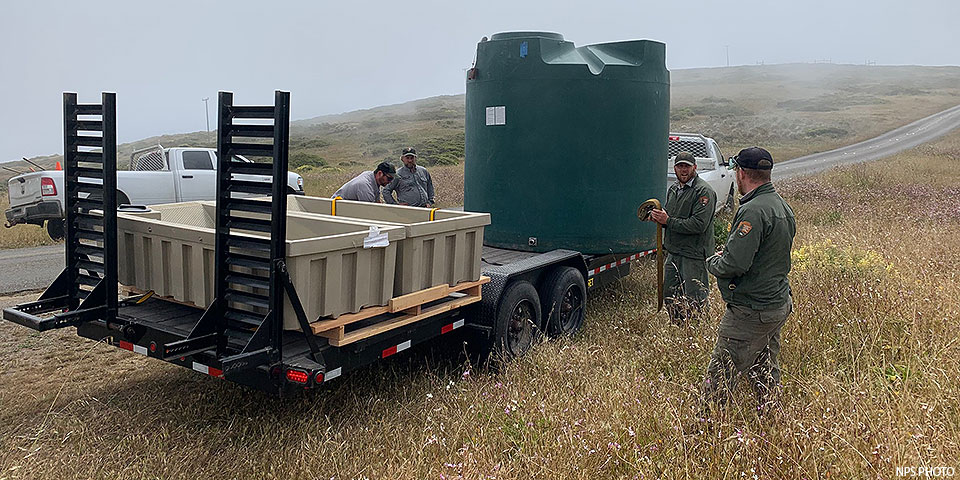 News Release Date:
June 11, 2021
Contact: Melanie Gunn, 415-464-5131
POINT REYES STATION, Calif. – Point Reyes National seashore is providing supplemental water to the Tomales Point Tule Elk Reserve at Point Reyes National Seashore in response to historic drought conditions. Although some natural water sources continue to be available, these sources may dry if this year becomes the worst drought on record for Marin County, as expected. Marin County declared a drought emergency mid-May with the lowest rainfall during the last 16 months in more than 140 years recorded by the Marin Municipal Water District.
The park has place three gravity-fed 250-gallon water troughs at the south end of the Tomales Point reserve based on areas of elk activity and adjacent to established water sources. The water troughs are fed by 2000+-gallon tanks located along Pierce Point Road, and will stay in place at least until rains return next winter. Water troughs have float valves to maintain constant water levels and escape ramps to prevent accidental drowning of smaller wildlife. Water will be supplied from water systems within and possibly outside of the park.
Tomales Point has both man-made cattle stock ponds and seeps, springs, and creeks distributed throughout the reserve. Both the man-made stock ponds and natural water sources are typically recharged by winter rains. With 2020–2021 winter rains at 40% of an average rainfall year, many of the stock ponds are already dry, and the seeps, springs, and creeks are dryer than usual, conditions not normally expected until the end of summer.
Point Reyes National Seashore developed this project in consultation with the California Department of Fish and Wildlife and the Federated Indians of Graton Rancheria, and with support from the Marin Municipal Water District, which is supplying two of the water tanks.
Point Reyes National Seashore manages a fenced herd of tule elk at Tomales Point and two free-ranging herds in the Limantour and Drakes Beach areas. There are nearly 600 tule elk in the park and approximately 6,000 throughout California managed by the California Department of Fish and Wildlife. The NPS is committed to maintaining three healthy herds of tule elk at Point Reyes Nation Seashore.
For more information, please see our Tule Elk at Tomales Point Frequently Asked Questions and Point Reyes National Seashore's website at nps.gov/pore.
-NPS-
About the National Park Service. More than 20,000 National Park Service employees care for America's 423 national parks and work with communities across the nation to help preserve local history and create close-to-home recreational opportunities. Learn more at www.nps.gov, and on Facebook, Instagram, Twitter, and YouTube.
Last updated: October 13, 2022