Natural Features & Ecosystems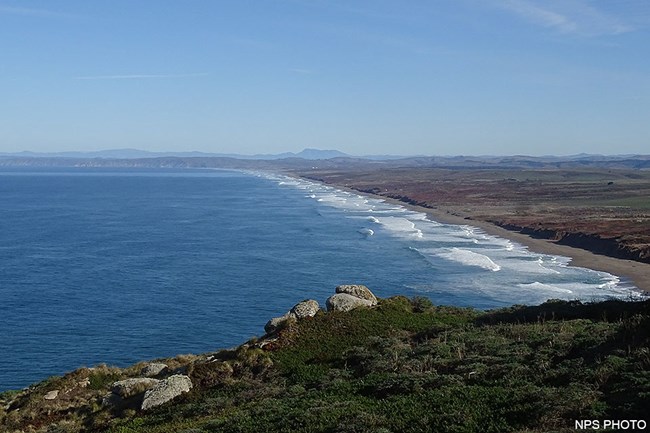 California enjoys one of the most diverse assemblages of land forms, vegetation types, and ecosystems in the world. There is more climatic and topographic variation in California than in any other region of comparable size in the United States. This variation has contributed to a remarkable diversity of natural features and ecosystems found at Point Reyes National Seashore, located within California.
Point Reyes National Seashore is blanketed with subtle natural features nestled over a variety of ecosystems. The overriding natural feature is the presence of the San Andreas Fault, which separates the geologic peninsula from the rest of the California mainland. Two of the area's larger streams flow along the length of the valley formed, in part, by the San Andreas Fault. These, and other smaller streams in the park, along with lakes, ponds, and lagoons provide important habitat for diverse species of life. The remaining sides of the peninsula are intermittently edged by beaches and sand dunes, sea cliffs, and intertidal zones bordering the Pacific Ocean. Encircled by this rich assemblage is a mosaic of ecosystems arranged by factors such as geologic foundation, climate, and exposure. While there are dozens of ways to classify and name the exact type of ecosystem, such as forest or grassland, the broadest and closest category places Point Reyes National Seashore into a Mediterranean Ecosystem.
The Golden Gate Biosphere Reserve represents a highly diverse complex of terrestrial, coastal, and marine environments, including Point Reyes National Seashore. The reserve is complimented by a rich cultural history with lands and waters in Sonoma, Marin, San Francisco, and San Mateo Counties.


Last updated: January 16, 2023