Rivers and Streams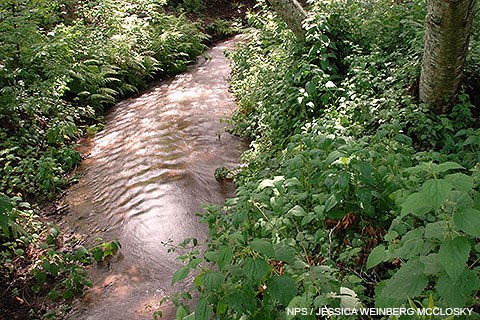 In an arid, Mediterranean climate like that of the San Francisco Bay Area, creeks and streams provide corridors of precious water that can sustain dense stands of trees and wetland plants, and support habitat for birds, fish, amphibians, insects, and aquatic invertebrates. Federally endangered coho salmon and threatened California red-legged frogs are among the many at-risk species that rely on healthy waterways in the Bay Area.
While Point Reyes National Seashore doesn't have any large rivers, it does contain many small creeks and streams, including:
Alamere Creek
Bear Valley Creek
Coast Creek
Glenbrook Creek
Muddy Hollow Creek
Olema Creek
Pine Gulch Creek
Santa Maria Creek
Schooner Creek
Learn more...
Pacific Coast Science and Learning Center: Rivers and Streams
Pacific Coast Science and Learning Center Research Project Summaries
From 2006 to 2009, Pacific Coast Science and Learning Center (PCSLC) communication interns assisted scientists conducting research through the PCSLC and the San Francisco Bay Area Inventory & Monitoring Network to produce a series of Resource Project Summaries, one of which was about a creek restoration project at Point Reyes. These two-page summaries provide information about the questions that the researchers hoped to answer, details about the project and methods, and the results of the research projects in a way that is easy to understand.
Top of Page
Last updated: June 17, 2022