Spotted Owls at Point Reyes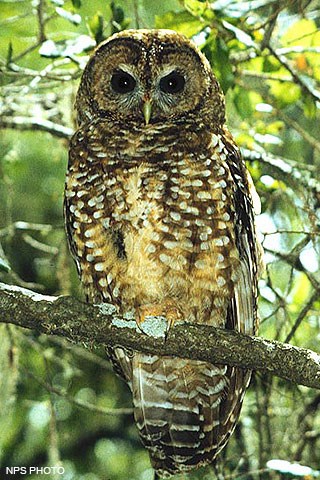 Northern spotted owls (Strix occidentalis caurina) usually nest in large, old trees and multi-layered canopies typical of old-growth forests such as those of the Pacific Northwest. They are considered an indicator species because their presence is a gauge of the ecological health of the habitat.
This owl, which is recognized as threatened by the United States government, prospers in the mild climate of coastal California. Possibly the densest known population of northern spotted owls is found on the public lands in Marin County. The abundance of spotted owls is probably due to a large population of their favorite prey, dusky-footed woodrats (Neotoma fuscipes).
Biologists and project volunteers from Point Reyes National Seashore, Golden Gate National Recreation Area, Muir Woods National Monument, Point Blue Conservation Science, Marin Municipal Water District, and Marin County Open Space monitor the population of spotted owls on public lands in the western portion of Marin County. Through long-term monitoring and banding programs, researchers study specific sites, reproductive success and dispersal of local spotted owls. To learn more about the northern spotted owl and related research in the Point Reyes area, visit the Pacific Coast Science and Learning Center's Northern Spotted Owls page.
A relatively new challenge for the northern spotted owl at Point Reyes is the arrival of its close relative, the barred owl (Strix varia), which has been detected in Marin County only since 2002 and may pose a threat to the northern spotted owl through competition and/or interbreeding.
Read about the The Status and Distribution of the Barred Owl in Marin County, California (235 KB PDF), published in Western Birds 42:103-110, 2011.
Read More about the Northern Spotted Owl at Point Reyes