Article
Bill Thies Interview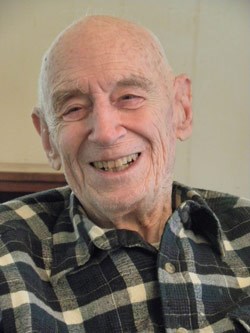 While flying fighters was his first choice, Bill Thies would be assigned to PBYs in the Aleutians instead. With a knack for flying he would be great at either. He would become known as the patrol plan commander of the PBY that discovered Koga's Zero (otherwise known as the Akutan Zero) in 1942 while apparently lost on an all night patrol. He and his crew would forever be linked with this important find that is thought to have changed the course of the war in the Pacific.
After serving in the Aleutians Captain Thies moved on as Commanding Officer of VPB-144 in the Central and Western Pacific flying the PV-1, PV-2 and F6F Hellcat. He was rewarded for his service with the Navy Cross, 2 distinguished flying crosses and six air medals for combat with Japanese. Hear about finding Koga's Zero and other stories of the Aleutians in a 2010 interview with Captain Thies.
Download a
full transcript of Bill Thies' interview
.
Interview - Bill Thies

As a pilot for VP-41 Bill and his crew are credited with finding the Akutan Zero, a find that changed the course of the war in the Pacific Theatre.

Credit / Author:

NPS / Janis Kozlowski

Date created:

10/14/2020
Last updated: August 31, 2020