Place
Pierce Stocking Scenic Drive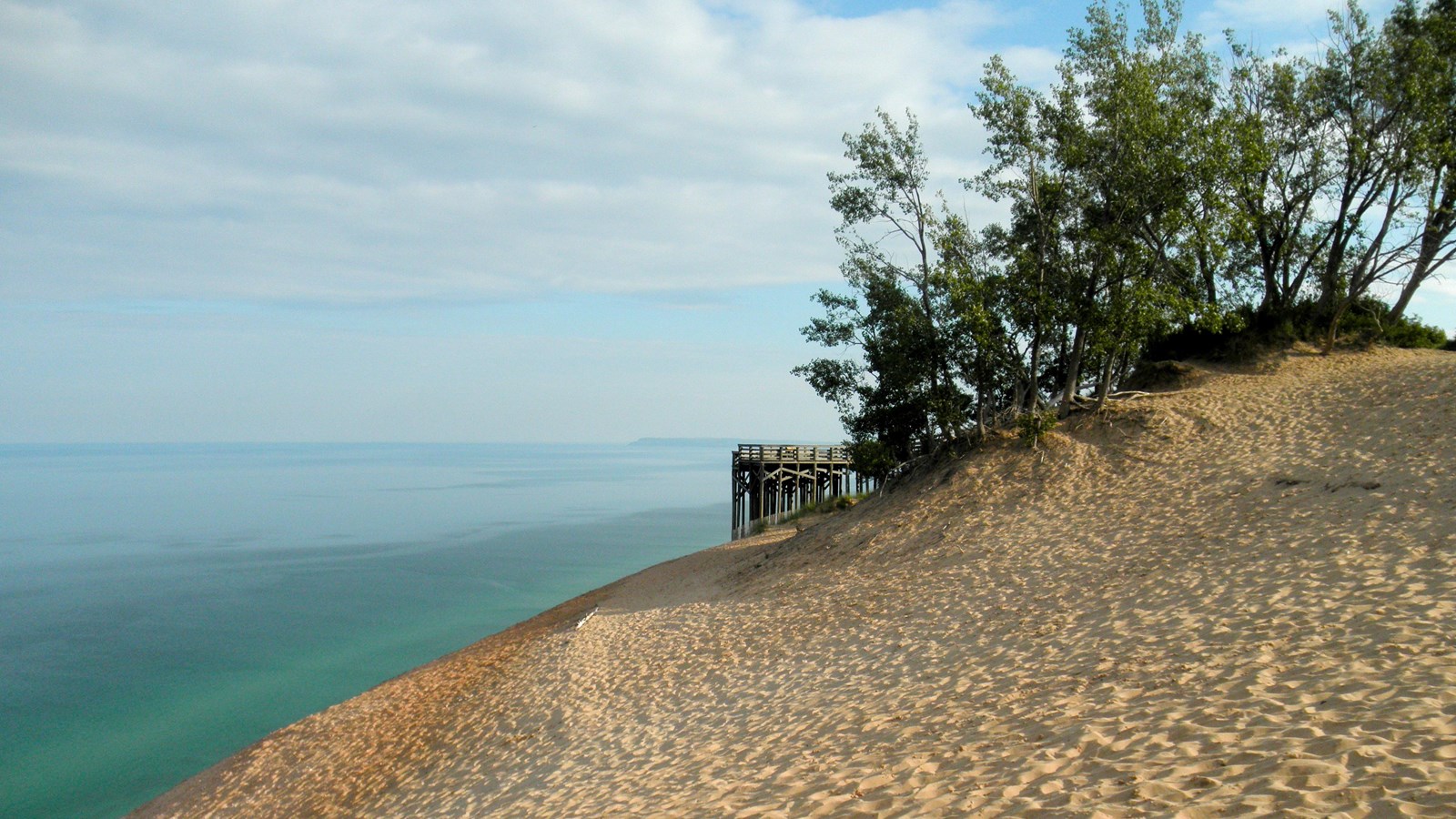 Entrance Passes for Sale, Information - Maps Available, Information - Park Newspaper Available, Information - Ranger/Staff Member Present, Parking - Auto, Parking - Bus/RV, Picnic Table, Toilet - Vault/Composting
No visit to Sleeping Bear Dunes is complete without spending time on the Pierce Stocking Scenic Drive. Enjoy spectacular views of Glen Lake, undulating sand dunes, and breathtaking views of the grandest of all dunes, with shimmering Lake Michigan as the backdrop. Wind through cool forests of sugar maple and beech trees. Take a moment along the way to enjoy a picnic, take a walk, or just linger in the sunshine.

Stopping at all twelve points on the 7.4-mile Scenic Drive will take about two hours. The drive is great for all ages and physical abilities, offering everyone the opportunity to see the beauty of the dunes and Lake Michigan.
The first stop on the Scenic Drive is the covered bridge.

The parking lot inside the Scenic Drive entrance serves hikers, bikers, and skiers as the Pierce Stocking Trailhead for the Sleeping Bear Heritage Trail and as the Sauger Hill trail trailhead.

Enjoy the drive safely
Vehicle drivers: drive slowly, obey the 20 mph speed limit, and remain vigilant! Wandering children, stopped vehicles, distracted drivers and pedestrians, when combined with our inattention, can quickly turn an enjoyable drive into a series of serious problems.

A note to bicyclists
The scenic drive is a challenging bicycle tour with some steep uphill and downhill grades. Consider your ability before starting. Ride single file, stay to the right, obey the posted speed limit, keep your bicycle under control on the downhill sections, and watch for vehicles entering exiting the scenic overlooks. Remember: Motorists often have difficulty seeing cyclists. Ride defensively.
Last updated: May 31, 2022