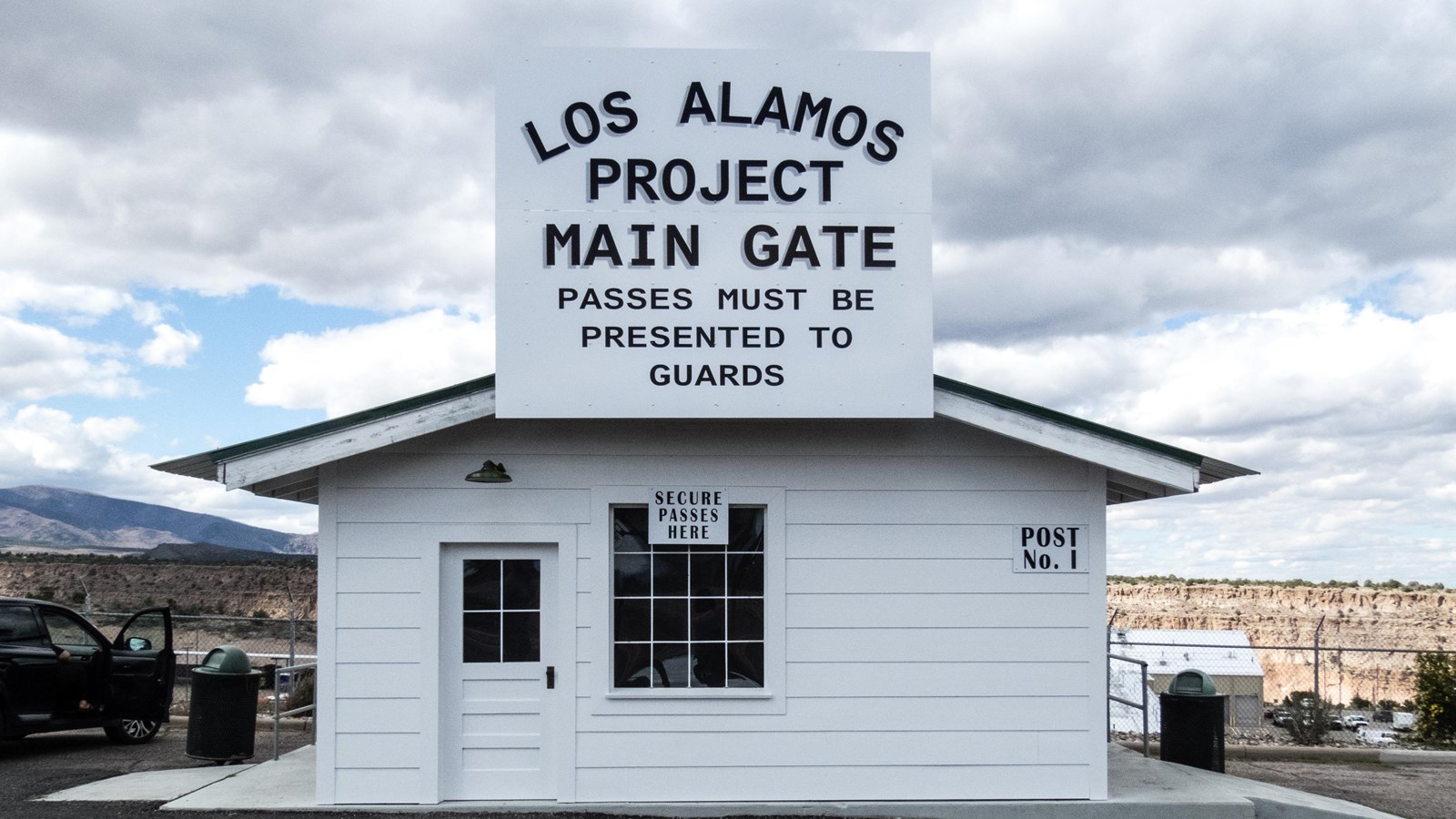 Parking - Auto, Picnic Table, Restroom, Scenic View/Photo Spot
This building is a re-creation of the historic security gate all Manhattan Project workers passed through to enter Los Alamos. Before reaching the security gate, however, newcomers to Project Y had to go through Dorothy McKibbin. Known as the gatekeeper of Los Alamos, Dr. J. Robert Oppenheimer hired her as his assistant in Santa Fe, where she organized housing, greeted scientists, and, perhaps most importantly, issued security and identification passes to Project Y workers.      
New arrivals to Los Alamos often had a hard time getting here. They stepped off the train in Lamy, New Mexico, and had to make their way to 109 East Palace Avenue in Santa Fe. Once they managed to find the nondescript, easily missed building, the new arrivals would meet McKibbin. She welcomed them to the project, typed up information cards for them, issued official IDs for passage through the guard gate, and sent them on an arduous two-hour journey to "the Hill."
Continue Your Journey 
As you continue into the community of Los Alamos, explore the Bradbury Museum or check out the exhibits of the Los Alamos History Museum. Take a stroll down Bathtub Row to see the historical houses of the Manhattan Project. Take a photo with Groves and Oppenheimer Statues located in downtown Los Alamos near Fuller Lodge. Learn about local homesteaders at the Romero Cabin and ancestral Pueblo people at the nearby Ancestral Pueblo Site. 
Last updated: April 15, 2022