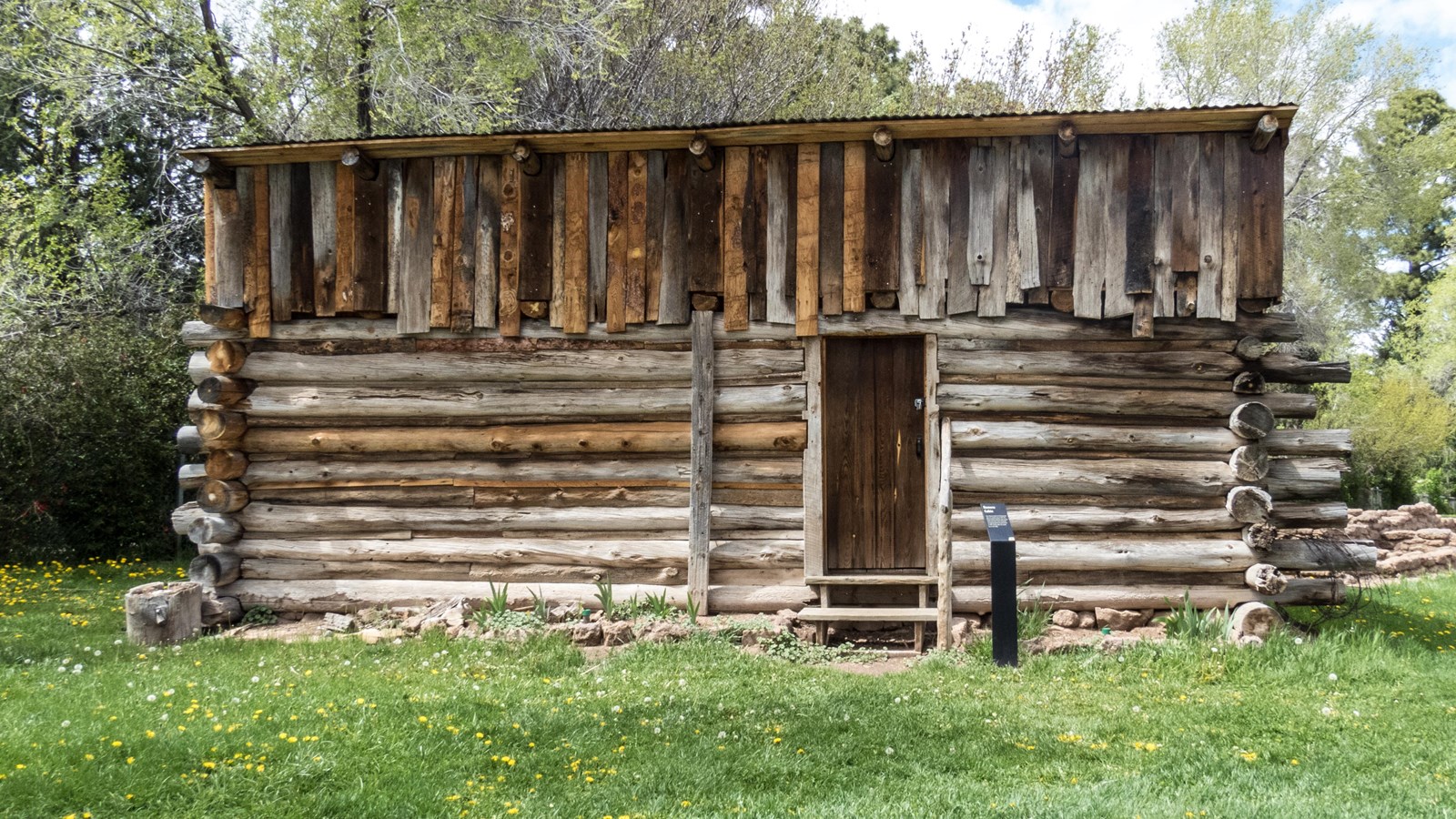 Significance:
One of two structures from the homesteading era on the Pajarito Plateau
Historical/Interpretive Information/Exhibits
Before the Manhattan Project and before the Los Alamos Ranch School, settlers homesteaded the Pajarito Plateau. Picturing Los Alamos as a farming community may stretch the imagination, but it helps to better understand the history of this area.  
One of the earliest homesteader cabins on the Pajarito Plateau, the Romero cabin offers a unique glimpse into life in Los Alamos before the Manhattan Project. Homesteaders Refugio and Victor Romero built the cabin in 1913 on nearby Pajarito Mesa, where they lived and raised their six children. Victor's parents, David and Francisquita Romero, lived in their own homestead nearby. The family farmed corn and beans and tended a variety of animals. In the 1930s, they made improvements to the home, including a new roof. Unlike many homesteaders in other parts of the country, the Romeros and most of their homesteader neighbors were not newcomers to the area. They also had homes and farms in the Española Valley, and would work their mesa-top homesteads seasonally and return to the valley over the winter.   
The Manhattan Project required the Romeros and the other families on the plateau to abandon their homesteads in 1942. In 1985, an agreement between Los Alamos National Laboratory and the Los Alamos Historical Society moved the cabin to its present location in downtown Los Alamos. Today, fully restored, the cabin makes up part of the Los Alamos History Museum's campus. 
Continue Your Journey
As you walk around downtown Los Alamos, you can explore the rest of the Los Alamos Historical Society campus. At the Los Alamos History Museum, you'll find exhibits on various eras in the history of Los Alamos. Next to the museum, Fuller Lodge has long stood as a central feature of the community. Learn about ancestral Pueblo people at the nearby Ancestral Pueblo Site. Walk down Bathtub Row to see the Oppenheimer House and check out the Cold War exhibits in the Hans Bethe House. 
Last updated: April 14, 2022