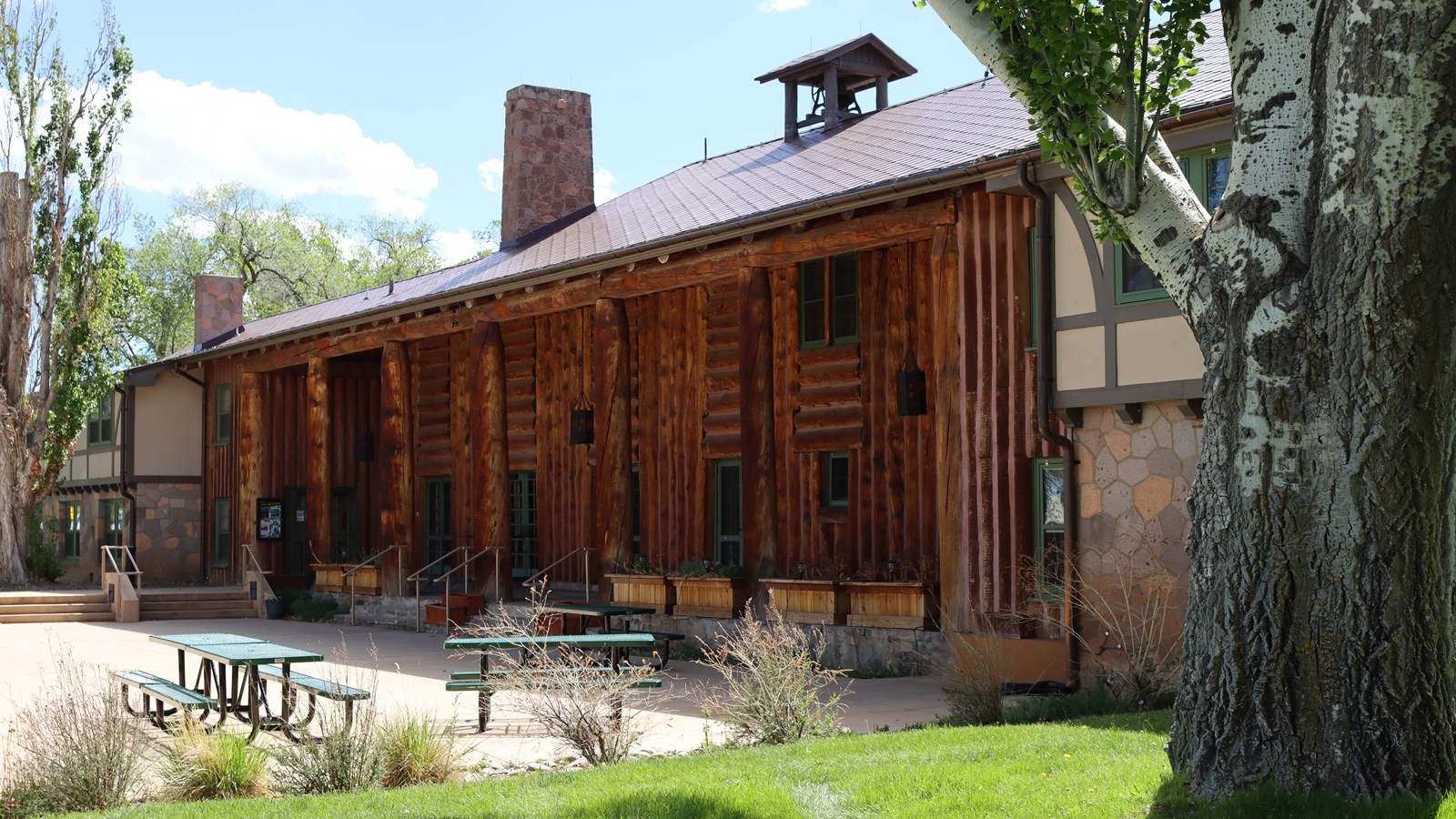 Historical/Interpretive Information/Exhibits, Information, Parking - Auto, Picnic Table, Restroom, Water - Drinking/Potable
Fuller Lodge served as the dining hall for the Los Alamos Ranch School and as a community center for Manhattan Project workers. By far the largest of the remaining school buildings, Fuller Lodge has played an important role in the community over the years.  
Designed by renowned architect John Gaw Meem, the lodge was built in 1928 using more than 700 Ponderosa pines harvested from the nearby forest. During the Ranch School days, it served as the dining hall and staff quarters and was regarded as a symbol of the school. In 1942, the school and the surrounding land were purchased by the Manhattan Project for use in the top-secret effort to develop the first atomic bomb. During the Manhattan Project, the lodge provided meals and rooms for visiting scientists, and space for dances, plays, and other events. It continues as a community center today, hosting meetings, lectures, and weddings.
Continue Your Journey
As you walk around downtown Los Alamos, you can explore the rest of the Los Alamos Historical Society campus. At the Los Alamos History Museum next to Fuller Lodge, you'll find exhibits on various eras in the history of Los Alamos. Learn about local homesteaders at the Romero Cabin and ancestral Pueblo people at the nearby Ancestral Pueblo Site nearby. The Hans Bethe House gives visitors the chance to learn more about the Cold War. 

Just across Central Ave from Fuller Lodge you'll find Ashley Pond, another centerpiece of the Los Alamos community. On the southern bank of the pond, the Ice House stands as a memorial to the Los Alamos Ranch School days and Project Y. 

Throughout downtown Los Alamos, you'll find places that help tell the story of the Manhattan Project. As you explore, find more information about the community at the Visit Los Alamos website.  
Last updated: August 15, 2022