Accessibility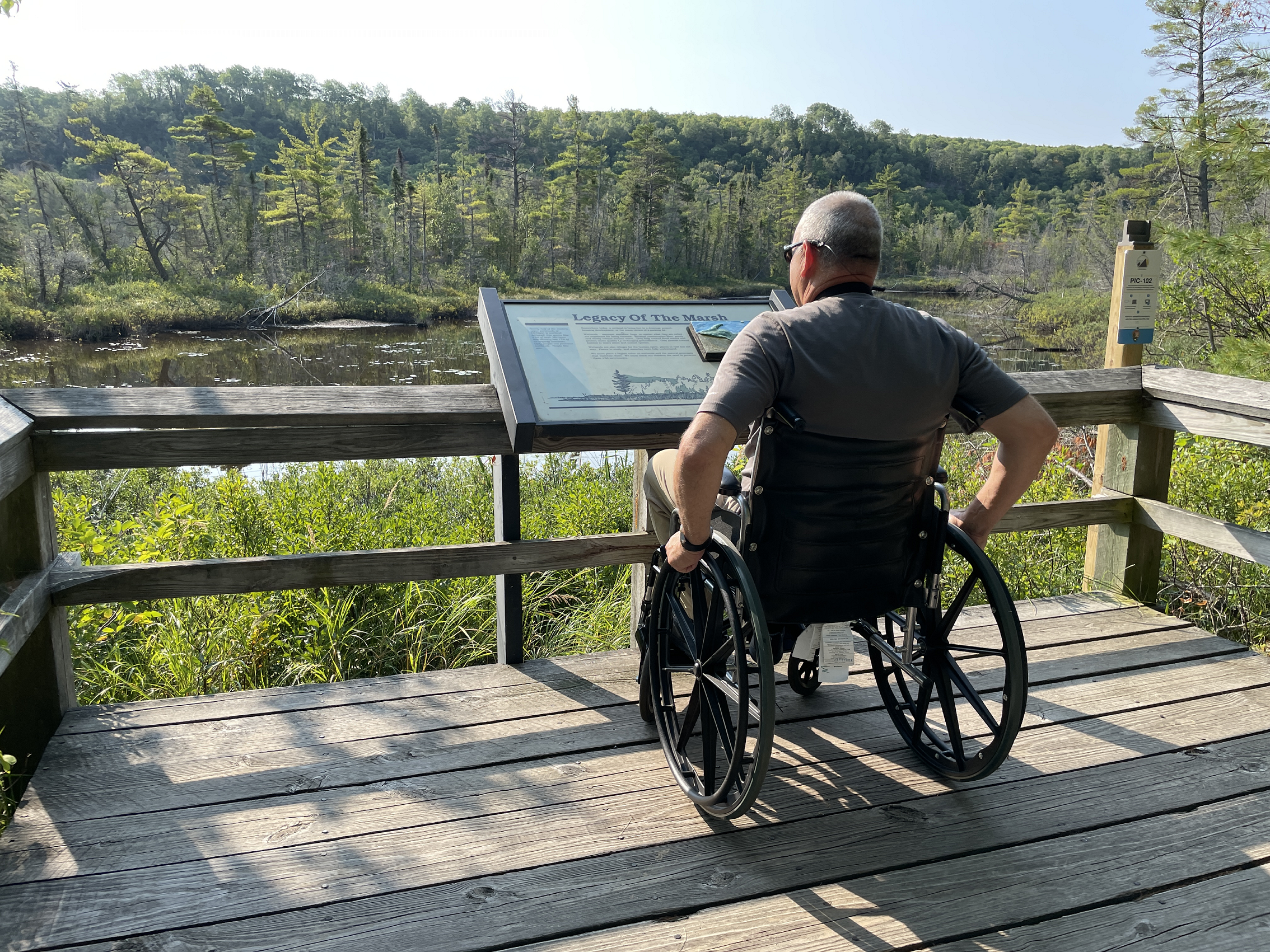 Sand Point
Marsh Trail
The Sand Point Marsh Trail consists of a half-mile wheelchair-accessible boardwalk.
The Boardwalk is about 4 feet wide and has railings and benches along the trail.
The trail meanders through a cattail marsh, white cedar wetlands, and an open bog. There are wayside exhibit panels along the way.
In winter, snow and ice can accumulate on the boardwalk.
Sand Point Beach
Paved beach parking area and sidewalks.
One picnic table is wheelchair accessible with a pedestal fire grate.
A wheelchair-accessible Mobi mat extends from the parking lot to the water's edge during the summer months.
A vault toilet with a concrete floor is located adjacent to the beach and is open year-round.
The doors are manual only. There are no sinks or running water.
Munising Falls
The falls are reached by an 800-foot paved trail which is slightly uphill and slopes in some sections.
The trail also includes wooden boardwalks in some sections.
There are a few benches located along the way.
In winter, snow and ice can be packed onto the trail and boardwalks.
Munising Falls Visitor Center
The Visitor Center is wheelchair accessible.
The doors are manual only.
The restroom is adjacent to the visitor center and is open 24/7 from May to October.
A water fountain and spigot is located outside the restrooms and is operational from May to October.
Camping
Each of the park's three drive-in campgrounds has at least one wheelchair-accessible site.
Accessible campsites include an extended picnic table, hard-packed tentpad, pedestal fire gate and are located in generator-permitted areas in close proximity to restrooms.
These campgrounds are primarily hard-packed dirt.
Campground restrooms are vault toilets and only have manual doors. There are no sinks.
Campgrounds do not have electrical hookups. Water is available from spigots from mid-May until mid-October.
Cell phone coverage is generally unavailable.
Holders of an America The Beautiful Senior Pass or Access Pass are eligible for a 50% discount on camping. Learn more about America The Beautiful Passes.
Fishing
The fishing dock at Grand Sable Lake on the park's east side is wheelchair-accessible. It is installed in the summer months at the lake's east end.
Parking is along Alger County Road H-58. A hard packed trail and then a Mobi mat allows access from the parking area all the way to the dock.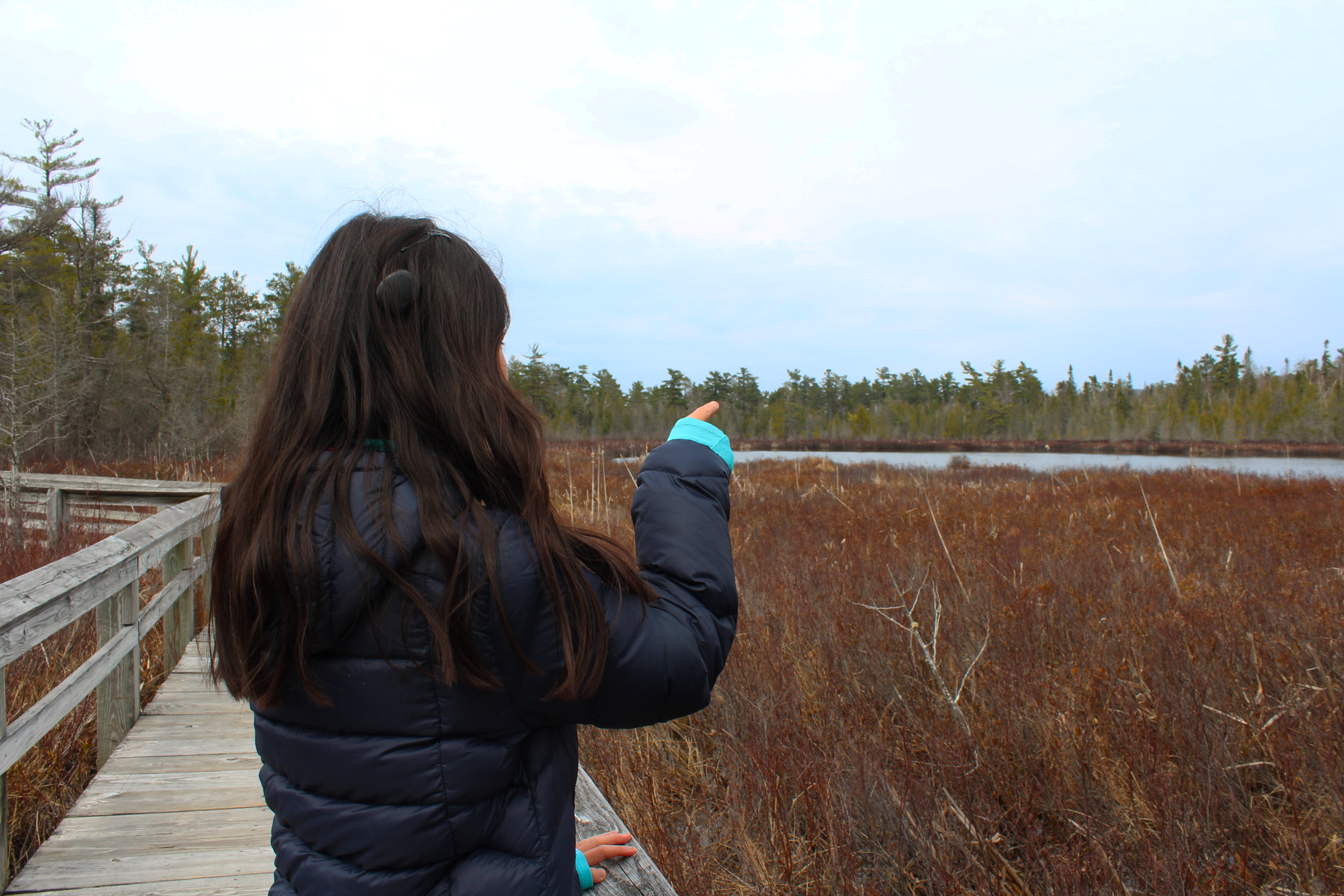 Other Accommodations
A Braille introduction to the park pamphlet is available by request at the Munising Visitor Contact Station and for download in a Braille-ready format: PIRO Braille_1.BRF File
Assistive Listening Devices are available at Ranger-led programs and lighthouse tours. If you would like an Assistive Listening Device, please ask for one at a Visitor Center.
EnChroma filters are installed over all observation scopes throughout the park, allowing those with limited color perception to experience the array of colors at Pictured Rocks.

Last updated: May 8, 2023