Visitor Fatality Along Pictured Rocks Cliffs
Date:
June 23, 2006
Contact:
Larry Hach
, 906-387-2607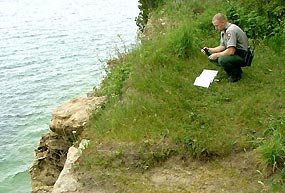 On the morning of June 22, 43 year old Juanita Richardson of McBain, Michigan, fell from a cliff above Lake Superior, about one-half mile southwest of Miners Castle. Mrs. Richardson was picnicking along the cliffs of Pictured Rocks National Lakeshore with her husband when the incident occurred. Mr. Richardson ran to the Miners Castle Information Center to report the incident to NPS personnel.
Personnel from Alger County Sheriff's Department, Michigan State Police, Michigan Department of Natural Resources, and Pictured Rocks National Lakeshore extricated her from the rock ledge of Lake Superior. She was transported by Alger County Ambulance to Munising Memorial Hospital where she was pronounced dead on arrival. The investigation is continuing.