Date:
February 27, 2012
Contact:
Jim Northup
, 906-387-2607, ext. 202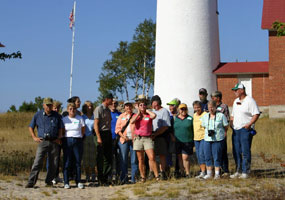 MUNISING, Mich. According to official National Park Service statistics, visitation to Pictured Rocks National Lakeshore was up a total of 12.4 percent in 2011, to a total of 561,104 visitors.

For close to a decade, visitation held pretty steady at about 425,000 visitors per year, stated park superintendent Jim Northup. "Beginning in 2010, we began to observe a steady increase in visitation with a little over 11 percent in 2010 and now another 12.4 percent in 2011."

"We believe there are many reasons for this increase in visitation," Northup said. "They include publicity surrounding the completion of the H-58 project, the Pure Michigan Campaign, wider advertising by Pictured Rocks Cruises, the Kid Rock video and the park simply becoming better known throughout the country."

"More people are beginning to understand what a wonderful area this is," Northup added. "I do not believe there is any major reason to expect that visitation will decline significantly in the coming years."

"If we all remain committed to preserving what is unique and special about this area, including our natural and cultural heritage, tell our stories, and provide outstanding visitor service, I see no reason people won't want to continue to come and experience what this area has to offer," Northup said.

"Lake Superior, Native American history, logging and mining history, lighthouses and other beautiful historic buildings, charming gateway communities, diverse year-round recreational opportunities, opportunities for quiet and solitude; what's not to like?" Northup concluded.