PRNL Working to Upgrade Trailheads and Backcountry Signs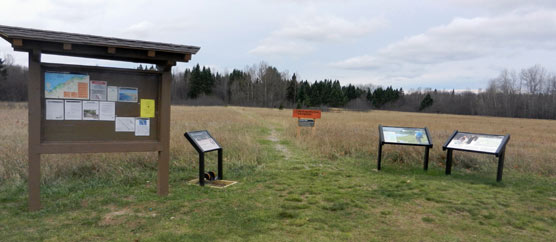 News Release Date:
November 15, 2012
Contact: Chris Case, 906-387-2607, ext. 209
Pictured Rocks National Lakeshore is working to upgrade the park's major trailheads and backcountry signs.
"Pictured Rocks has always been known as an outstanding place for day hikes and overnight backpacking," said park superintendent Jim Northup. "But with the completion of the H-58 project, our visitation is increasing, and we want to make sure this park remains known as a premier destination for hiking in the Midwest."
"As part of that effort, we are putting increasing emphasis on having well defined trailheads with good visitor information, well maintained trails, and rustic but professional looking signs at the trailheads and trail junctions."
Several new trailhead bulletin boards have been added. A new map of the park and the hiking trails is posted on every bulletin board. Trailhead signs are being consolidated to actually reduce the number of signs in the park, but provide better information in one location.
In addition, special "boot brush stations" are being installed at every major trailhead to reduce the spread of invasive plant species. Trail junction signs are being replaced to improve their appearance and to make sure they contain accurate information.
"We are fortunate to have a dedicated and hard working trail crew," said Lakeshore Chief of Facility Management Chris Case. "With nearly 100 miles of hiking trails in the park, this has been a huge task, and the project will still be underway for a while, but visitors should really begin to notice the difference in the quality of our backcountry management program."


Last updated: April 10, 2015